Awashima Jinja (粟島神社)

It's only 35cm in height! Receive a blessing for good health by crawling through the small torii gates!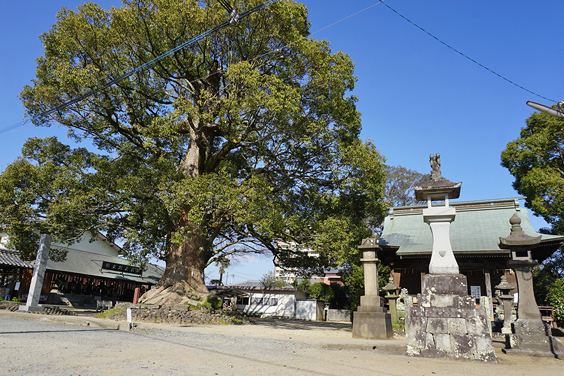 Rokusho-gu is located in the center of Chikugo City, Fukuoka Prefecture, Japan. The name is inspired by the six ("roku" in Japanese) deities that are worshipped at the shrine. One of the gods enshrined in Rokusho-gu is Ebisu, but not the one that usually comes to mind. Ebisu is commonly known as the god of fisherman and good luck. He is usually seen holding a fishing rod in one hand and a "tai" (sea bream) in the other. However, the Ebisu in Rokusho-gu is part of a couple. This kind of depiction is said to be very old and incredibly rare. "Awashima Jinja" is also home to a couple of super tiny torii gates. Don't forget to crawl through them and pray for good health!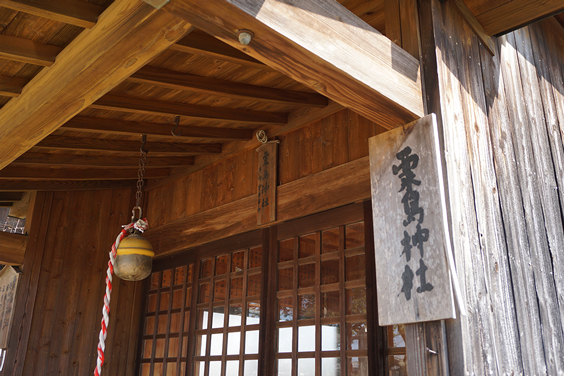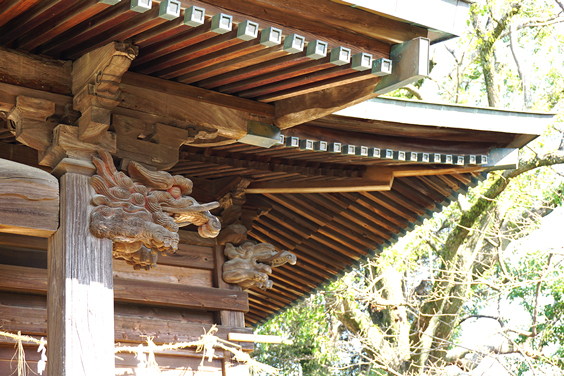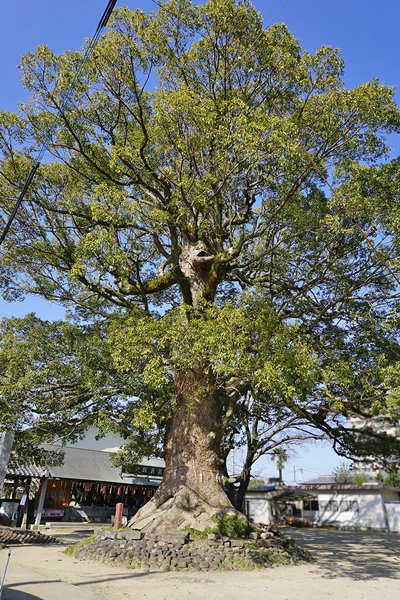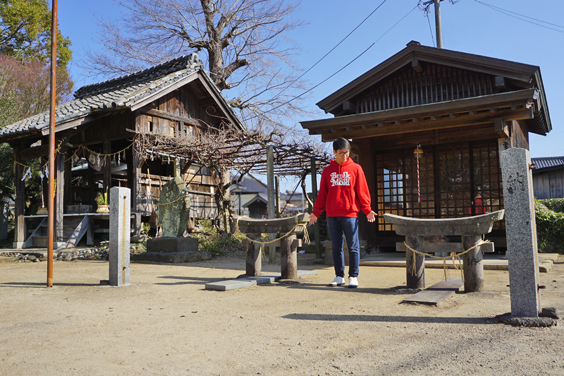 The two small torii gates inside the Rokusho-gu premises stand side by side. They slightly differ in width (41cm and 36cm), but both are only 35cm in height! Visitors who wriggle through the torii gates and then pay a visit to the shrine are said to receive good fortune. The shrine is said to bless practitioners with "good health," "the safe arrival of children," and "a prosperous upbringing for offspring." Perhaps it goes without saying, but I decided to give it a go! As you can see in these photographs, the gates are super narrow! Fortunately, I am quite flexible, so I just managed to get through! If you're thinking of giving it a go, please keep in mind that your clothes might get a bit dirty!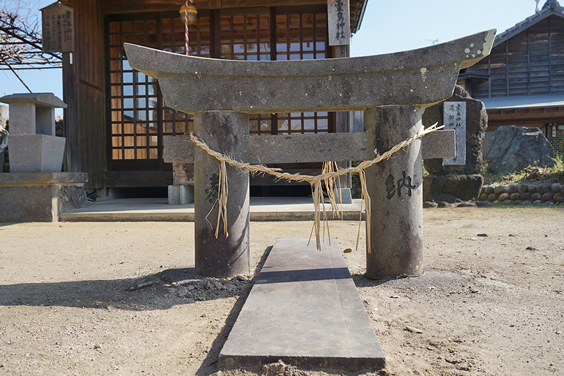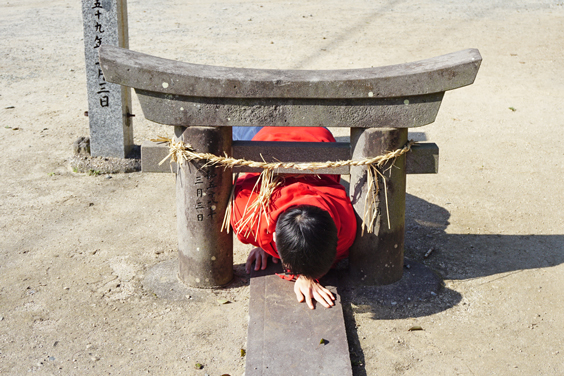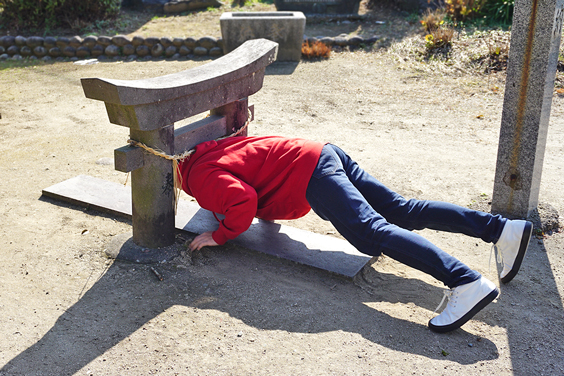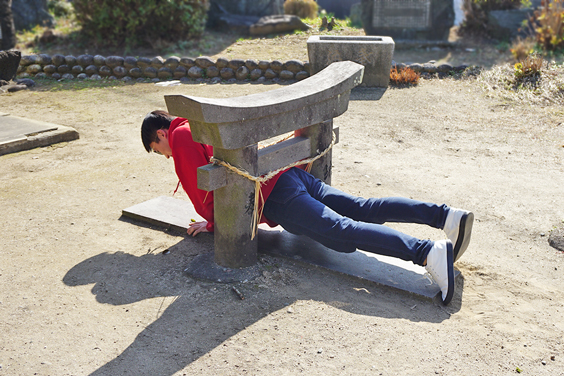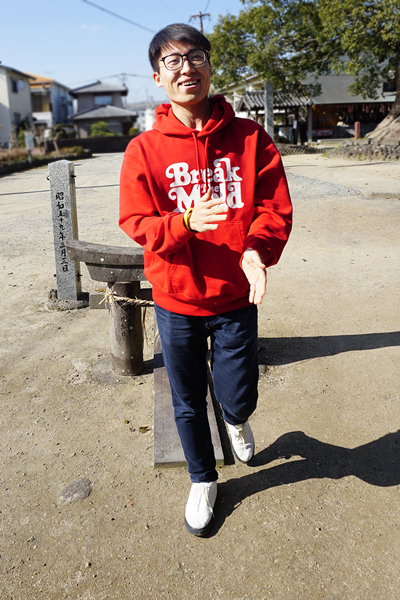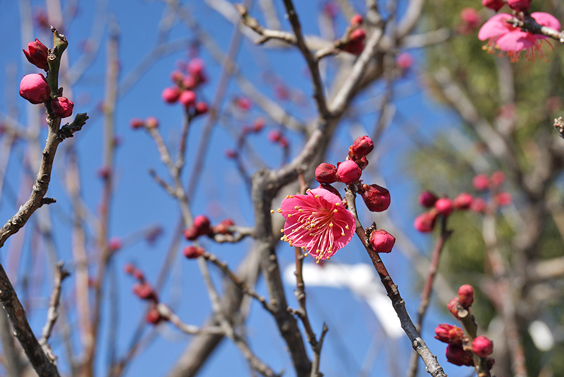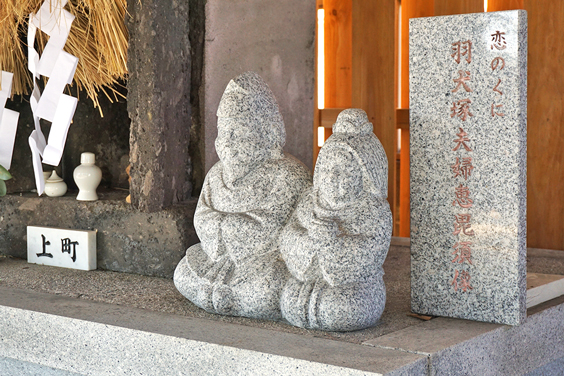 Awashima Jinja (粟島神社)
- Address: 652-1 Hainuzuka, Chikugo-shi, Fukuoka-ken JAPAN
- Fukuoka Prefecture Tourist Association Official Website CROSSROAD FUKUOKA "Awashima Jinja" introduction page >>
click here
!
* All information correct as of January, 2020.
REPORTER PROFILE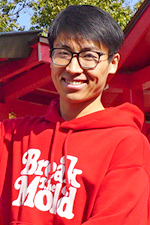 Hello, my name is Xiangyu, from Changchun, China. I am currently an international student in Fukuoka. Come and enjoy Fukuoka's exciting culture and delicious food!
---
- Hobbies: reading, learning foreign languages, and boxing
- Favorite Japanese Anime / manga: "SLAM DUNK", "DRAGON BALL"
- Favorite Japanese artists / songs: Foorin "Paprika", MANISH "煌めく瞬間に捕われて" (
Kirameku Toki ni Torawarete
)