Heichiku Masuzake Ressha (Train) 2015(1/12)

Enjoy delicious sake and a fantastic bento, while riding inside a Roman-Go train carriage!
"Heichiku Masuzake Ressha 2015" was organized by the Heisei Chikuho Railway. Making the round trip from Tagawa-Ita Station to Nogata Station on the temporary train service, Heichiku Roman-Go (retro style train carriage), this was an occasion to drink as much delicious sake as you like and enjoy a fantastic, limited edition "Chikumaru Bento," which is made using local ingredients that are sourced from locations that can be found along the railway line.
We got onto the small one-carriage train and took our seats straight away. We were given our sake in sweet little "masu (wooden box-shaped containers)." We all quickly downed the Japanese sake, which was soft and smooth in the throat, with a rich, thick aroma that spread through your mouth. It was so tasty!
After our sake we had our "eki-ben (train journey lunch boxes)." This was the first time that I had tried an eki-ben, but learning that they are often made from local ingredients from locations around the train stations at which they are sold, I felt that this distinctive type of bento is a really charming aspect of Japanese culture. The "Chikamaru Bento" that we were served on this trip was made from a lot of ingredients that are hallmarks of the area. Taking in the scenery outside as we rode along, I really got a feel for the area as I ate my bento and made the most of the atmosphere of this fun-filled journey,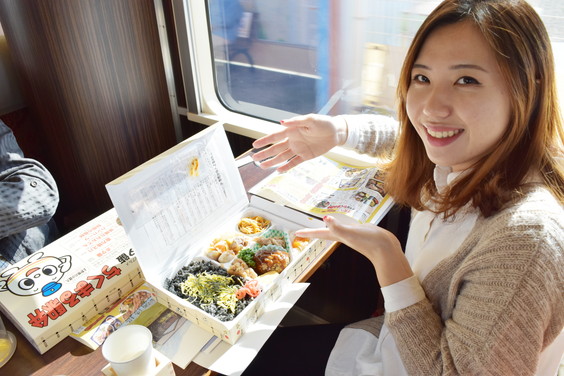 After arriving at Tagawa-Ita Station we got the chance to enjoy some Tagawa Hormone (beef and pork offal) Nabe. We have hormone in Korea, but it has a very specific smell so I didn't eat it too much, but since I came to Fukuoka I have been really impressed by the taste of motsu nabe and now I just love it! The Tagawa Hormone Nabe that we ate at the station was so delicious!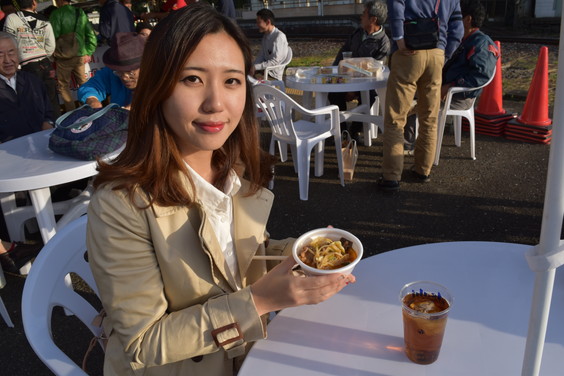 "Heichiku Masuzake Ressha 2015 (へいちく枡酒列車2015)"
Date: October 31st 2015 (Saturday)
Vehicle used: Heichiku Roman-Go (501) (1 carriage train)
Price:
4 person box: 20,000 yen
3 person box: 15,000 yen
Number of boxes: 10 (4 person box: 9) (3 person box: 1)
Journey/route:
Tagawa-Ita Station (departure: 14:30) to Nogata Station (arrival: 15:05)
Nogata Station (departure: 15:20) to Tagawa-Ita Station (arrival: 16:00)
Heisei Chikuho Tetsudo (Heisei Chikuho Railway) [平成筑豊鉄道]
Address: 1-1 Chuo-machi, Tagawa-shi, Fukuoka-ken
Tagawa-shi Shoko-Kanko-Ka nai (c/o Tagawa City Commerce and Tourism Department)
Telephone number: 0947-44-2000
Website:
http://www.heichiku.net/