[ICON] Steve Aoki - The American Hero Who Carries the Name 'Aoki' Around the World(1/2)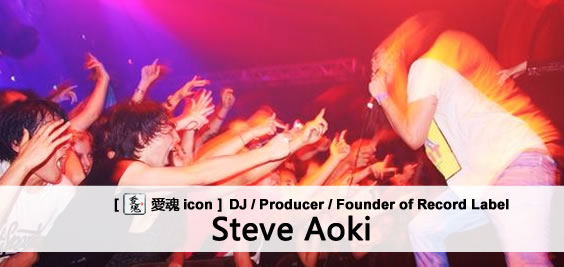 Playing more than 300 sets in one year, Steve is a world renowned DJ and, although being American, he has the Family name 'Aoki' of Japanese decent.
Steve's father, Rocky Aoki, runs 'Benihana', the hugely successful 'teppanyaki' chain in America, and it seems that Steve has inherited all of his father's business expertise as he runs his own music label 'Dim Mak', and also the clothing line 'Dim Mak Collection'.
With a creative flair and a knack for discovering new music, Steve is not content only being a DJ. He is involved in numerous enterprises which receive a tremendous amount of support in America, Europe, and of course Asia, and through these he continues to stimulate creativity in the minds of young people throughout the world.
We managed to catch up with Steve while he was in Japan playing at Tokyo's ageHa. We found out what Steve Aoki, the man who rubs shoulders with the famous and infamous alike, thinks of Japanese artists, the young music scene in Asia, and we were able to hear about some of his creative sources.
Our original idea was to take the existing, adult oriented house music scene and create a new and exciting phenomenon inside of it.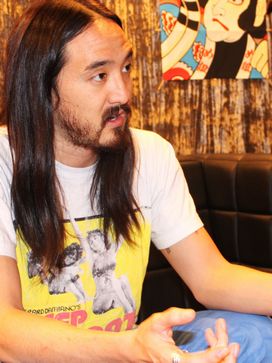 asianbeat:Steve, you have been DJing around the world for many years now, so how has the club scene changed?

Steve:Well the first time I came to Japan was 2004 or 2005 and I played in Shibuya at a
party called Vanity. It was more of a Rock n Roll party with a heavy rock feel, and that was a very important event for me. At that time DIM MAK was known for signing British bands into America. In 2002 we started with THE KILLS, then in 2004 we signed Bloc Party and MYSTERY JETS. We also put out THE GOSSIP, who are actually from the U.S., and a lot of international bands like these.
Then in 2007 we started to release dance music. That year we signed THE BLOODY BEETROOTS and MSTRKRFT, then in 2009 we released THE BLOODY BEETROOTS album.
It was these 2 or 3 years that DIM MAK went through the evolution from rock to dance music. It was also a time of evolution for myself.
At that time I played two shows at WOMB(#1) and fused both indie rock and dance music. I think that was a great success.

Back in fall of 2009 I played together with DIPLO at ageHa(#2) which was a great success.
I think the audience in Japan has become a lot more aware of new sounds and and the scene in Japan is evolving and growing.
And so here I am now, able to do a headline show here in Japan which I'm really excited about.

So thats how I think dance music has changed. Especially the artists that pioneer the sound of dance music and evolve and change the entire state of it. For example the reemergence of DAFT PUNK in 2007. I mean, they were always around but when they came back out stronger than ever they brought with them a whole new audience.
Then there was the French Electro label ED BANGER's JUSTICE which debuted in 2007 and appealed to an even wider audience and started a big movement. Until then the house scene was very mature, then JUSTICE came out and appealed not only to adults but also to the young punks. It was the sound of the youth.
And now THE BLOODY BEETROOTS are mixing house with hardcore to make a very innovative new sound. Until now dance and hardcore never coexisted together.
When you hear dance music with vocals its usually a female voice or a monotone male vocal, but now you have guitars and hardcore vocals mixed with dance music and I think this is a totally new phenomenon. Already a lot of countries in Asia understand and like our music and I think the Asian music scene will continue to evolve.
I have a lot of homies here in Japan, and they give me a great amount of motivation and inspiration.
asianbeat:Who are the asian artists that you think stand out?

Steve:The DEXPISTOLS are great. Their music is great and I love their label ROC TRAX. They really become one with the crowd and know how to rock the floor, and they play such a diverse range of songs which lets the audience discover new musical styles.
(KIRI of the REVOLVER brand enters the studio)
Oh KIRI! That guy is genius! He's an awesome guy! I love his T-Shirt line!
Also, YONE (Yasumasa Yonehara) the photographer, and also Nobu (Nobuhiko Kitamura) from Hysteric Glamour.
And also Hiroshi Fujiwara. That guy is like the godfather of fashion design! And I love VISVIM and also Jun Takahashi from UNDERCOVER.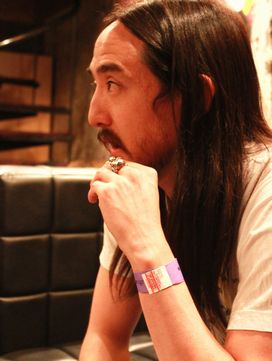 And also Koji(#3), I want to introduce him to you. He is the reason I have a career or any kind of relevance here in Japan. He is the greatest promoter. If it wasn't for Koji I don't think I would have been able to get to this point in Japan.

I also really like the Japanese bands BOREDOMS and ENVY. 10 years ago I was in a band THIS MACHINE KILLS and we toured Japan with ENVY.
I have a lot of homies here in Japan and they give me a great amount of motivation and inspiration.