[ICON] Kamiyama Kenji - Ghost in the Shell: S.A.C. Director talks Japanese Anime.(1/2)

Director Kamiyama Kenji has gained high acclaim for his television animations such as the GHOST IN A SHELL: STANE ALONE COMPLEX series and EDEN OF THE EAST, a topical collaboration he worked on with Umino Chika. We talked with Kamiyama, who is at the forefront of Japanese animation, about its fascination.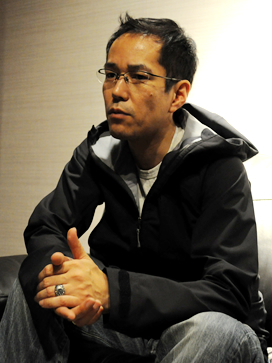 asianbeat (ab): What do you think makes so many people love GHOST IN A SHELL?
Kamiyama: I think the main reason is that from about 10 years ago when my SAC series began, the Internet just started to become mainstream, so people began to understand it and relate to it personally.
ab: It seems like it challenges us with future issues. What kind of issues do you see facing today's society?
Kamiyama: After making the 3 series the one thing it keeps coming back to is that it is up to the individual. If each one of us gives up then it is the end. At the end of the movie, I put a line in for the boysthat states we want them take on the issues when they became men. That's my answer.