[Information] Fruit fairs promoting grapes from Fukuoka Prefecture are set to be held in Bangkok and Singapore!
Grapes from Fukuoka Prefecture are currently in season. Sweet and juicy, be sure to give them a try!
Fukuoka Prefecture is engaged in efforts to expand the exports of local agricultural, forestry and fishery products, they have been taking part in international trade fairs and also holding food fairs overseas to promote the sale of these kinds of goods. Through these initiatives and projects, the export of Fukuoka Prefecture's agricultural products has increased year-on-year. Surely more and more people abroad are becoming familiar with just how delicious agricultural produce from Fukuoka Prefecture is!

Starting from this weekend an event promoting grapes, a summer fruit in Japan, will be held in Bangkok and Singapore.

For the fruit fairs, there will be a special little corner set up in a supermarket where visitors can get their hands on 3 different types of grape from Fukuoka Prefecture. They'll be stocking the "Kyoho (巨峰)," which has a very sweet, yet simple sour quality to its flavor, "Pione," which are noted for their high level of sweetness, fragrant aroma and having a rich flavor that has just the right amount of sour taste. As well as "Shine Muscat," which have a refined flavor, elegant scent and can be enjoyed with the skin still on.

At these events, there will be samples laid out so that visitors will be able to experience the taste and aroma of the grapes that are on offer, giving them the perfect chance to find their favorite!
In Bangkok, alongside grapes, shoppers will be able to purchase Japanese pears (梨) from Fukuoka Prefecture. This is a great chance to sample whatever catches your eye and pick-up something that you like the taste of. Fukuoka Prefecture fruits are currently in season, so be sure give them a try!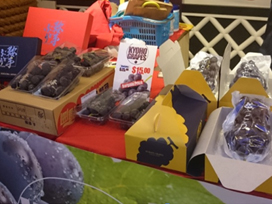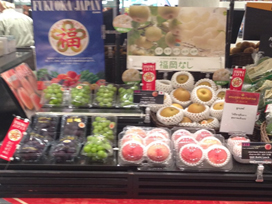 Overview
[Summer Fruits Fair (Bangkok)]
1. Period: Saturday 27th August to Sunday 4th September
2. Location: Tesco Lotus Ramindra
14/2 Moo 8, Lat Phrao, Bangkok 10230
Opening Hours: 09:00 to 23:00
3. Promoted items: Fukuoka Prefectural grapes (Kyoho, Pione, and Shine Muscat), and Fukuoka Fukuoka Prefectural pears (豊水)

[Fair promoting the sale of grapes from Fukuoka Prefecture (Singapore)]
1. Period: Friday 26th to Sunday 28th August, Friday 2nd to Sunday 4th September
2. Location: Kuriya Japanese Market, Great World City Store
Great World City #B1-07 1 Kim Seng Promenade Singapore 237994
Opening Hours: 10:30 to 21:30
3. Promoted items: Fukuoka Prefectural grapes (Kyoho, Pione, and Shine Muscat)

[Contacts]
Department of Agriculture, Forestry and Fisheries
Export Promotion Devision

Telephone number: 092-643-3525
Related Articles