#8 Kawaii Radio with Sakurai Takamasa and Uesaka Sumire feat. Special Guest, Michishige Sayumi
"Tokyo No.1 Kawaii Radio," aka "Kawaraji," is the name of the FM radio program I host with voice actress, Uesaka Sumire. I'm grateful that the program is broadcast to 27 stations around Japan but it's a little unfortunate that two of the places that don't receive the broadcast include Fukuoka, where asianbeat headquarters is located, and my hometown, Tokyo. I get messages from people living in these areas saying how they want to listen to the program too, so I thought in this article I would give you a glimpse of what the show is all about.

There are a number of big name guests who appear on the show regularly like Kageyama Hirobobu, Chihara Minori and Takahashi Ai, and on July 17 we were joined by Morning Musume new leader, Michishige Sayumi. We asked her if anything had changed since becoming the leader of the group.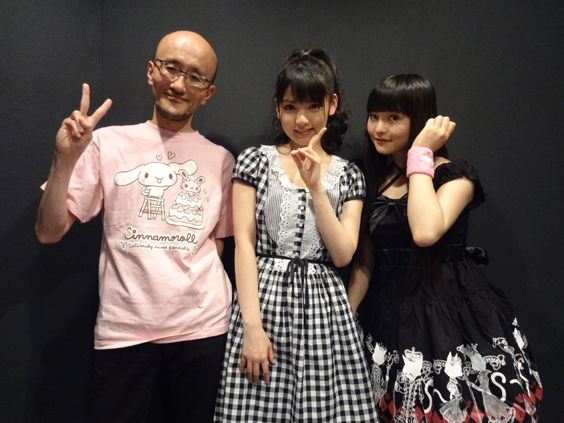 With Michishige Sayumi and Uesaka Sumire.
"My outlook on everything we do has changed. I now know what it means to be a leader."
She said that she used to just focus on herself but since taking on the role of leader she now watches over all the members in the group. This is what being the leader of Morning Musume, the group leading the way for this traditional art form known as 'idol,' and perhaps it's fate that brought her to the position she's in today.
"Morning Musume has been performing for the past 15 years and I'd hate to think what would happen if the group were to disband during my time as leader. It never occurred to me before but I guess that's something all the leaders before me have had to deal with too. I want to keep the group together no matter what."

"Overseas" is one of the keywords that we focus on at Kawaraji, and just as I've written countless times in my articles, one of the things that has a significant impact on my view of life was the Morning Musume concert I saw in Paris in 2010.
"It taught me that song has the power to transcend national borders and connect with people all over the world."

I personally can't wait to see what kind of connections the new Morning Musume group will achieve with Michishige Sayumi at the helm.
Kawaraji has even recently joined up with TV program and fellow Japanese pop culture promoter, NHK WORLD "J-MELO," on a collaboration project. Actually, I'm already a member of Team J-MELO (as is Morning Musume), but on this occasion, MC of the program, May J., appeared as a guest on Kawaraji and J-MELO came in to film it. It was TV but on the radio, and radio but on TV. This also meant that not only did Fukuoka and Tokyo get to see the program as well, but was made available to the entire world.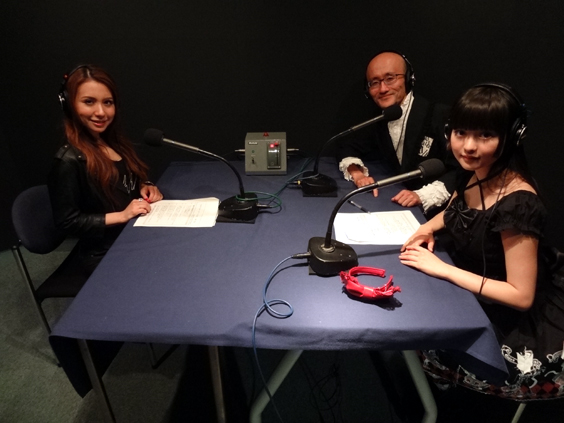 The theme for this "J-MELO" and "Kawaraji" project was "kawaii."
My meeting with Uesaka Sumire came about after I wrote a newspaper article about the J-FEST event held in Moscow – and Sumire just loves Russia. It was also at J-FEST that the idea was hatched with "J-MELO" to deliver our program to Russia and the rest of the world. It really was a moving broadcast.

J-MELO's collaboration project with Kawaraji will be broadcast overseas on NHK WORLD on July 23rd and in Japan on BS Premium at midnight July 28th. The Kawaraji version will go to air at midnight on the 28th also.
So please, have a look and a listen. I plan on writing more about my Kawaraji partner, Uesaka Sumire, at some point in the near future too.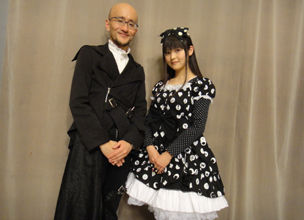 With Kawaraji partner and lover of all things Russian, Uesaka Sumire.
A new article every Wednesday!
Next time: The concert that all the fans on America's east coast had been waiting for. Interview with idol group and guests of the New Jersey anime event, Anime Next, Berryz Kobo.

Columnist: Sakurai Takamasa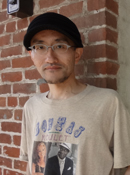 Contents Media Producer, author, journalist, managing director of Contents Street Inc. Chief Editor of iPhone magazine "Tokyo Kawaii Magazine" (ASCII Media Works), World Cosplay Summit Executive Advisor, Chief Researcher at Kodansha/Kodansha BC China Management Laboratory.
Cultural diplomat producing events in 98 cities in 23 countries. Books include "Galapagos-ka no susume"(Kodansha), "'Suteru' de shigoto wa umakuiku"(Diamond-sha), "Nihon wa anime de saiko suru
"(ASCII Shinsho), "Sekai no kawaii kakumei " (PHP Shinsho), and "Anime bunka gaiko "(Chikuma Shinsho). Writes regular columns in the weekly magazine "ASCII" and Yomiuri Shimbun.

●twitter http://twitter.com/sakuraitakamasa/