#69 "Attack on Titan" Cosplay Frenzy as America's "Otakon" Turns 20
Otakon, the event that sets the passions of Baltimore (Maryland) on America's east coast alight, returned again this year and was held over three days from August 9~11, 2013. This year marked the event's 20th anniversary. Following on from my appearances as a guest at Otakon in 2010 and 2011, this was my third time taking part in the event.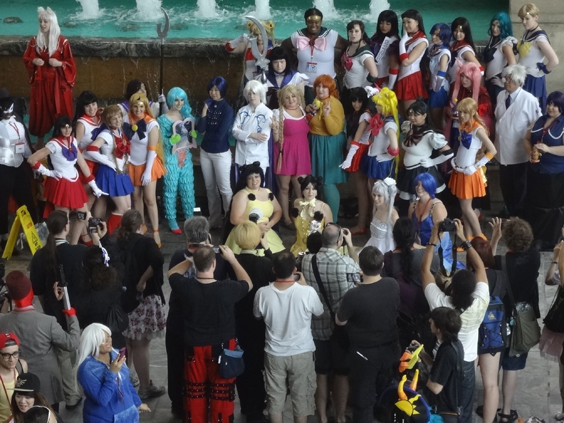 Otakon is the event where all of America's otaku living on the east coast gather in Baltimore like it's an otaku retreat. Hotels in the area fill with otakus attending the event, and the overall economic impact is quite substantial. It's an important event for Baltimore's local economy. During the event, elevators at nearby hotels are often filled with cosplayers and I'm sure anyone who just happened to be holidaying in Baltimore at the same time would get a bit of a fright if they saw this.

Of the 30,000+ people who attend Otakon, around 60-70% of them would be cosplayers. In speaking with event staff before the opening, they predicted that "Attack on Titan" would be the most popular cosplay this year, and they were spot on. There were "Attack on Titan" cosplayers everywhere.
I've always been concerned over the past few years, while I've been traveling around the world, that I wouldn't see another popular anime series overseas that could reach the status of well-known titles that were already big when I first started working in anime cultural diplomacy, like "Naruto," One Piece," "Bleach," "Inuyasha," and "Fullmetal Alchemist."

Anime works that people like varies, but I've personally felt that there haven't been any recent anime works that have reached a level of recognition to be able to further increase the popularity of Japanese anime and Japan as a whole. But recently, wherever I go just about anywhere in the world, anime fans always talk about "Attack on Titan." If you want proof, you only need look at the number of "Attack on Titan" cosplayers at events like Otakon – which is basically a reflection of current trends in America's otaku culture.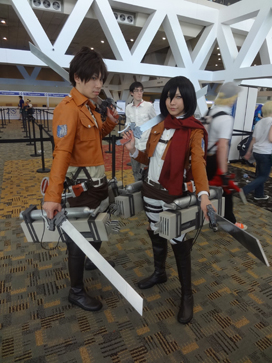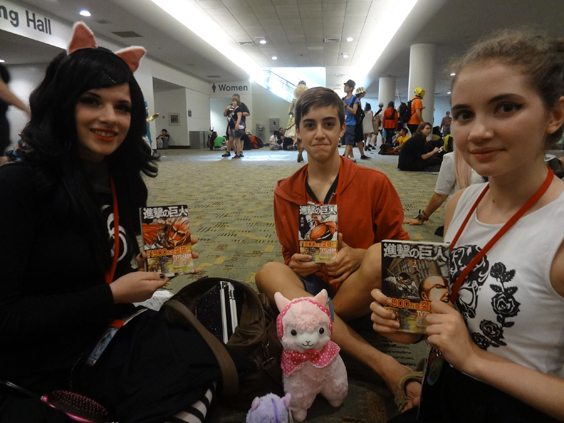 "Attack on Titan" is a big hit.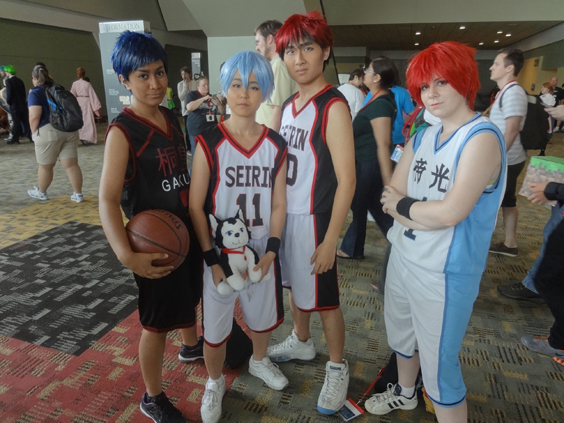 Some of the cosplayers at this year's Otakon.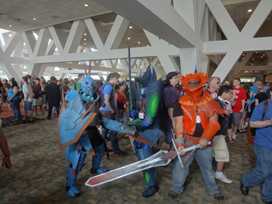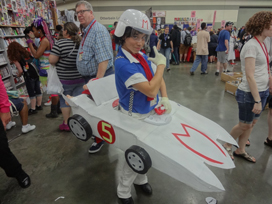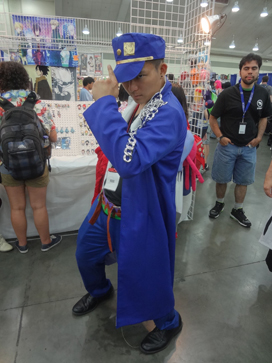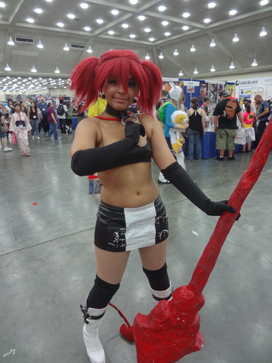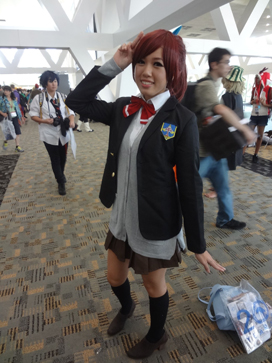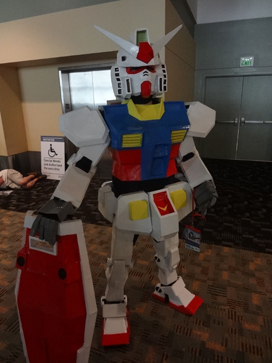 One of Otakon's standout features is its lineup of Japanese guest artists and industry professionals from a variety a fields – everything from anime to music. The event is run by an NPO called Otakorp. As written on their company business cards, they are an "NPO run by fans for the promotion of international exchange," and the fact they can put together such an amazing lineup of guest appearances at this event, which is run entirely by volunteer members, is one of the reasons why Otakon is trusted by the related Japanese industries. It's so nice participating in Otakon as a guest too. I've had many reunions with friends at this event and I've also gotten to meet many of the great artists who have participated along side me as well. This year "Home Made Kazoku" performed in the main hall and it was my first time catching up with the members since Otakon in 2010.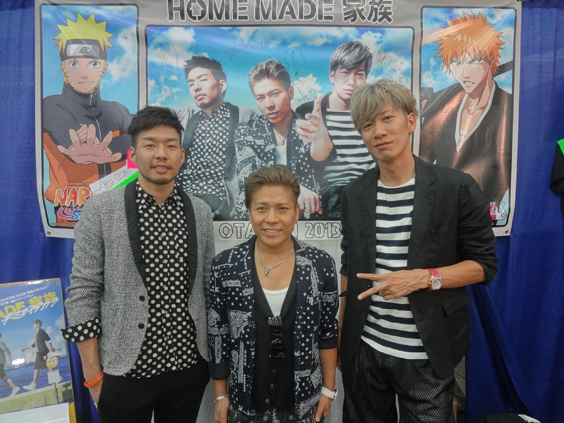 ▲HOME MADE KAZOKU. From left: KURO, MICRO, U-ICHI.
As a Japanese, it truly is a wonderful sight to see such a diverse audience going crazy for their songs. The event has a guest room where staff and guests can relax and chat with each other peacefully, and after their performance I had a chance to speak with Home Made Kazoku member, MICRO.
"It was a challenge for us when we first came here to perform in 2010, because America is the birthplace of the hip-hop genre and we didn't know how our songs would be received here. But the crowd really got into our songs, even the ones that weren't anime theme songs, and so we were really pleased. This time around I just felt so happy that we were able to come back; even before we went up on stage, I couldn't shake my excitement."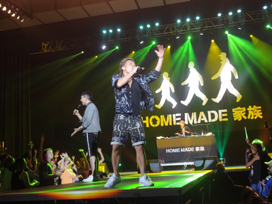 Home Made Kazoku LIVE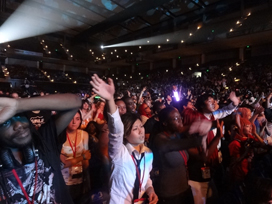 According to event organizers, there was an overwhelming call from fans for Home Made Kazoku to perform at the 20th anniversary event. That's how big an impression this group left on the audience at their 2010 performance. I too was one of those audience members and I felt exactly the same.
"I think the fact that we use the word "kazoku" (family) in our group name is quite significant. We all feel strongly about this word, breaking down national borders and becoming one big family. That's what we hope to achieve with our live performances and I think our audience picks up on that."

If everyone in the audience is a family member then their concert this year was one big family reunion. If you think of otaku events as being a gathering at a family member's house, then a lot of things start to make more sense. These are houses for people all over the world, and their homes.


Tweet
Follow @asianbeat_en
E-mail: ab-en@asianbeat.com
A new article every Wednesday!
Next time: Hokkaido's public-private sector joint-run tourism project, "Sapporo-Otaru Lolikawa Tourism"

Columnist: Sakurai Takamasa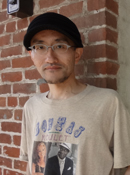 Contents Media Producer, author, journalist, managing director of Contents Street Inc. Chief Editor of iPhone magazine "Tokyo Kawaii Magazine" (ASCII Media Works), World Cosplay Summit Executive Advisor, Chief Researcher at Kodansha/Kodansha BC China Management Laboratory.
Cultural diplomat producing events in 103 cities in 24 countries. Books include "Galapagos-ka no susume"(Kodansha), "'Suteru' de shigoto wa umakuiku"(Diamond-sha), "Nihon wa anime de saiko suru
"(ASCII Shinsho), "Sekai no kawaii kakumei " (PHP Shinsho), and "Anime bunka gaiko "(Chikuma Shinsho). Writes regular columns in the weekly magazine "ASCII" and Yomiuri Shimbun.

●twitter http://twitter.com/sakuraitakamasa/