[JAPAN! JAPAN! JAPAN!] #94 A Popular Idol with the Heart of a True Anime Otaku!
In my previous articles, I've written about the popularity of "loco-dols" (local idols). I've said many times that one of the greatest assets that Japan can boast to the world is our "diversity," and nothing within the idol genre embodies this greater than locodols.
Locodols work together with local business and shopping arcades – something that idols in Tokyo can't do – so that's bound to work to their advantage, whether it be in the domestic scene here in Japan, or overseas. Also, seeing as how there are so many young people in Japan who don't want to leave their beloved hometowns, locodols really have a lot that they can offer the entertainment industry.
Amongst all the locodols in Japan, though, one group that is drawing a lot of buzz nation-wide right now (and who I've written about previously) is Fukuoka's "LinQ."
#88 There's More to Japan Than Just Tokyo! Loco-dols "LinQ" Sharing Their Love of Fukuoka with the World
The members all have their own sense of individuality, and just as one might expect from a group from Fukuoka, being one of Japan's gateways to the world that it is, it's comprised of members who have the potential to take their activities to an international level.
This time around, I interviewed group member, Himesaki Ami. I chose her because I know she also happens to be a hardcore anime otaku.
As part of my work, I interact with idols and otaku on a daily basis, but rarely do I come across someone who falls under both categories. However, I can say for a fact that there are people in the world who are just waiting for such an idol to come along. I know this because one of the key avenues through which people learn about Japan is Japanese anime.
Now imagine an idol who loves anime just as much as the next hardcore anime fan, and whose very identity was influenced by anime. That's the kind of idol I would like to see putting herself out there and making contact with the world.

"I think anime is packed with everything that is good about Japan-made products. The pictures, the story – it's all so delicate and so thorough. This is the side of Japan that people around the world have fallen in love with and as an anime fan, I couldn't be happier."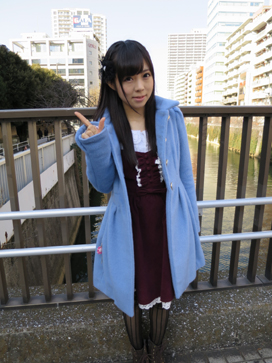 ● Her favorite character from "Fullmetal Alchemist" is Gluttony.
Himesaki remembers how her older sister used to watch anime, so it's something that was always around her as a child. She says she remembers playing, pretending to be characters from the popular anime series, "Ojamajo Doremi."
"Girls love words like "magic" and "transformation" and "hidden powers," no matter which generation you're talking about."

Her favorite anime in elementary school was "Fullmetal Alchemist," and she says she used to be quite the card collector.
"But I tend to like the bad guys more than the actual main characters. Even with other anime series, when I see the sub characters trying so hard, it makes them standout to me all the more. There's too much revealed about the main characters, but with the sub characters, there's still so much mystery surrounding their past and what they're thinking."
When she was in middle school, Himesaki says she used to hide the fact that she was an anime otaku from those around her.
"In elementary school it didn't really bother me if there wasn't anyone around me into anime, but in middle school, I started noticing that I was different to everyone else."
But times change. One thing I've noticed since I first began anime cultural diplomacy in 2008 is the explosive increase in the number of girls who now profess to be otaku.
"I joined a band when I was in high school, but a lot the songs we played were covers from "K-ON!""

One thing that I think has helped bring otaku into the mainstream is cosplay. A lot of cosplay fans throughout the world think of Japan as the home of cosplay, but the reality is Japanese people just caught on to that notion.
Himesaki is also a cosplayer.
"The more you begin to like anime, the more you want to become the characters of the anime of you like. You want to get closer to that two-dimensional world, even if only slightly."

So there's Himesaki Ami the nationally popular locodol, and Himesaki Ami the anime otaku. I know I'll be keeping my eye on both from here on.
Here are some photos from Himesaki Ami's cosplay collection.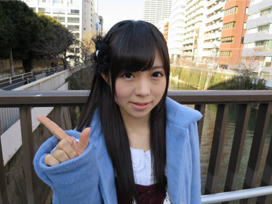 ● "Ruru is definitely alive." A message to anime "Code Geass."
Himesaki Ami Cosplay Collection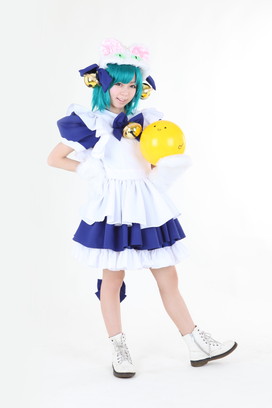 ● Dejiko - "DiGiCharat"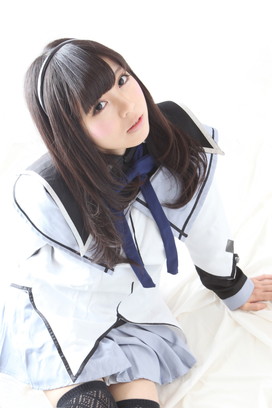 ● Akemi Homura - "Puella Magi Madoka Magica"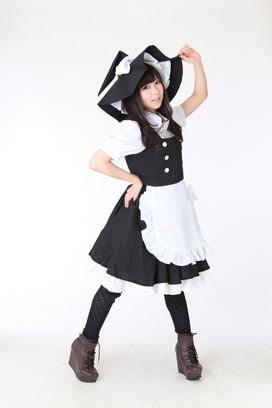 ● Kirisame Marisa - "Touhou Project"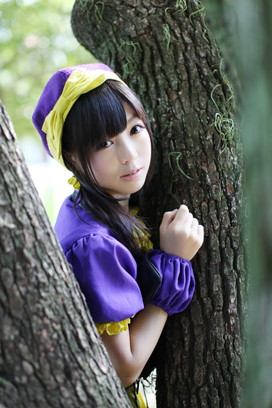 ● Original cosplay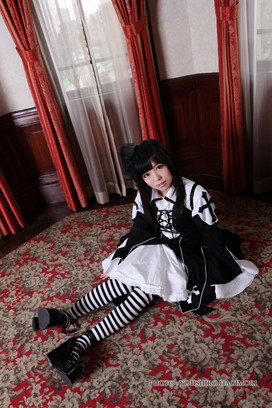 ● Original cosplay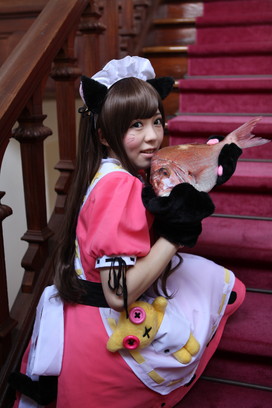 ● Original cosplay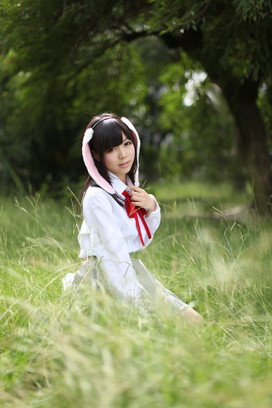 ● Original cosplay
A new article every Wednesday!
Next time: New publication: a guide to paintings produced by yours truly. A closer look at another of S/mileage member, Wada Ayaka's, special talents.
J Pop Culture Observations
- Back Number

Columnist: Sakurai Takamasa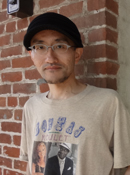 Contents Media Producer, author, journalist, managing director of Contents Street Inc. Chief Editor of iPhone magazine "Tokyo Kawaii Magazine" (ASCII Media Works), World Cosplay Summit Executive Advisor, Chief Researcher at Kodansha/Kodansha BC China Management Laboratory.
Cultural diplomat producing events in 103 cities in 24 countries. Books include "Galapagos-ka no susume"(Kodansha), "'Suteru' de shigoto wa umakuiku"(Diamond-sha), "Nihon wa anime de saiko suru
"(ASCII Shinsho), "Sekai no kawaii kakumei " (PHP Shinsho), and "Anime bunka gaiko "(Chikuma Shinsho). Writes regular columns in the weekly magazine "ASCII" and Yomiuri Shimbun.

●twitter http://twitter.com/sakuraitakamasa/