[JAPAN! JAPAN! JAPAN!] #93 Maid Café's Connecting Japan to the World – An Interview with Two of Akiba's Popular Maids
The concept of the maid was not born in Japan. It was, however, the Japanese who took the concept and turned it into an original and completely unique culture of their own. Just like the Japanese fashion designers who aspired to live in the time of Marie Antoinette and so created lolita fashion, I think Japanese people have the creative ability to take something that inspires them and make it their own.
Maids are an aspect of Japanese culture that Japan can really push to the world right now.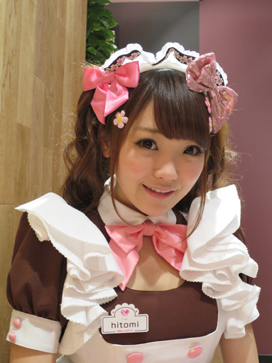 hitomi. She loves idols and says, "Lately, I just can't take my eyes off Miyamoto Karin of "Juice=Juice."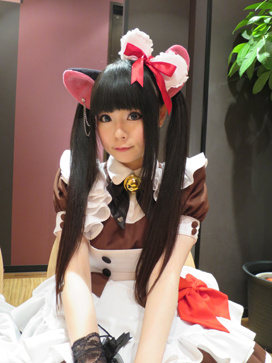 Meu. "I've always loved anime - everything from "Dragonball" to "Attack on Titan."
"Japanese took these maids that only existed inside anime and manga, merged them with an actual place, in Akihabara, and gave life to the maid café culture, so I think the characteristics of the Japanese people are rather incredible," says hitomi, a maid and the owner of "@home cafe," a popular maid café in Akihabara.

"A lot Japanese people have a real artisan spirit. They want to be as thorough as can be with the things they like doing."
That is how Meu, a maid who works at the same café, views Japanese characteristics. Another good example is Japanese anime. Japanese creators aspired to create works like Disney and so they established "anime," using their own ways of expression that was uniquely Japanese. To the rest of the world, "anime" means animation that's made in Japan – it's a category of it's very own.

Just like "kawaii," "moe," too, is becoming a universal word.
"Through anime, next came the '
moe
' industry," says Meu, who says she became a maid because she didn't know of any other jobs that allowed you to wear such kawaii outfits and make otaku friends in Akihabara at the same time.
Akihabara is right up there with Asakusa and Harajuku on the list places that overseas visitors most frequent when they come to Tokyo. Many also visit the maid cafés.
"When I first started working as a maid I was worried that I wouldn't be able to communicate properly with the foreign customers, but it turned out I was worrying for nothing. Now, I treat my foreign masters (customers) just like my Japanese masters. I speak in Japanese but if they ask me any questions I do my best with broken English. And usually, when I do that, they will reply with their broken Japanese. It makes the masters happy when we do our best to serve them in Japanese as well. Everyone prefers to be told, "
Okaerinasaimase goshujinsama
" (Welcome back, Master) in Japanese."
Once you both start talking about the anime that are popular in each other's countries, language become irrelevant. You can understand each other through gestures and the vibes being given off. It's really given me a sense of just how universal anime is.
It's quite common among otaku, but when you find out that someone else likes the same anime as you, it's really quite exciting. You can tell by the way their voices suddenly grow louder. This is also a universal thing. I also get them to show me what anime goods they have, too." (Meu)
"The same goes for the store, but when I went to Singapore and Thailand for an event, I learned just how loved Japan is. It's incredible just how widespread anime and Hatsune Miku are now." (hitomi)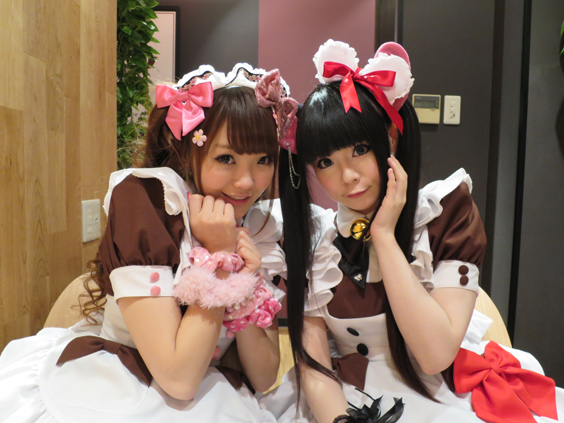 "Mistresses from overseas are always interested in nails, fashion, and the everyday lives of Japanese girls. They ask us a lot of questions." (hitomi)
It has been more than 10 years now since the birth of maid cafés in Akihabara. Lately, there has even been an increase in the number of girls wanting to become maids, apparently.

"With more and more different types of girls applying for jobs, I feel like people's recognition of maids is growing everyday. A lot of girls applying don't even watch anime. It's make me happy when I get to met applicants who say they applied because they've dreamed of becoming a maid since they were little and now they've finally reached working age.
About 20-30% of customers who come to our store for the first time are mistresses (female customers)." (hitomi)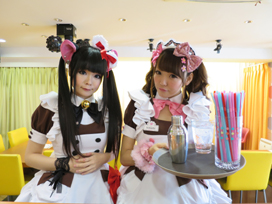 @home cafe opened it's doors in 2004.
I'm of the impression that most maids spend their days off in Harajuku or Ikebukuro, going around to all the nail and fashion related shops, but what is it really like?

"Everyone loves fashion, but the types of fashion magazines we read are all different. The clothes we each wear also vary. Some wear frills, others dress more like 'gyaru'." (hitomi)

"When I get together with my otaku friends on a day off, I'm always extra conscious about what I wear. Lately there has even been a fair bit of media coverage at these get-togethers, so I want to try and change people's opinions of otaku, too." (Meu)
"I want people to think of Akihabara and maid cafés as just regular places. I've been trying hard this whole time to get rid of the negative image little by little. It's no different to Harajuku or Shibuya. A free town that specializes in hobbies: that's what Akihabara is." (hitomi)

Speaking with these two girls, it's obvious just how hard-working and proud they are to be maids.

""Omotenashi" (selfless hospitality) was voted one of the top buzzwords in Japan last year, but we've been practicing 'omotenashi' all this time. Maid cafés aren't just another fad, it's a new aspect of Japanese culture operating out of this town, Akihabara, and that's what we'll continue to do. From here on, I would also like to spread maid culture even further throughout the world. It's because they don't have anything like it in their own countries that our masters who come from overseas find it so enjoyable. We can keep getting people to come to Japan and experience maid cafés here in Akihabara, but I think the time has come for us to start spreading maid culture overseas ourselves." (Hitomi)
Not long ago, there used to be very few restaurants and cafés in Akihabara. Everyone had a clear purpose for going there and so places to rest or eat weren't necessary. I believe maid cafés are important sites of communication linking Japan and the world. If overseas visitors didn't stop by any maid cafés when they came to Akihabara, they might come to do some shopping, but that's all. But right now, many of the maid cafés in Akihabara are vying with each other over who can be the most unique. And each and every encounter made at these places will only strengthen the bonds between Japan and the world even further. Akihabara is a town unlike any other, and it's the maid cafés of Akihabara that are connecting Japan to the world.
I look forward to seeing how maid culture grows and evolves from here on. And I've yet to visit a country overseas with a Japanese maid, so that's another dream I would like to make happen with my work in cultural diplomacy. I often visit maid cafés in cities overseas as part of my cultural diplomacy activities.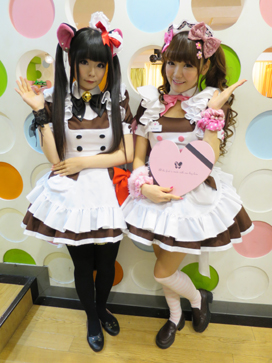 A lot of their customers check the cafe's homepage (also available in English and Chinese) before coming to the store.
"Okaerinasaimase goshujin-sama, ojou-sama," (Welcome back, Master, Mistress.)
Even though there isn't a single Japanese person at any of these cafés, the local people always greet other local people, just like this, in Japanese.
So if Japan is going to be aggressive about taking Akihabara's maid culture to the world, it's now or never really.
A new article every Wednesday!
Next time: Interview with a genuine otaku idol with a passion for anime and cosplay.
J Pop Culture Observations
- Back Number

Columnist: Sakurai Takamasa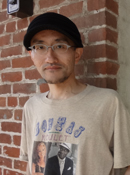 Contents Media Producer, author, journalist, managing director of Contents Street Inc. Chief Editor of iPhone magazine "Tokyo Kawaii Magazine" (ASCII Media Works), World Cosplay Summit Executive Advisor, Chief Researcher at Kodansha/Kodansha BC China Management Laboratory.
Cultural diplomat producing events in 103 cities in 24 countries. Books include "Galapagos-ka no susume"(Kodansha), "'Suteru' de shigoto wa umakuiku"(Diamond-sha), "Nihon wa anime de saiko suru
"(ASCII Shinsho), "Sekai no kawaii kakumei " (PHP Shinsho), and "Anime bunka gaiko "(Chikuma Shinsho). Writes regular columns in the weekly magazine "ASCII" and Yomiuri Shimbun.

●twitter http://twitter.com/sakuraitakamasa/