[JAPAN! JAPAN! JAPAN!] #92 Quiet Rise to Global Fame. Just How Far Across the World has the Obento Spread?
* Obento: A single-portion takeout or home-packed meal.
I've asked countless people at events held in the US, "What aspects of Japanese culture or lifestyle have you picked up on through watching anime?"
There have been some rather unique replies, like being made to stand with a bucket on your head after being scolded by your teacher (not that I've ever witnessed such a sight for myself in real life, though), but the most common reply I get is Japanese cuisine. Soba, udon, tonkatsu…it's these kinds of Japanese foods that they identify most often.
In anime, you can find just about any and every aspect of Japan there is. Anime is like an ambassador that introduces Japanese culture to the world.
One aspect of Japan's food culture that has gained a reputation through anime is the "obento." In English, Obento, or "bento," is written as is, and while it may have been keeping a low profile all this time, quietly making a name for itself, today, it's a global phenomenon.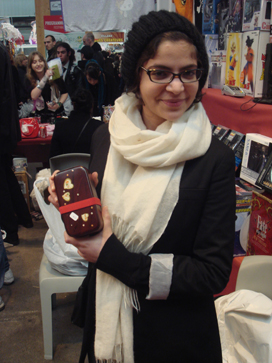 2010, Marseille - Japan Expo.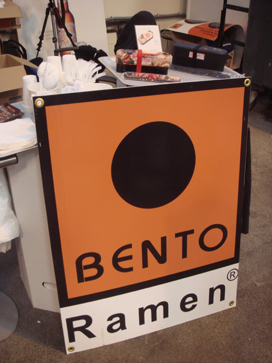 2010, Marseille - Japan Expo.
The protagonists of Japanese anime are quite often middle school or high school students; so naturally, their school lives are often depicted in the stories. And as such, there are a lot of scenes set in the lunch time period when the classmates all get together to chat, and it is in these scenes that the obento frequently appears.
When I say, "appears," though, in most cases, we're talking about a fraction of a second. But it's in these minute details, like going as far as to make the contents of the obento look appetizing – something that the person watching may not even pick up on – that truly sets Japanese animators apart. It's this "craft" that the world has fallen in love with.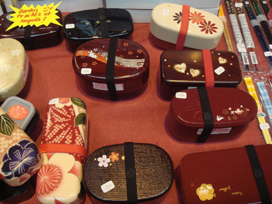 2010, Marseille - Japan Expo.
I often hear from anime fans overseas how they would like to taste or to try and make the obento that are portrayed in anime. To them, eating a "kyara-ben" (charater-themed obento) would be like a dream come true.
At international anime events, it's quite common to find stalls selling obento boxes. Young people overseas can feel the Japanese craft inside these tiny boxes.
In November 2011, when I visited a university in Moscow, I met a student there who would make her own obento and take it with her to eat at school.
"I still can't make it as good as the Japanese do, though."
She spoke shyly about it but her obento looked really quite good. She would pack her obento box with all the side dishes and desert and then buy the rice from the university cafeteria. I've met a number of young people at anime events overseas who would fill their obento boxes with pasta and such, but she was the first person I've met overseas who made such an the obento so authentically. It's been more than two years since then, though, and I'm sure by now, there are even more young people who are making proper Japanese style obento all over the world.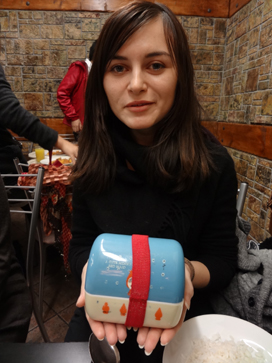 2011. The university student who makes her own authentic obento.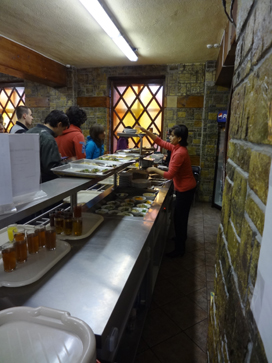 2011, university cafeteria in Moscow.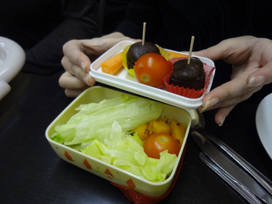 A Russian university student's homemade obento.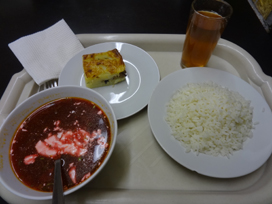 University cafeteria in Moscow. My (Sakurai's) lunch selection. Nothing says Russia more than borscht!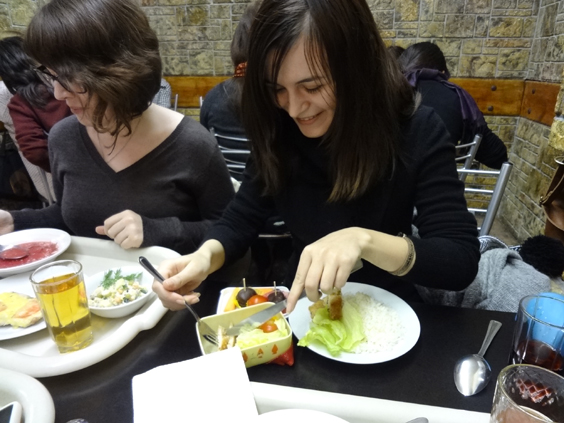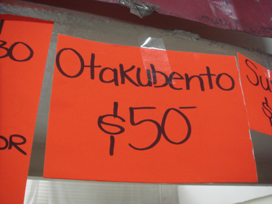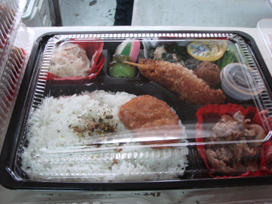 2011. The "Otaku Bento" that were being sold at an anime event in Mexico.
At an event in Mexico, they were selling "Otaku Bento," the main component of which was a variety of fried foods. I couldn't see where the "otaku" part came into it, but I guess just joining the two keywords "otaku" and "bento" together was enough to get people's attention. And if this kind of promotional activity works, it occurred to me just how much of a business opportunity this could be for Japan.
Things that are so commonplace for Japanese people can be just the opposite for people overseas. The obento is just one such example.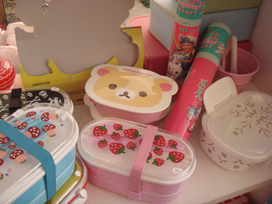 2009. Obento boxes being sold at a shop in Paris.
International anime events are places that can show Japanese people these treasures that are right in front of us but we're just to close to see it.
A new article every Wednesday!
Next time: A look at Japan's maid culture in the global spotlight, and interview with a maid café maid!
J Pop Culture Observations
- Back Number

Columnist: Sakurai Takamasa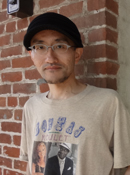 Contents Media Producer, author, journalist, managing director of Contents Street Inc. Chief Editor of iPhone magazine "Tokyo Kawaii Magazine" (ASCII Media Works), World Cosplay Summit Executive Advisor, Chief Researcher at Kodansha/Kodansha BC China Management Laboratory.
Cultural diplomat producing events in 103 cities in 24 countries. Books include "Galapagos-ka no susume"(Kodansha), "'Suteru' de shigoto wa umakuiku"(Diamond-sha), "Nihon wa anime de saiko suru
"(ASCII Shinsho), "Sekai no kawaii kakumei " (PHP Shinsho), and "Anime bunka gaiko "(Chikuma Shinsho). Writes regular columns in the weekly magazine "ASCII" and Yomiuri Shimbun.

●twitter http://twitter.com/sakuraitakamasa/