#91 Japan's Otaku Girls Paving the Way for a Better World with Anime Cultural Diplomacy!
It was the lectures I gave on a tour of Italy and the Czech Republic in December 2007 that set the stage for my career in cultural diplomacy. Now, in January 2014, I've headed various projects in 25 countries and 125 cities all over the world.
I began touring the world giving talks on anime in all the various countries – what I like to call "anime cultural diplomacy" – and I've even been appointed as an advisor for matters relating to anime cultural diplomacy by the Ministry of Foreign Affairs.
After that, as though by fate, I discovered Japanese "kawaii" on my travels throughout the world, and after I had been put in charge of the Ministry of Foreign Affairs's Kawaii Ambassador project, my activities in cultural diplomacy expanded. But the starting point for it all would have to be anime. Why anime? Because it's through anime that most young people around the world learn about Japan. Anime is jam-packed with just about any and every aspect of Japan: everything from Japanese culture, society and lifestyle, right down to the mentality of the artists and anime creators.
I first became clearly conscious of anime cultural diplomacy at a lecture I gave in Saudi Arabia in March 2008. It feels like it was only yesterday that I was waiting alone for a plane at Dubai airport, on a stopover to the Saudi Arabia capital, Riyadh, but six years have passed since then. Over the years I've made countless acquaintances with people who, like me, became aware of the affection that people hold for Japan around the world and I've written about my encounters with them and the time we've spent together overseas in my articles on numerous occasions.
On this occasion, I would like to introduce some very recent acquaintances of mine, "AOP" (Anime O-en Project).
This six-girl group is well known for screaming their love for anime at their events, on TV and in the magazines. They have even performed at events overseas. Their activities are the very essence of anime cultural diplomacy.
AOP at Japan Expo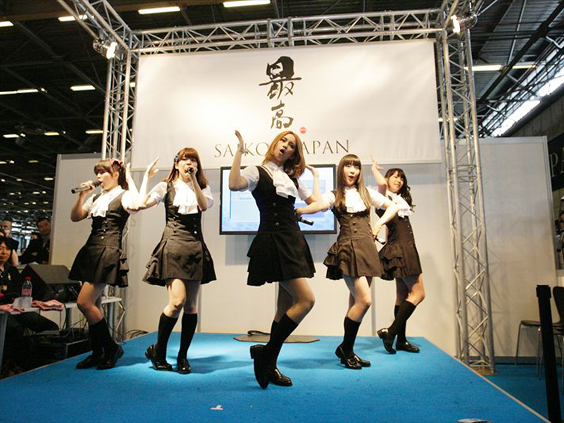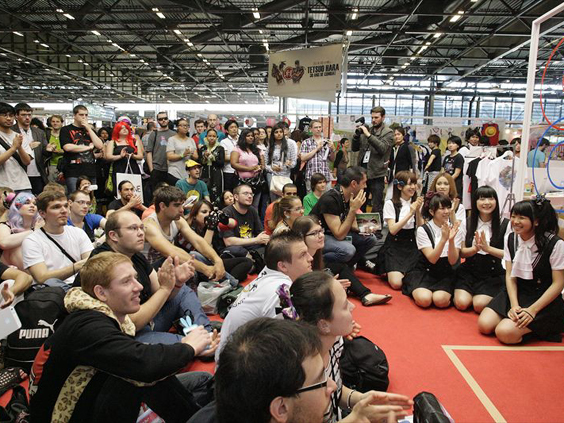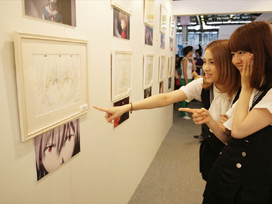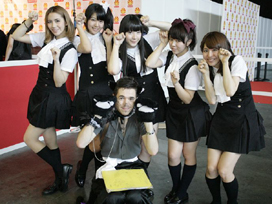 This is how AOP members, Ogino Saori and Shimizukawa Saki, remember their time at the Paris Japan Expo last year:

Shimizukawa "For me, the Japan Expo was my first time overseas. I was worried about the language barrier and various things, but the event itself was just like any other anime event held in Japan. It's like I wasn't even in France at all (lol)."

Ogino "I got to see all the other Japanese artists perform at Japan Expo, but the way the crowd enjoys themselves was the same as what you would see in Japan. There were a lot of people waving glow-sticks around, too."

Shimizukawa "A lot of French people came out to watch us perform. They were all so good at Japanese, and as an anime fan it makes me so happy to be told things like, "I studied Japanese by watching anime.""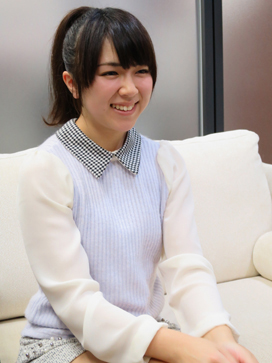 "AOP" member, Shimizukawa Saki.
Ogino "Our performance was held in an open space amongst the corporate booths and once we started singing anime songs, hoards of people would start gathering around. It made me realize how much people love anime songs right around the world."

Has your time overseas made you realize anything differently about Japan or anime?

Ogino "There are still people out there who frown down the suggestion of an anime boom, right? It's such a shame because there are so many people overseas who love anime."
For Japan's anime otaku, this would most likely the first thing to come to mind if they were to visit an anime event overseas. Of course, watching or liking anime and manga is a completely personal thing. I've said this ever since starting anime cultural diplomacy, but I'm not telling people that they have like to like anime and manga. I'm simply saying that people come to like Japan and want to learn more about Japan through their love of anime and manga and that we should try harder to reciprocate those feelings a little more. And I have one more favor to ask, and that's to experience the meaning of anime cultural diplomacy for yourself, just like the girls in AOP, and give any other young people who are wanting to promote Japan overseas, the little nudge they need. You don't have to understand everything there is to know about anime; you can leave that to these anime-loving girls. But the youth of Japan have to go out and meet the anime-loving youth of the world half way. With that alone, I think Japan and the rest of the world will change in various ways.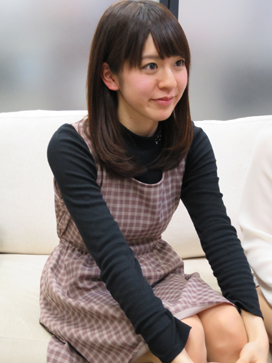 "AOP" member, Ogino Saori.
The rapid decline in Japanese foreign exchange students is becoming a serious issue for Japan. A nation of young people that don't know anything of the world outside of Japan will only lead to problems in the future. To prevent that happening I think the government's Cool Japan campaign needs to be directed more towards the issue.
Ogino "Taking part in an event overseas changed the way I think. Now I really want to get out there and see more of the world. And it's all thanks to my beloved anime. I now know that I can overcome national barriers and reach people with anime songs."

Shimizukawa "I've realized how we need to have more confidence in promoting Japanese culture. Maybe this example is a little strange, but even if there was no sushi, we can still communicate with people about Japan using anime quotes alone. I learned that as long as I have anime I can go overseas; I can live there."

These two girls from AOP have clearly developed a consciousness of anime cultural diplomacy. What have they taken away from this experience that they plan to work on in the future?

Ogino "Regarding anime and anime songs, I also learned that you can't just express things in the exact same way you would when in Japan. I'm going to work harder on my communication skills from now on."
Shimizukawa "Anime may be one entity but it can be enjoyed in so many different ways. I want to share the otaku "spirit" with the world. I want to tell people all over the world about all the places that appear in anime that are symbolic to Japan."

I wonder how AOP will approach anime cultural diplomacy from here on. I'm sure we'll cross paths on a number of occasions. As my latest friends and allies in anime cultural diplomacy, I hope that they take to the world in leaps and bounds.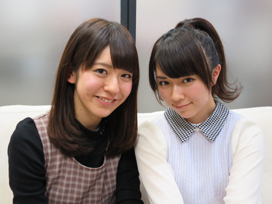 From left: Ogino Saori and Shimizukawa Saki.
A new article every Wednesday!
Next time: The obento boom goes global.
J Pop Culture Observations
- Back Number

Columnist: Sakurai Takamasa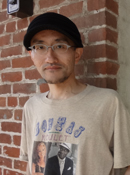 Contents Media Producer, author, journalist, managing director of Contents Street Inc. Chief Editor of iPhone magazine "Tokyo Kawaii Magazine" (ASCII Media Works), World Cosplay Summit Executive Advisor, Chief Researcher at Kodansha/Kodansha BC China Management Laboratory.
Cultural diplomat producing events in 103 cities in 24 countries. Books include "Galapagos-ka no susume"(Kodansha), "'Suteru' de shigoto wa umakuiku"(Diamond-sha), "Nihon wa anime de saiko suru
"(ASCII Shinsho), "Sekai no kawaii kakumei " (PHP Shinsho), and "Anime bunka gaiko "(Chikuma Shinsho). Writes regular columns in the weekly magazine "ASCII" and Yomiuri Shimbun.

●twitter http://twitter.com/sakuraitakamasa/