[JAPAN! JAPAN! JAPAN!] #97 Idols Want to do More Sightseeing, Too! Guiding a Group of Popular Idols Around Taiwan
Our first stop was Dihua Street in the old town area of Taipei. Here you can find many stores selling all various kinds of foods.
After stocking up on souvenirs to take home, the next stop for the idols was a place where they could be at home as otaku: "animate" in the Ximending shopping district. Watching as they each carried their own bundles of anime goods to the register, these girls really couldn't embody the "loveable otaku girl" more.
The entire Ximending area is very young-people-oriented. It's like Harajuku, Nakano and Ikebukuro, all merged together. At all the places we stopped we asked the stores to put up fliers for the Afilia Saga concert being held in Taipei in March, and the four girls really seemed to enjoy themselves just walking around the city.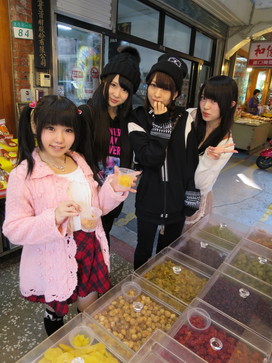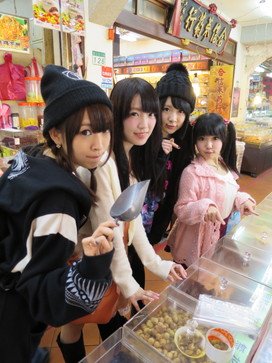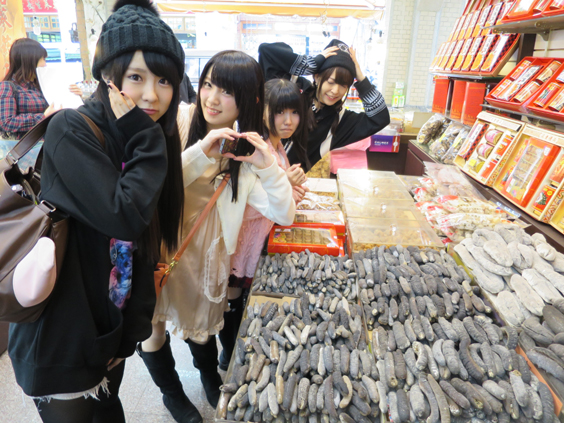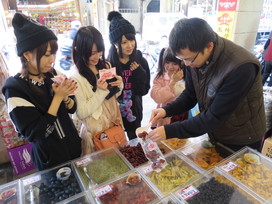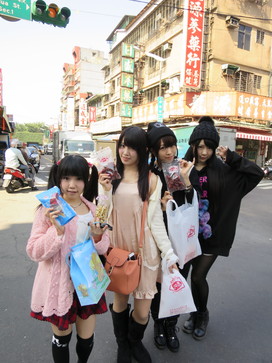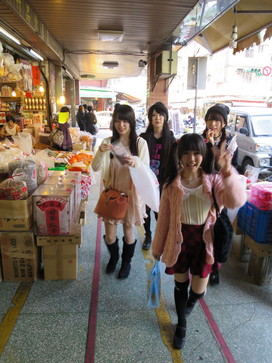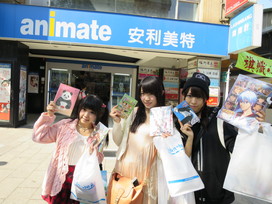 Shopping at "animate."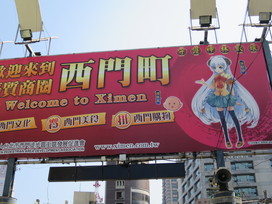 Ximending is like Harajuku, Nakano and Ikebukuro all rolled into one.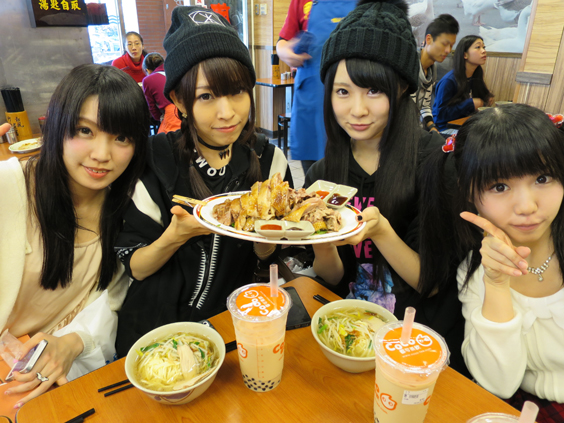 We ate lunch at a popular local restaurant.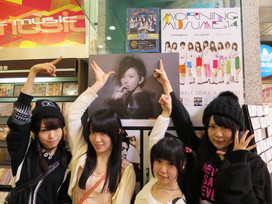 Putting up concert fliers around Ximending.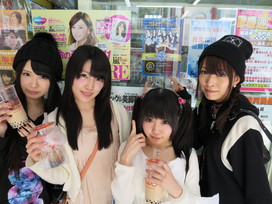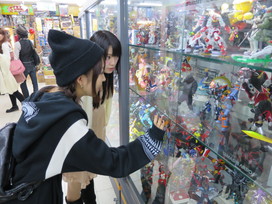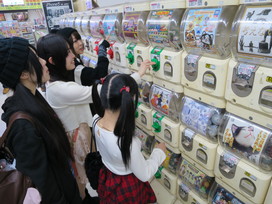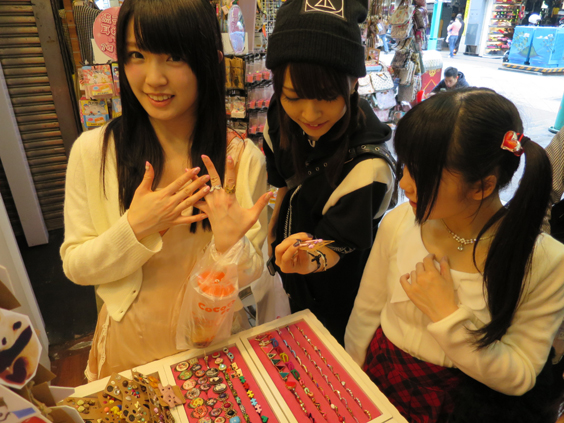 Shopping in Ximending.
After their stint in Taipei was over, I asked the girls how the trip changed their view of the international scene.

Louise: "There's quite a distance between Japan and all other countries, but the fans overseas still reach out to us. Thanks to them, the distance between us and the rest of the world is now a lot closer. Next it's our turn to reach out to them."

Raymee: "I used to think that "overseas" meant this really far away place. But after seeing it for myself, it turns out it's not so far after all. Japanese idols are more well known overseas than what they probably imagine, and I think more idols need to get out there and experience this for themselves. Whether it be in the form of a blog or otherwise, I feel we need to be doing more to get information out to the international community."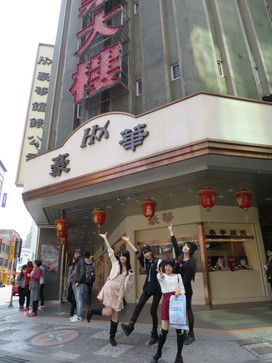 Ximending, Wannien Commercial Building - Taipei's answer to Nakano Broadway.
Ayami: "There are people out there waiting for us. There are people out there who read our blogs. There are people out there who buy our CDs. I was shocked. But more then that I was overjoyed. It made me realize how narrow-mindedly I've been living. I want to see the world with a view that's even broader still."

Kohime: "Overseas fans scour the net and our videos trying to pick up all the information on us they can. They make me feel really loved. I'm very grateful."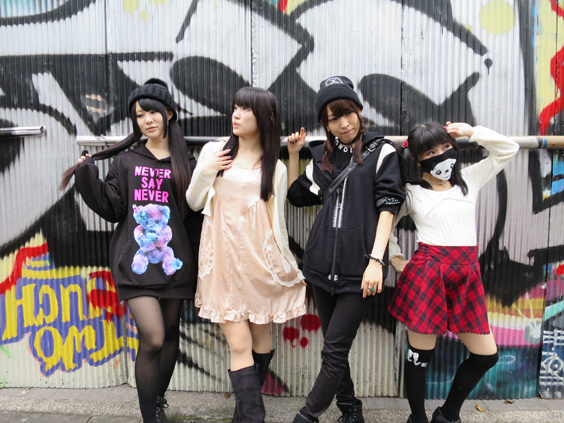 In Ximending. From left: Raymee, Ayami, Louise, Kohime.
Last year, when I visited Thailand, I met a cover dance team who performed at a Japan related event dressed as the girls from Afilia Saga.
In Taipei this time around, I met many more young fans of Afilia Saga, and made a number of friends, too. Encounters like this I value dearly.
After walking around the streets of Taipei and seeing the city with their own eyes, the girls now say that they feel a whole lot closer to Taiwan than before.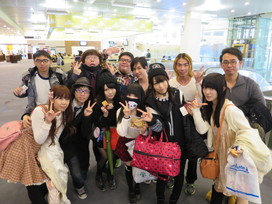 With fans at Taipei/Matsuyama Airport.
Just as the girls experienced for themselves, there are tons of fans overseas just waiting for their favorite Japanese idols to come visit them. I hope that they find various ways to reach out to these fans, as I'll be right there to support them in any way that I can.
A new article every Wednesday!
Next time: A decisive test for the global expansion of the Japanese entertainment industry in 2014. Interview with Alice Nine on the launch of their China tour.
J Pop Culture Observations
- Back Number

Columnist: Sakurai Takamasa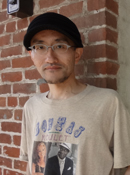 Contents Media Producer, author, journalist, managing director of Contents Street Inc. Chief Editor of iPhone magazine "Tokyo Kawaii Magazine" (ASCII Media Works), World Cosplay Summit Executive Advisor, Chief Researcher at Kodansha/Kodansha BC China Management Laboratory.
Cultural diplomat producing events in 103 cities in 24 countries. Books include "Galapagos-ka no susume"(Kodansha), "'Suteru' de shigoto wa umakuiku"(Diamond-sha), "Nihon wa anime de saiko suru
"(ASCII Shinsho), "Sekai no kawaii kakumei " (PHP Shinsho), and "Anime bunka gaiko "(Chikuma Shinsho). Writes regular columns in the weekly magazine "ASCII" and Yomiuri Shimbun.

●twitter http://twitter.com/sakuraitakamasa/