[JAPAN! JAPAN! JAPAN!] #98 Alice Nine's Tour of China will be a Decisive Test for Japan's Music Industry
Japanese-brand entertainment on the international scene will take an important step forward this year (2014) with the launch of a concert tour kicking off in China.
Beginning in June, Alice Nine will start their Asia Tour, performing in China, Taiwan, Singapore, Malaysia, Hong Kong, and South Korea. The China-leg of their tour will see them perform in eight different cities: Shenzhen, Guangzhou, Wuhan, Beijing, Shanghai, Chongqing, Xiamen, and Hong Kong. There aren't too many cases that I can think of when such major Japanese artists have performed in so many cities in the one country.

In my travels, I've witnessed for myself just how popular Alice Nine are around the world, and you can tell just by the sheer number of requests for their songs from overseas on NHK WORLD's Japanese music TV program, "J-MELO." I am also apart of Team J-MELO and occasionally make appearances on the show. In 2013, the bands that were most requested by international viewers were, the GazettE, Arashi, Alice Nine, and Morning Musume, in that order.
I sat down with vocalist and group leader, Shou, and guitarist, Hiroto, and asked them about their thoughts on their upcoming China tour.
"I went to Indonesia and a few other places for the first time two and a half years ago, when we went to Asia to take part in an event with a number of other bands, and the trip really struck a chord with me. Ever since then I've wanted to do a tour of Asia. As for China, I was really into Chinese history as a child, so their culture is quite familiar to me and I can't wait to see the country for myself. When I was nine, I was hooked on "Sangokushi," the manga by Yokoyama Mitsuteru, and after that I fell in love with novels like "Shui Hu Zhuan" ("Water Margin") and "Kou to Ryuho." But I want to see all the other parts of China that aren't in the stories and see them with my own eyes." Shou also told how he's currently hooked on the Manga, "Kingdom," that depicts the events of China's Spring and Autumn period.

Hiroto: "I also can't forget the concert we gave in Indonesia and Singapore two years ago. The excitement from the crowd was incredible and it made me feel like they had been wanting to see us so badly for so long. It was moving. The concert opened up my eyes to the possibilities of other countries that I know very little about. For our up-coming tour of China we've got a lot of stops planned. I can't even imagine what these places are going to be like. I really just can't wait to see the effect our music has over there."

Alice Nine's tour of China will not only consist of cities that are familiar to Japanese people, like Beijing, Shanghai and Guangzhou, but also the perhaps lesser known, Xiamen and Chongqing (both of which I visited in the course of my cultural diplomacy activities and both of which are profoundly memorable).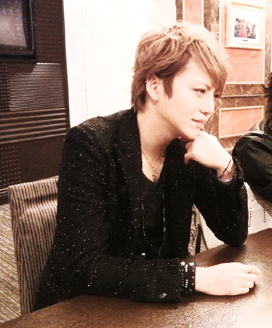 Shou. Amongst the characters of Sangokushi, Zhang Fei is Shou's favorite. "I admire him for his humanity and his brute strength."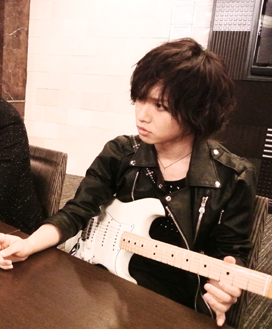 Hiroto. "I like the sound that China's classical musical instrument, the erhu, makes."
My first visit to Chongqing was in January, 2010. The city is located in the very west of China, where the Yangtze and Jialing rivers cross. The number of people and skyscrapers is overwhelming. It was here that I got to try authentic Chongqing-style hotpot (lit: "fire pot" in Chinese) which has a tongue-numbing kick to it unlike anything most Japanese have probably ever experienced (once you get used to it, though, it starts to become quite addictive), and I got to speak with a great many young people who simply love Japan, as well.
As the leader of a special group touring China and as a guest of anime events, I ended up travelling to Chongqing four times in the one year.
And now Alice Nine, a group who I know well outside of work too, will be going there too. I have high hopes for them and what they'll achieve and I'm sure the hopes of all the young people who live there are soaring equally as high.