[JAPAN! JAPAN! JAPAN!] #96 Japanese Writers and Artists Flock to Taiwan's Biggest Dōjin Event, "Fancy Frontier"!
On February 15-16, 2014, I took part in "Fancy Frontier," the biggest dōjin event in Taipei.
Fancy Frontier is often written up in magazines and across online media here in Japan, and it certainly lived up to the hype.
Before doors opened on the first day of the event, I took a taxi to the National Taiwan University Sports Center, where the event was being held, and a long line had already begun to form. No matter where you go, whether it be Japan, France, America or otherwise, the early morning scenery at these otaku events are all the same. The world is so different in so many ways, but there are some things that simply don't change. That moment when you actually get to see how otaku are helping bring the world closer together is a sight that brings me joy no matter how many times I see it, and it really gives you a sense of hope for the future.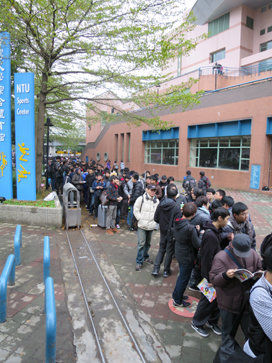 The long line before doors opened.
The majority of attendees lining up for the event were overwhelmingly male. So it would seem Fancy Frontier is largely a male-oriented dōjin event.
Once the doors opened, the atmosphere and buzz inside the event was just like Japan's Comiket. If you were regular attendee of Comiket in Japan, you would probably forget that you were even in a foreign country.
The biggest difference between Fancy Frontier and similar Japanese pop culture events held in Europe and America is the number of participating dōjin writers and artists. And what's more, their artistic style so closely resembles that of Japan – another point that sets them apart from dōjin artists in Europe in America.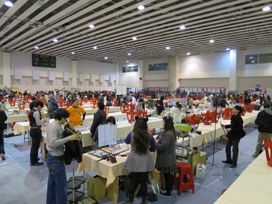 Final preparations before doors open. Over the 2 days, the circles (dōjinshi groups) participating change – just like in Japan. (2 day displays are also possible, though.)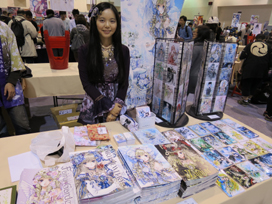 This is SHIITAKE-san. She also took part in the Paris Japan Expo.
Another major difference between this event and events held in other countries is the number of Japanese dōjin artists and writers.
Japanese dōjin artists really should venture overseas more often. I've witnessed the popularity of Japanese dōjin manga overseas for myself so many times and I've been telling people as such for so long now, actually seeing a troupe of Japanese writers and artists participating in an overseas event like this made me incredible happy. So I would love for them to take part in even more events around the world. I'll definitely be supporting them all the way.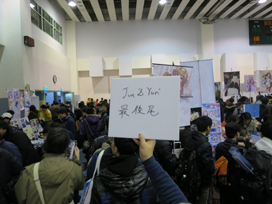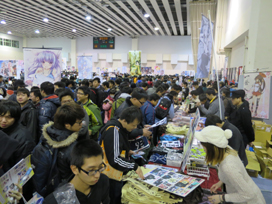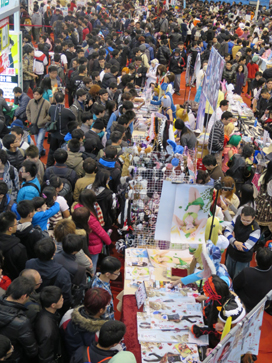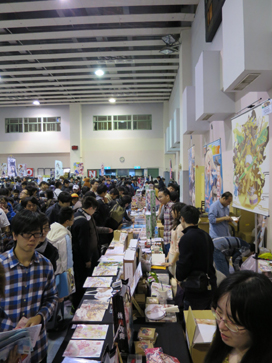 The atmosphere is just like Comiket in Japan.
These kinds of events are also places to reunite with old friends. They might be running a booth, cosplaying, or just there as a fan, but each time I reunite with any one of these friends I'm reminded of all my work in cultural diplomacy and everything that has happened up until that point.
The open stage at the event hosted Japanese guest after Japanese guest, and all the talk sessions and mini concerts that were held were a huge success.
They had artists who I'm quite familiar with, like Iwao Junko and Afilia Saga, and others who I just met for the first time like Aoi Eir, and it really felt like a team representing Japan. Thinking about it though, in my situation, a lot of the Japanese artists I meet, I meet for the first time overseas. I met Iwao Junko for the first time in Paris in 2012, and now Aoi Eir.
There are so many fans overseas just waiting for their favorite Japanese artists to visit them. I look forward to reuniting with all of my colleagues who have been overseas and felt this for themselves and I cherish those connections everyday.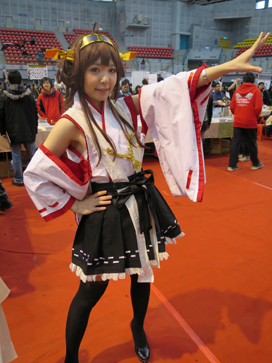 Reunion with a friend in Taiwan.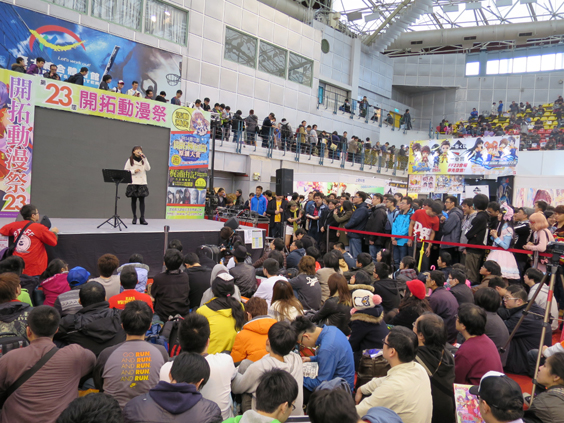 Iwao Junko's mini concert.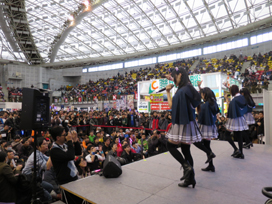 Afilia Saga's mini concert.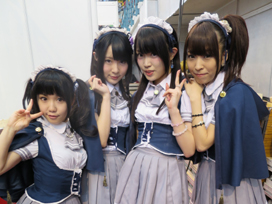 The members of Afilia Saga.
For the two days, the grounds outside the event hall were a cosplay paradise. It was free rein for both the cosplayers and those taking photos. That "free" atmosphere is also one of the reasons why I love Japanese pop culture events held overseas.
It makes me so happy as a Japanese to see all these people just having a ball completely absorbed in Japan, and I think it's something we should be proud of.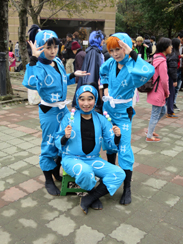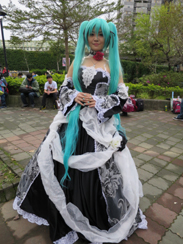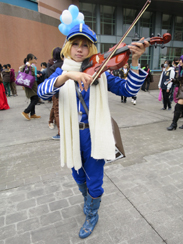 Outside the event it's a cosplay paradise.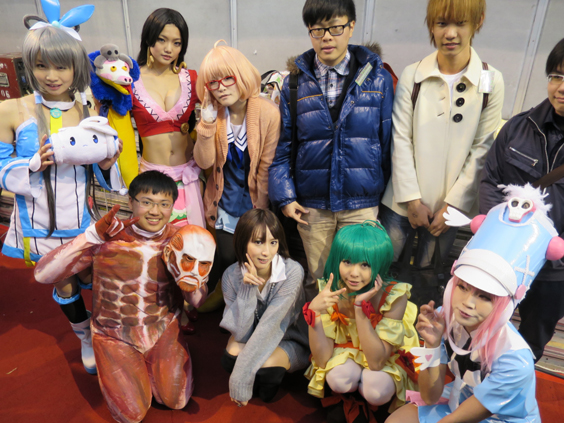 Special guest Aoi Eir co-hosted a talk session with local cosplayers.
Japan is a country of many faces. It's one of the standout features of Japan, it's our national treasure, and it's the source of what makes us the most unique country in the world.
Virtual versions of Japan are popping up all around the world almost on a weekly basis and I highly recommend you visit one of these places for yourself at least once.

A new article every Wednesday!
Next time: Fancy Frontier special guests. An exclusive with Afilia Saga and their activities in Taipei.
J Pop Culture Observations
- Back Number

Columnist: Sakurai Takamasa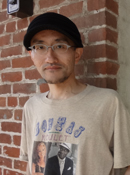 Contents Media Producer, author, journalist, managing director of Contents Street Inc. Chief Editor of iPhone magazine "Tokyo Kawaii Magazine" (ASCII Media Works), World Cosplay Summit Executive Advisor, Chief Researcher at Kodansha/Kodansha BC China Management Laboratory.
Cultural diplomat producing events in 103 cities in 24 countries. Books include "Galapagos-ka no susume"(Kodansha), "'Suteru' de shigoto wa umakuiku"(Diamond-sha), "Nihon wa anime de saiko suru
"(ASCII Shinsho), "Sekai no kawaii kakumei " (PHP Shinsho), and "Anime bunka gaiko "(Chikuma Shinsho). Writes regular columns in the weekly magazine "ASCII" and Yomiuri Shimbun.

●twitter http://twitter.com/sakuraitakamasa/