[JAPAN! JAPAN! JAPAN!] #101 Rome's ROMICS. "Hetalia," "Attack on Titan," "Gintama": The Cross-Border Topics for Discussion are Endless.
Italy is a place that holds a lot of memories for me and my work in cultural diplomacy. In December 2007, I was asked by the Ministry of Foreign Affairs to perform a series of talks, in Prague, Czech Republic, and in Rome, Bologna and Milan, in Italy, and one of the main reasons that I started to become passionate about cultural diplomacy was because of this tour.
This is one episode that transpired at a school in Rome:
I asked the students,
"Do you like Japanese anime?"
To which a student in the front row replied,
"Teacher, you don't have to ask us such questions. We were all raised on Japanese anime."
I figure it was their way of saying, just cut to the chase and tell us about the Japanese anime industry.
This was also the first time that I actually caught a glimpse of just how deeply ingrained into the world Japanese anime is and how much influence it has on the developing identities of young people everywhere. You could even say it was these words that gave me the push I needed to continue touring around the world. This was how my "anime cultural diplomacy" started.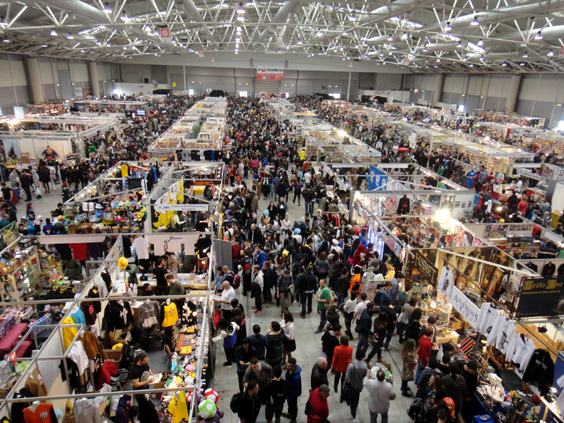 Inside ROMICS.
It was also around this time that the Japanese embassy in Rome invited me to Rome to attend Italy's biggest Japanese pop culture event, ROMICS.

I now travel around the world going to various anime events on a regular basis, and you could say that this was the starting point. I attended ROMICS as a guest in 2009 and 2011. In 2009, I was also in Italy for another large-scale Japan-related event held on Tiber Island. Kawaii Ambassadors, Aoki Misako and Kimura Yu were also with me at the time. ROMICS attracts more than 100,000 people and they now currently hold the event twice a year: one in spring and one in autumn. This was my first time back to ROMICS as a guest in two and a half years, but it was also my very first "spring" ROMICS. For some reason, whenever I'm at these anime events overseas and I see all the Miku and Luffy cosplayers, I always get the feeling like "I'm home." It's like I'm back in my hometown.
A number of manga series in Italian were being sold at the event.
For those who too have attended numerous anime events overseas, then I'm sure you'll understand exactly what I'm talking about and perhaps experience similar feelings yourselves.
That isn't Japan. But there's no mistake, that's Japan, pure and simple. They should rename these places "Nippon" in alphabet or in katakana – it's not the real Japan but it's about as close as you can get.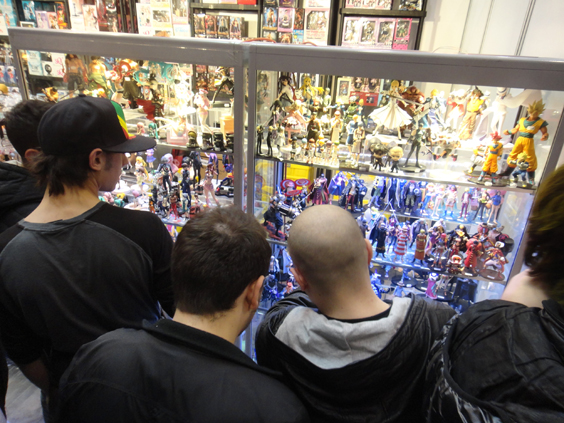 Figure ogling. A common sight no matter where you go.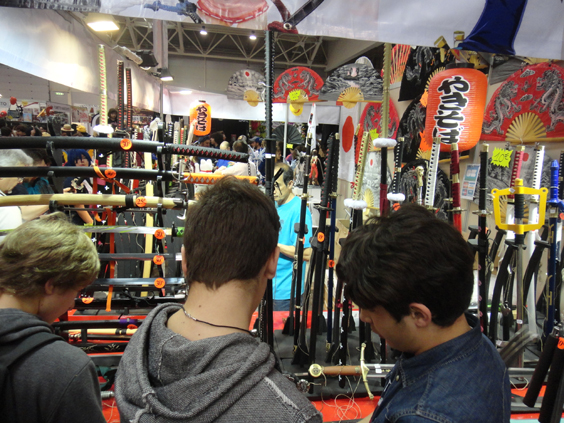 The most popular item at anime shops overseas, after manga, is quite possibly katana (Japanese swords).
One Dragonball cosplayer had done his best to write the character "亀" (kame: "turtle") on his back. Another Gintama cosplayer had written the characters "洞爺湖" (Tōyako: Lake Tōya) on his wooden sword. Surely I'm not the only one who sees these kanji characters and starts to feel warm inside.
One of the most interesting episodes concerns the "Attack on Titan" cosplayers, though. The most popular series for cosplayers all around the world right now is "Attack on Titan." ROMICS too had their fair share of "Attack on Titan" cosplayers, but unlike in other countries, here the cosplayers weren't fitted with what could be regarded as an essential item for the character outfits, the "3D maneuver gear." Then how are you supposed to take on the Titans!? There were just that many not equipped with the gear that I decided to ask one of the cosplayers about it.
"Why don't you put on the 3D maneuver gear?"
"I want to, it's just so difficult to make."
He replied, seeming slightly embarrassed. I guess people here aren't so good with all the manual work that's involved. But these are the kinds of things you can learn from going to anime events. There are topics that we should discuss regardless of where we're from or how many times we've met.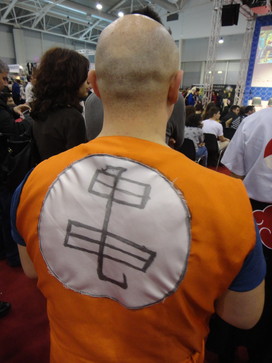 This hand-written "亀" is rather kawaii.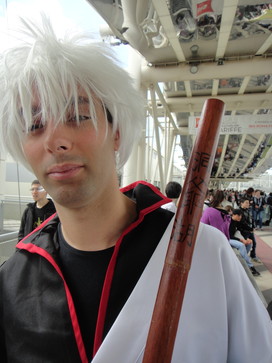 On his wooden sword this cosplayer has done his best to write "洞爺湖."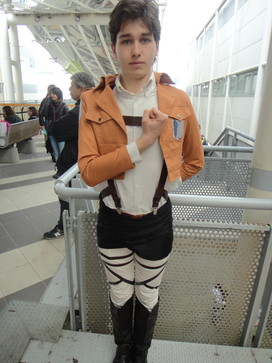 They may not have the 3D Maneuver Gear, but they love "Attack on Titan" all the same.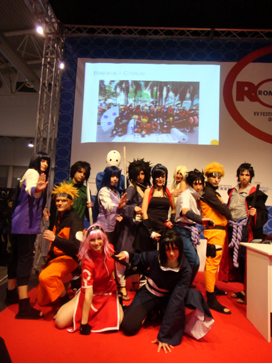 Italy's "Naruto" team, on stage during my talk.
I was beginning to wonder if there weren't any "Hetalia" cosplayers this time, but then I met some. During my talk, I showed the audience a photo of a "Naruto" team cosplay shot in Bangkok, and then I had the Italian "Naruto" team come up on stage.
People around the world are so different. But through keywords like "Japan" or "anime," the distance between countries starts to feel a whole lot closer.