"GUNPLA EXPO JAPAN TOUR 2015 in FUKUOKA" Photo Report!(1/36)
From children right through to adults, there's people from right across the generational spectrum have fallen in love with "Mobile Suit Gundam!" And when you talk about "Gundam," its longevity and ability to stay relevant to audiences, you can't help but think of "Gunpla" (Gundam plastic models).

And this year Gunpla celebrated its 35th anniversary and the theme for this anniversary is "Shinsei -REVIVE -." In order to give fans throughout Japan the chance to experience the fresh sense of excitement surrounding the new Gunpla, the "GUNPLA EXPO JAPAN TOUR 2015" will be touring up and down the country until autumn 2015.

On this occasion the "GUNPLA EXPO JAPAN TOUR 2015 in FUKUOKA" was held in Fukuoka PARCO! Check-out our photo report on all the fun and excitement from the event!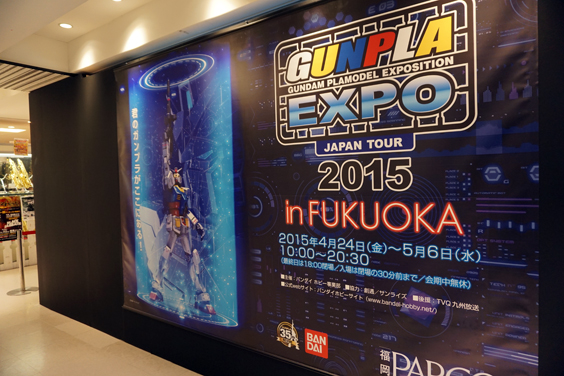 GUNPLA EXPO JAPAN TOUR 2015 in FUKUOKA
[Period]
Friday 24 April - Wednesday 6 May 2015
[Time]
10:00〜20:30
[Location]
Exhibition: Fukuoka PARCO 8th floor, Parco Factory
Limited edition goods are on sale: Fukuoka PARCO, new annex 6th floor, pop-up stand
[Address]
2-11-1, Tenjin, Chuo-ku, Fukuoka City, 810-0001
[Sponsor]
BANDAI-Hobby Business Division
[In cooperation with]
SOTSU, SUNRISE
[Supported by]
TVQ Kyushu Broadcasting Co.,Ltd.
[Entrance Fee]
Free
[Official website]
BANDAI-Hobby (
www.bandai-hobby.net/
)
GUNPLA EXPO JAPAN TOUR 2015 (
http://bandai-hobby.net/site/20141118japantour.html
)
Related Articles