Discover the cute and dark world ― the "Higuchi Yuko CIRCUS" exhibition at FUKUOKA ART MUSEUM!

It's just too amazing! Discover the world of circus filled with cats, girls and many mysterious creatures!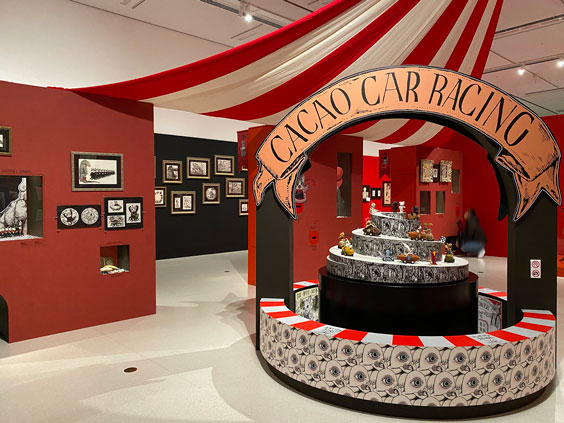 The "Higuchi Yuko CIRCUS" exhibition held at FUKUOKA ART MUSEUM from Thursday 24th December is a large solo exhibition by Higuchi Yuko, a famous artist who has limitless ideas on creating a world between fantasy and reality. Exhibits include over 500 pieces of paintings done in 20 years. With the theme of "circus" and the delicately depicted cats, girls, mushrooms, and strange creatures, there isn't simply cuteness, but also a touch of darkness. The world of circus presented is a mixture of fun and sadness, along with mysterious accordion melody and circus tents hung on the ceiling, eventually drawing everyone into "Higuchi's world"! Since reservation is required for the admission, visitors are able to enjoy the exhibition in a comfortable way. As you enjoy more of the delicate and dynamic artwork, you might find yourself getting addicted to them! Moreover, it will be fun to look for Higuchi's "hidden" messages and illustrations drawn at the venue♪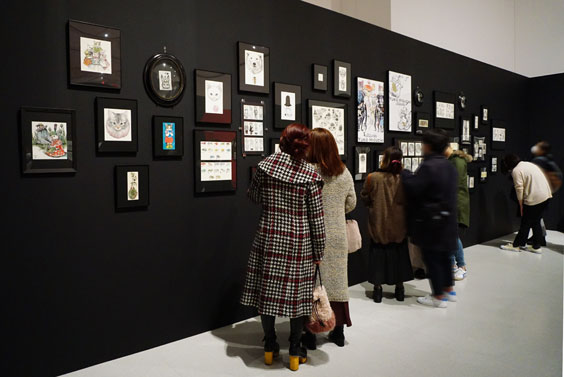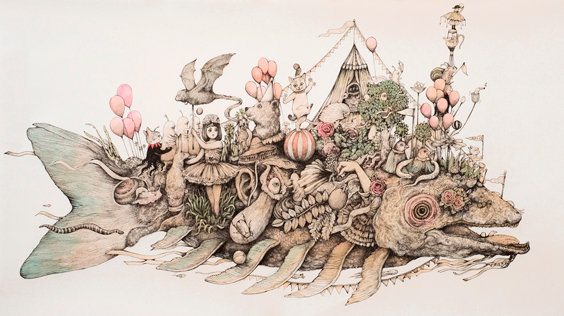 《 Circus 》 2018
No matter how much time given, it is never enough for enjoying such exquisite artwork.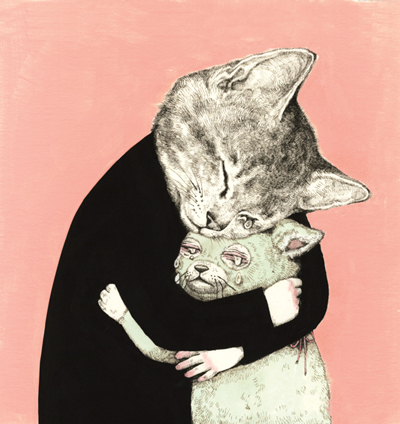 《 「ふたりのねこ」 23ページ原画 》 2014
[The original drawing of pg. 23 from "Futari no Neko" (lit.: Two Cats)]
Enjoy the original drawings of the picture book "
Futari no Neko
", and illustrations included other books or commercial work, all at once!
《 双子 》 2018
[lit: "Twins"]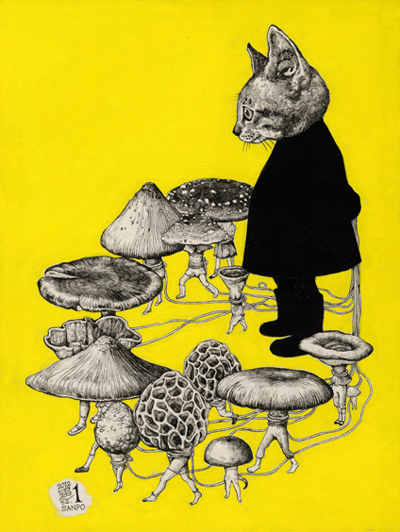 《 散歩 》 2012
[lit.: "Take a walk"]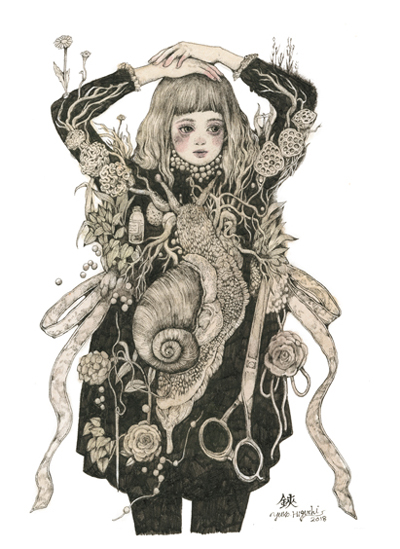 《 鋏 》 2018
[lit.: "The scissors"]
Displayed at the area with horror movies and creepy drawings!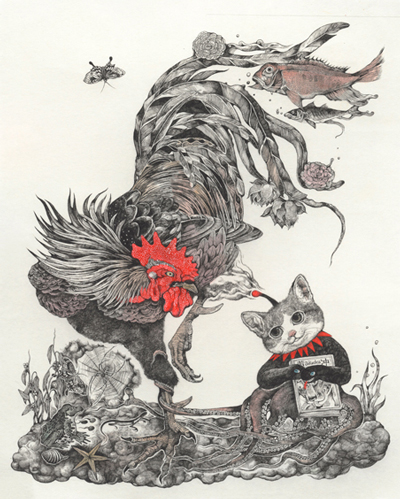 《 ギュスターヴ若冲雄鶏図 》 2016
[lit.: Gustave Jakuchū Rooster]
There was an artwork which pays homage to the artist, Ito Jakuchū! Don't miss out the designs of cushions, hanging scrolls, and oriental lamps!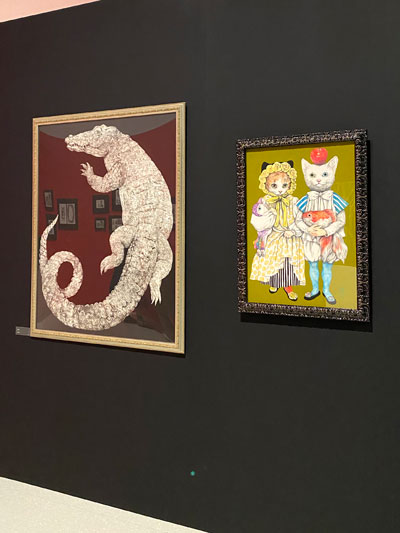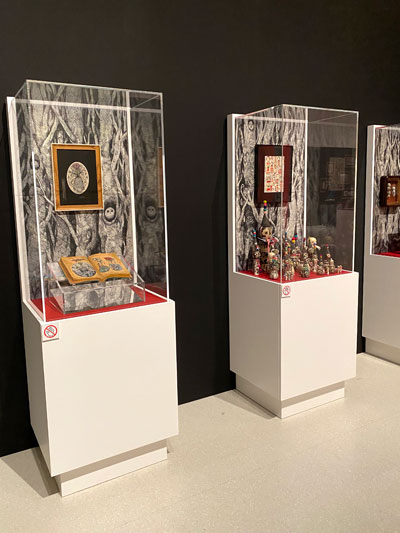 Photo spots
This whole room is open for photographing (*except video shooting)!! There is also a cute display panel outside the venue!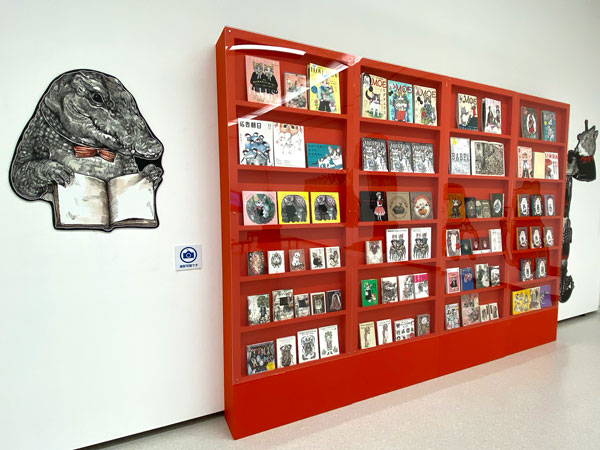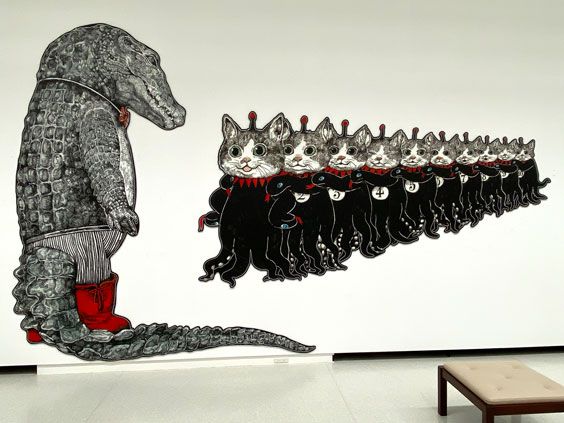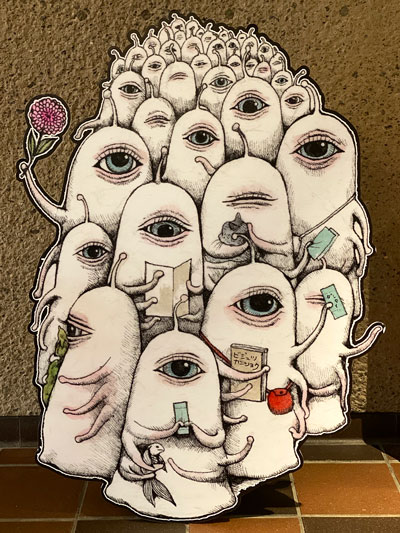 The "Hitotsume-chan" at the exit will see you off.
Shop
There are plenty of official items that are available only at the exhibition. As Higuchi happens to be a Hakata Torimon (popular Fukuoka made sweets) fan, you will find Hakata Torimon in official can packaging. Other than that there are a great variety of stationery, accessories, mugs, and other household items.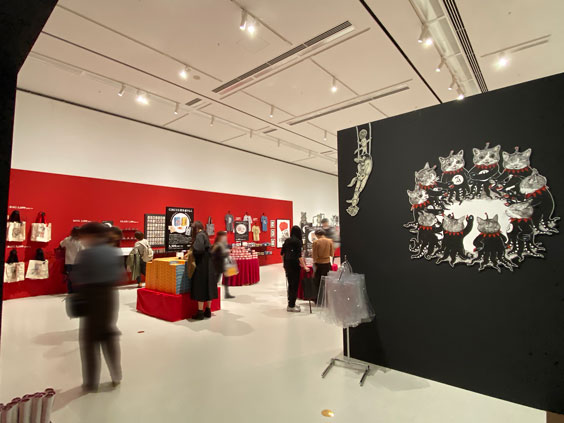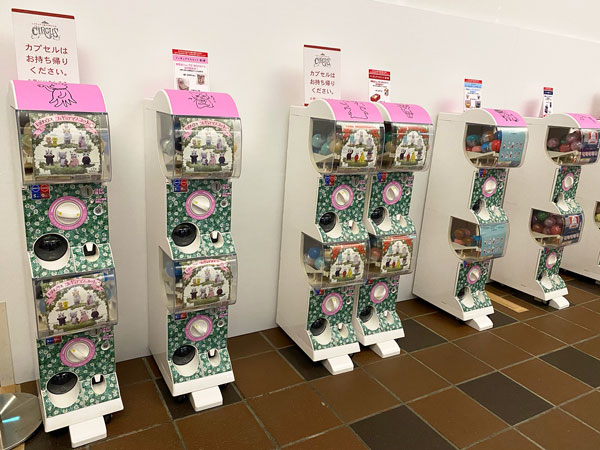 The capsule toy machines near the entrance of the exhibition room have attracted many people!
INFORMATION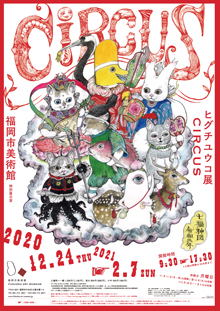 "Higuchi Yuko CIRCUS"
- Event Date: Thursday 24th December 2020 - Sunday 7th February 2021
- Venue: FUKUOKA ART MUSEUM (1-6 Ohori Koen, Chuo-ku, Fukuoka-shi Japan)
- Closed: Mondays
* Open on 11 January (Monday, public holiday) and closed on 12 January (Tuesday)
* Online advance reservation (tickets indicated with date and time) is required for admission, including those eligible for free admission. Please reserve / purchase the tickets from
here
in advance.
- Special site:
https://higuchiyuko-circus.jp/
- Twitter:
@higuchiyukoten
- Instagram:
@higuchiyukoten
---
Higuchi Yuko / ヒグチユウコ
- Official Website:
http://higuchiyuko.com/
- Twitter:
@nekonoboris
- Instagram:
yukohiguchi3
* All information correct as of December 2020. There are occasions when the layout of the venue differs from the current.
Related Articles