cross fm "Ani-tune ❤ Fukuoka" presents Kalafina a public recording, Kalafina talk show & mini-live performance!(1/14)
Thursday, July 24 2014 @ ROOMS, Tenjin Fukuoka
In anticipation of the release of their best albums, "THE BEST 'Red'" and "THE BEST 'Blue'" on July 16th, Kalafina and cross fm joined forces to present their "Ani-tune ❤ Fukuoka presents Kalafina: a public recording" event. Participants of this private event were selected via lottery and limited to 100 lucky winners. The three Kalafina members gave a talk followed by a mini-live concert. Being able to see them up close makes it an opportunity coveted by fans. For fans that were regrettably unable to join, we'd like to give you this report!
●From left: Kalafina: Hikaru, Keiko and Wakana.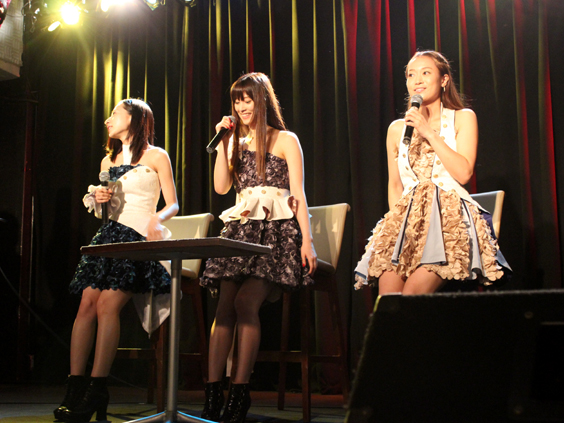 Click the image and it will automatically go to the next.
Related Articles
green station cross fm Ani-tune❤Fukuoka
Time: Every Thursday from 23:00~24:00
Channel: Fukuoka 78.7MHz, Kitakyushu 77.0MHz, Yukuhashi 87.2MHz, Kurume 86.5MHz, Omuta 87.8MHz
Official Website:
green station cross fm 「アニちゅん❤Fukuoka」
*You can also listen to this program by Radiko.
Radiko is the Internet Protocol simulcast radio distribution service which enables PCs and smart phones to be a radio receiver.
For more information:
http://radiko.jp/
Kalafina autographed cards Present Campaign!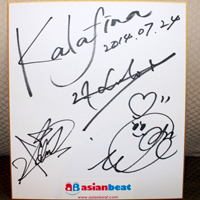 Three lucky readers
of asianbeat have the chance to win a card autographed by Kalafina: Wakana, Keiko and Hikaru! Don't miss this chance to win!
Enter Here!



Kalafina autographed cards Present Campaign!