#5 Idols and the UNESCO Constitution – Berryz Kobo and ℃-ute the First Japanese Idols to Visit UNESCO(1/4)

UNESCO was established immediately following World War II. The UNESCO Constitution begins with the following line:
"Since wars begin in the minds of men, it is in the minds of men that the defences of peace must be constructed."
This passage also represents the same basic stance that I follow in my work with cultural diplomacy.
It's all the young people around the world who love Japanese anime and music who have showed me just how shared values can free peoples' minds of any national barriers, and it's because these young people support me that I'm able to continue the work that I do.
I like the same thing!
It's through such simple reasoning as this that people around the world are able to understand each other. And what's wrong with that?
When I first began cultural diplomacy, I did a lot of travelling alone. But during those travels, I met many supporters who I consider very dear to me. These are supporters who build bridges in various forms, linking Japan to overseas countries and connecting other countries throughout the world.
Two such supporters, each with strong global fan bases of their own, are the idol groups, Berryz Kobo and ℃-ute.
And it was these two groups that became Japan's first idol groups to make an official visit to UNESCO.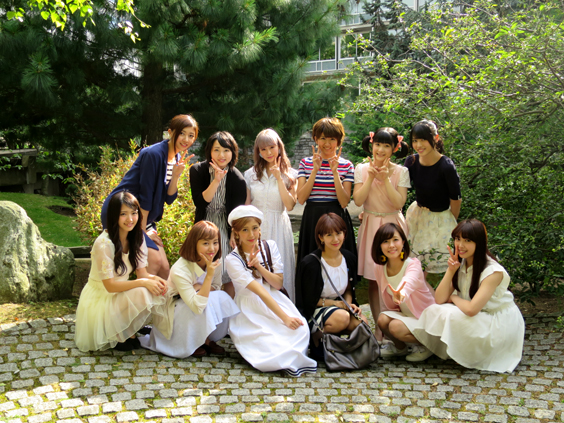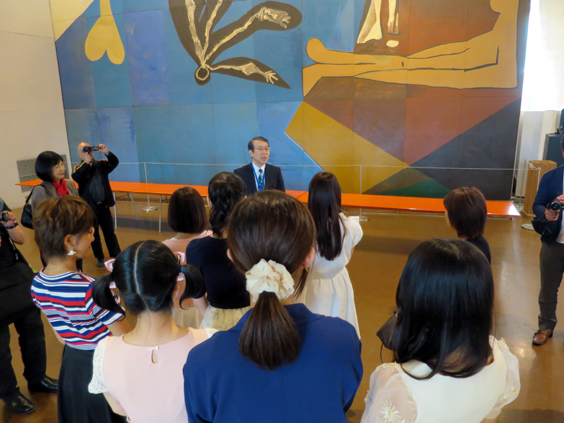 ▲ H.E. Mr. Kenjiro Monji explaining the work of UNESCO.
At UNESCO, the girls were met by the Ambassador of Japan to UNESCO, H.E. Mr. Kenjiro Monji. Ambassador Monji is also a fellow supporter of my work in cultural diplomacy and worked with me on the "Kawaii Ambassador" project when he was director-general of the public diplomacy department with the Japanese Ministry of Foreign Affairs [MOFA], and also helped to organize a Japanese pop culture event at Qatar's biggest book fair when he was the acting Ambassador of Japan to the State of Qatar.
At first glance, idols and diplomats seem to be two conflicting roles, but when you look at it from a cultural diplomacy point of view, there really isn't that much difference at all. That's my opinion, anyway.
UNESCO is a specialized agency of the United Nations that deals with fields of Education, Science and Culture, but it's perhaps most well known in Japan for being the organization that registers World Heritage Sites. A meeting was held in Qatar just before Berryz Kobo and ℃-ute arrived in Paris, and it was at this meeting, with Ambassador Monji acting as the representative chairman, that Japan's Tomioka Silk Mill received a World Heritage Site listing.
One of the hello!project slogans is "
Mezase!! Idol Sekai Isan
" (lit: "Aiming to become World Heritage idols") and Berryz Kobo and ℃-ute's first visit to UNESCO began with Ambassador Monji explaining UNESCO's activities in seeking to contribute to world peace and the welfare of mankind by promoting international collaboration in the fields of education, science, and culture, and where Japan fits into it all.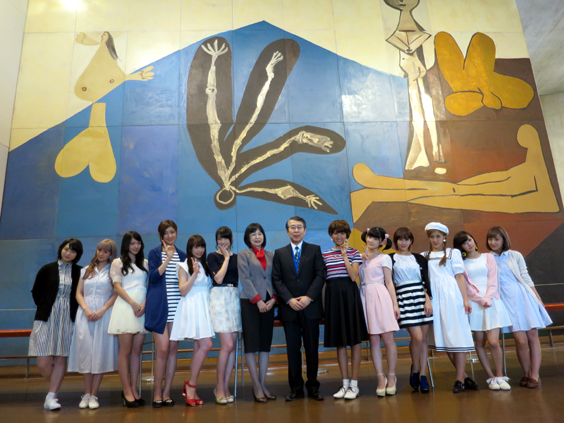 ▲ In front of the Picasso mural.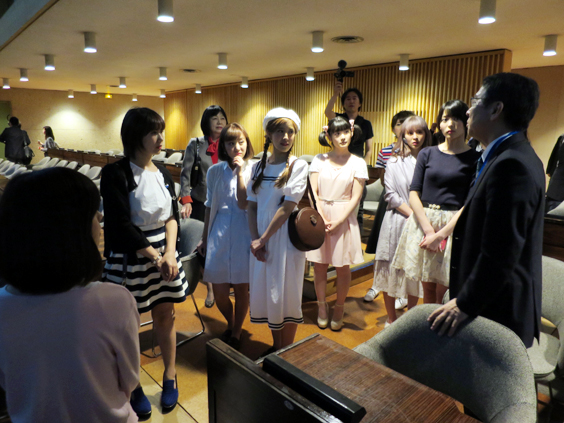 ▲ UNESCO main conference room.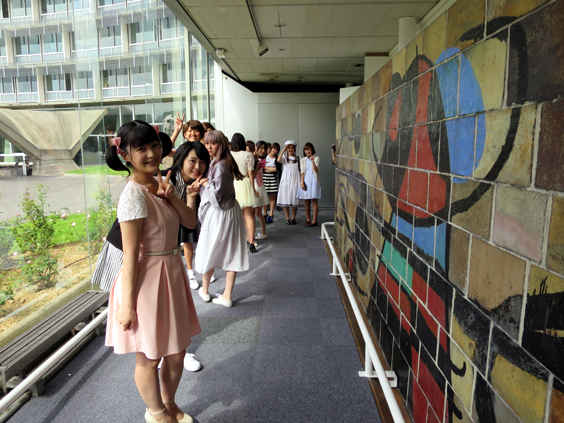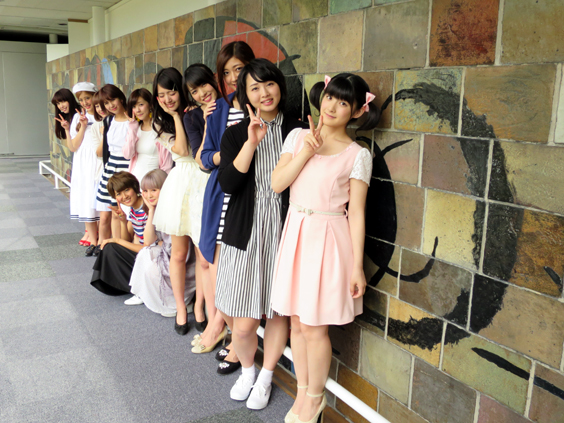 ▲ In front of Miró's tile mural.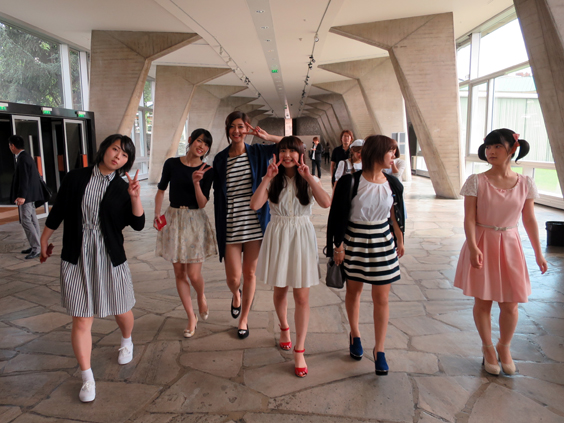 ▲ Inside UNESCO.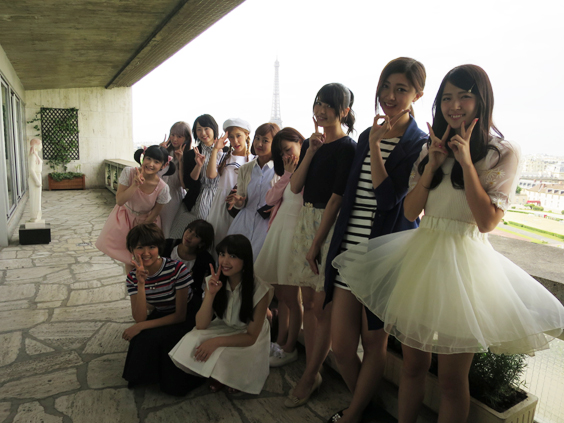 ▲ On the terrace at UNESCO.
Miyabi Natsuyaki "I found out a lot of things for the first time after listening to Ambassador Monji. I learned a lot and heard a number of moving stories, too. It reminded me to believe in the power of our songs."

Maasa Sudo "Listening to Ambassador Monji got me thinking about what we can do for the world with our songs."

Inside UNESCO you can find a mural by Picasso, a tile mural by Miró, a sculpture by Moore, and various artworks by other world famous artists on display.

Natsuyaki "UNESCO was a completely eye-opening experience. I made a lot of discoveries. But it was Ambassador Monji who spoke to us in such a natural way that surprised me most. I thought there would be a much thicker wall between us. I'm glad he was so easy to talk to."

Sudo "I was also surprised at how approachable Ambassador Monji was. We were there to visit an international organization and even meet an ambassador, so I was expecting it all to be quite formal and rigid. But the atmosphere at UNESCO was very relaxed and comfortable."

After their visit to UNESCO, what do the girls feel they can do for the world as idols?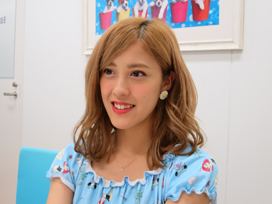 ▲Miyabi Natsuyaki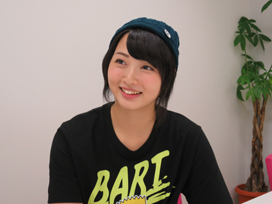 ▲Maasa Sudo
Natsuyaki "There are a lot of people throughout the world who know who we are. I want our fans to sing and dance and smile with us, together. The power of song is incredible. I'm reminded of this whenever I go overseas, and this time around was no different. I think it's important to spread smiles around to people all over the world, and that's what we will continue to try and do with our songs from here on, too."
Sudo "I want our songs to be like giving out presents of joy. I'm going to give more thought to what we can do for the world with the work that we do."
Creating a stronghold of peace in the hearts and minds of the people through song – I think that's the very essence of what the UNESCO Constitution is about.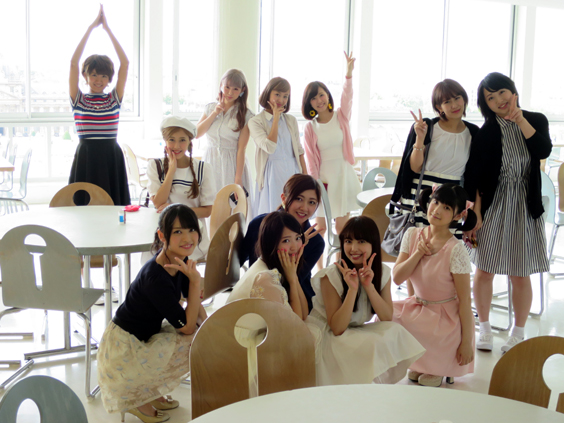 ▲ At the cafeteria inside UNESCO.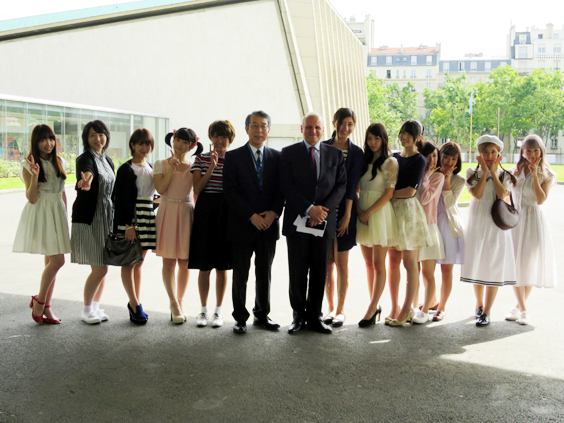 ▲ A photo with H.E. Mr. Mohamed Sameh Amr, Chairman of the UNESCO Executive Board (Ambassador and Permanent Delegate of Egypt to UNESCO).