#11 Interview with Morning Musume。'14 After Their Concert Success in New York – How New York Changed Us and Our Plans From Here on(1/3)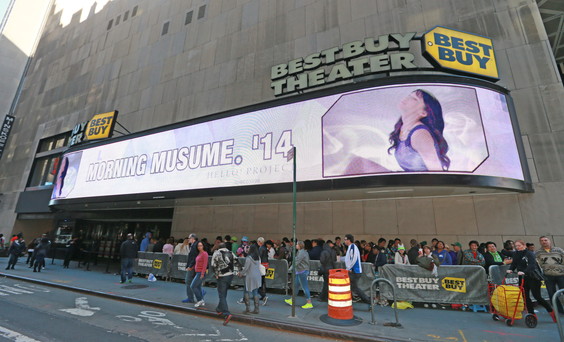 On October 5th, Morning Musume。'14 held a concert at the Best Buy Theater on Broadway, New York – their first fee-charging solo concert ($42/ticket) since their performance at Paris in July 2010. The theater was packed with some 2000 fans, not only from America, but also Canada, Latin America, and Europe, who converged on New York for this particular day.
The set they performed at the concert was based on songs released by the group under the current members. So it was basically a little over two hours of Morning Musume。'14's greatest hits. The group opened with their first single with Sayumi Michishige as leader, "One Two Three," and the entire concert hall was abuzz with energy from start to finish. Time flies when you're having fun, though, and fly it did. It felt like it was all over in 30 minutes – that's how into it I was.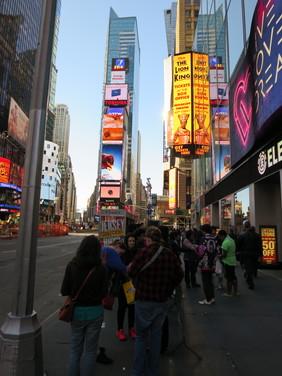 It's morning and already a long queue has formed at Times Square.
The day after the concert I did an interview with all of the members in the group. Ever since I first met Morning Musume。in 2010, I've done numerous interviews with the various members, but interviewing the entire group all at once was a first for me.
Apart from Sayumi Michishige, this was the first concert they've performed overseas. Mizuki Fukumura, Haruna Iikubo, and Ayumi Ishida performed a few songs together as part of the Worldwide Handshake Tour held in 2012, but for all the other members, this was the first time they had ever sung in front of their international fans. So how do they now all feel and what changes have they noticed in themselves after the various things they experienced in New York and experiencing what it's like to perform overseas? That's what I was most eager to find out from the girls.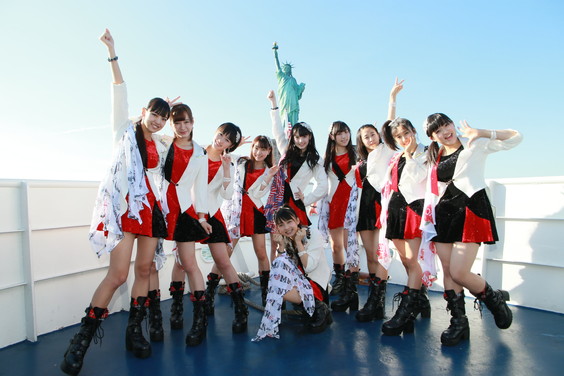 Morning Musume。'14
Sakura Oda
I've always been so bad at English. But now I'm starting to think that English might actually be a little fun. Before we left, I was trying to memorize the English phrases we were going to use in our concert and I slowly started to understand when to use "to" in sentences. So I was like, "Oh, so that's how it works!" So I'm slowly getting a grasp of English grammar now. Since coming here we've constantly been exposed to English in our interviews, so I'm gradually picking up more and more words that are said. I'm starting to get a hang of the pronunciation too, and I've decided that I really want to be more careful with the pronunciation of English phrases that we use in our songs from now on.
Haruka Kudo
I'm a big fan of "ONE PIECE" and at the handshake event after our concert, one of the fans came up to me and said in a mixture of English and Japanese, "I'm also really into "ONE PIECE." You like Sanji, right, Kudo?" That made me really happy. There were a lot of fans who talked about manga, though. I was also surprised when I turned on the TV in our hotel and the English version of "Attack on Titan" came on. I guess I've always heard about how anime and manga were popular throughout the world, but I had never witnessed it with my own eyes until now. Japanese anime and manga is global culture – I get that now. It surprised me to learn that you can communicate with people overseas just with anime and manga alone, and overall, this New York concert reminded me how great a country Japan is.
Fans From Around the World