#17 "I Want to Live in Moscow!" Eir Aoi Experiences Russia's Love for Japan Firsthand at J-FEST(1/3)

Towards the end of November 2014, I made my sixth visit to Moscow. Again, it was to take part in Moscow's biggest Japanese culture event, "J-FEST" – an event which I've been participating in since I was involved in its planning and launch in 2009. With the help of the Russian Embassy of Japan and all the Russian lolita fashion lovers, the event (originally called the "Japan Pop Culture Festival") has grown from an event of 3000 people to an event that last year attracted some 30,000 people.
I've written and spoken about it on various occasions, but in all my years traveling around the world, up until that point I had never been moved to the verge of tears like I was on stage in Moscow in 2009. I helped put together this event without really knowing if there were that many Japanese culture fans in Russia who were into things like anime or fashion or music, but we had a really good turnout and the love I felt from all the Russian people for Japanese culture was overwhelming.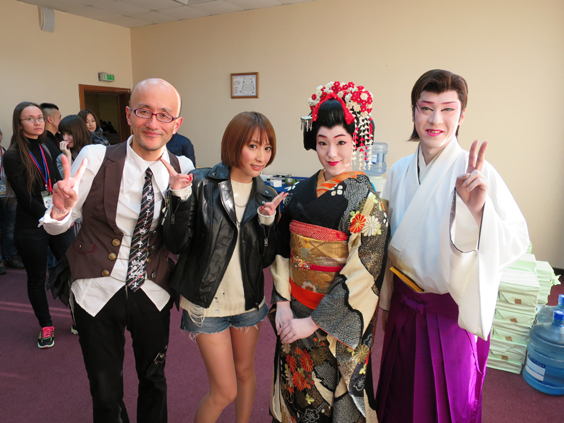 ▲ With the performers at J-FEST.
Six years on and numerous Japanese artists have since taken to the J-FEST stage. The year before last it was voice actress, Sumire Uesaka. It had been somewhat of a personal goal of hers to perform at J-FEST and the tears of joy she wept on stage I will never forget.
As one of the founding fathers of the event, it brings me great joy that through J-FEST each year more and more artists and other industry related people come to learn about the great following of Russian fans who adore Japan.
In 2014, the one of the guests to perform at J-FEST was Eir Aoi. She sings the theme songs to hit anime like "Sword Art Online" and "Fate/Zero," and even in my travels overseas last year, in countries like Taiwan and Germany, she was definitely a favorite among the fans. But this was Moscow. There are a lot of fans of J-FEST itself and it's not an event that attracts only anime fans.
One of the most enjoyable things about J-FEST is seeing just how well the artists can capture the hearts of the audience and the people who may not have known much about the artist until their one hour or so live performance.
As a fellow Japanese I was proud to watch as Aoi captivated her audience of 1500 with her songs. Those who were watching the concert from their seats in the beginning were up standing with the rest of the crowd by the end. It was the moment Eir Aoi united Japan and Russia with song.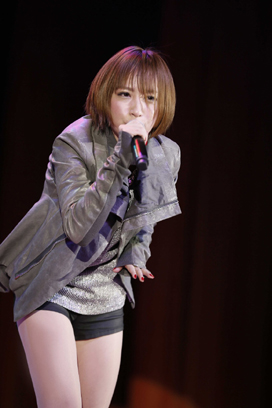 While she was still on a high after her performance, I asked her about her experience.

"My impression of Russia was basically just that it was a really cold place. And because it was so cold I thought that the people wouldn't be very talkative either. But in seeing the country for myself, sure enough it's cold outside, but the Russian people are incredibly warm and friendly. I've fallen in love with Russia and I've said numerous times during my stay, "I want to live here!""
Live performance!