#19 Just how Otaku-ized has the World Become? My Talk with Radio Announcer and Natural Born Otaku, Hisanori Yoshida(1/3)

2009 and 2010 were two years that brought me encounters with many dear friends. It was like I was being lead up to this point, having only fully engaged in cultural diplomacy activities the previous year (2008). These two years were a turning point for Japanese pop culture events overseas in many ways and Japanese people were just beginning to realize what was happening. It was like a second wave of Japonism.
Looking back now, the clamor throughout the world for Japanese pop culture in these two years was quite intense. It was also in these years that I embarked on the Kawaii Ambassador project with the Ministry of Foreign Affairs and also met Morning Musume。 and Sumire Uesaka.
Another person I met during that period was Nippon Broadcasting System, Inc. announcer, Hisanori Yoshida (or "Yoppy" as I like to call him).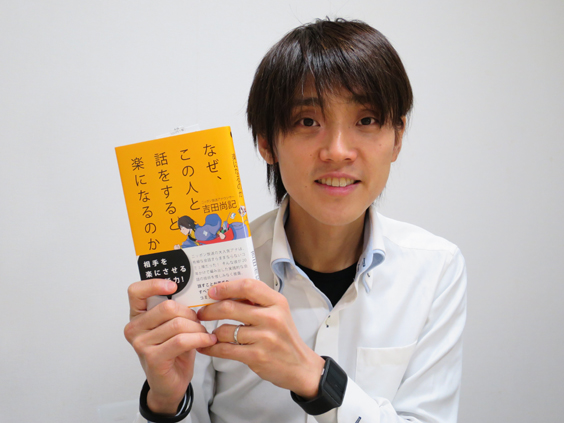 Hisanori Yoshida
"It doesn't look good when so many of the guests on my program talk about these events they've performed at overseas and I haven't even been to a single one."
This is what Yoshida said to me one day but then not long after that, in November 2011, he used some of his vacation time to come and see my cultural diplomacy in action at "Salon del Manga" in Barcelona and at "Japan Pop Culture Festival" (JPCC, now "J-FEST") in Moscow. This was the first year for JPCC – an event that I helped plan. Yoshida was another witness to the beginnings of J-FEST, an event that today attracts some 30,000 people.
The following year he took part in the Japan-China Youth Friendship Exchange Program that I was leading and met with the very passionate youth in Beijing, Chongqing and Guangzhou.
Yoshida has since published a book on the art of communication called, "Naze, Kono Hito to Hanashi wo Suru to Raku ni Naru no ka" (Why do I feel so at ease when talking to this person?") (Ohta Publishing Co.). I want as many people as possible to read this book, so I sat down for a talk with natural born otaku, Yoshida.
The Internet and the Otaku Gene
Sakurai: In 2009 and 2010 we travelled around Moscow and Chongqing - places that people in the media rarely go.
Yoshida: I can't believe it's already been 6 years!
Sakurai: You're one of very few Japanese people to witness Moscow's first Japan Pop Culture Festival.
Yoshida: That event (J-FEST) has turned into quite something, hasn't it?
Sakurai: It now attracts 30,000 people.
Yoshida: 30,000!
Sakurai: You said something at the time that was quite memorable, that through the Internet, a certain proportion of the world has awoken to otaku mentality on a genetic level.
Yoshida: Even though ell phones hadn't quite come into the picture yet, within five years, broadbandization of the Internet brought a change very rarely seen on such a global scale.
Until that time, the only way to get information across borders was with large amounts of capital. Take Chongqing for example. Remember they had that big billboard of Michael Jackson? There weren't any posters around the city of anime. And yet there were so many of anime fans. The Internet changed the very foundation of how contents and information is delivered. It created a way for information to be delivered concurrently throughout the world.
Until then, otaku only existed in Japan. If there was a gene that awakened one's inner otaku, you would have to be living in a certain environment for it to be activated. Until the advent of the broadband revolution, the environment that could awaken one's inner otaku only existed in Japan. Then, through the Internet, the rest of the world were able to achieve the same landscape as Japan.
Just like you wrote in your book, Sakurai-san, Japan is a country with very little objection towards
monozukuri
(lit: "making things"). Because of this people pursued the things they honestly thought were fun and that's how we arrived at otaku culture. It's a system that was achieved only in Japan and it has survived all this time. However, the people at the center of all of that, myself included, didn't give much thought to the rest of the world. And then with the Internet, otaku culture exploded on a global scale.
Sakurai: It's just like Japan at the end of the Edo period.
Yoshida: It is. It's the same situation as when Genpaku Sugita translated "Anatomische Tabellen" into "Kaitai Shinsho." On a much bigger scale, though, the Internet opened otaku culture to the world.
Thanks to the Internet, the world's information is now on a level playing field.
I learnt that there are people all over the world that enjoy otaku culture on a genetic level. When I saw Barcelona's "Salon del Manga" with my own eyes for the first time, I was shocked by all the cosplayers. There weren't even any Japanese there. There were no evangelists; the local people took a liking to otaku culture all on their own. To me, it was the work of genetics. Otaku culture took off on it's own and that's the important point.
Sakurai: Seeing the permeation of otaku culture all throughout the world at the time, your words really made sense to me.
Yoshida: It doesn't faze us anymore even if there are idols who are otaku. In terms of otaku overseas, I think even in Japan there is a divide between people who don't believe such people exist and those who think that the existence of such people is only natural.
"Salon del Manga" Barcelona, 2009