Vol.5 AKIRA (Model/Singer) – The Charismatic Cross Dresser Shares Her Tips with Lolita Fashion's Own Leading Lady

What's Important About Fashion For You?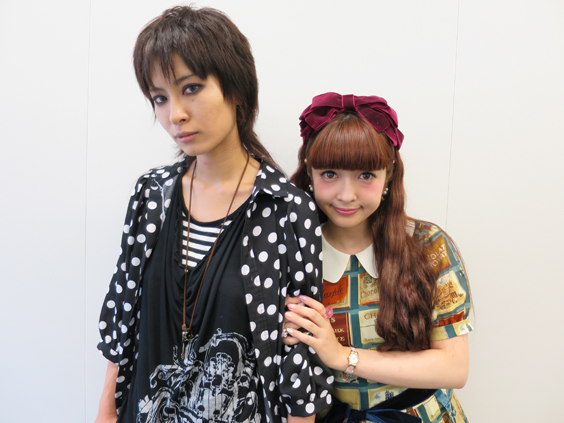 AKIRA, Misako Aoki
Misako Aoki
We've known each other for quite a long time now, haven't we, AKIRA?
AKIRA
Must be about 10 years now.
Aoki
We've even been overseas together a few times.
AKIRA
We've been to America and Shanghai and so on.
Aoki
Can you tell me about your outfit today?
AKIRA
I'm in design school at the moment, so I guess my outfit is student-esque. I'm wearing an ALGONQUINS shirt, a jacket I bought in Ura-Hara, and ZARA jeans that I bought when we were in Houston.
Aoki
What's important about fashion for you?
AKIRA
A comfortable look. I don't go to the trouble that you do, Misako (lol).
Aoki
What's comfortable about the clothes you wear?
AKIRA
They're loose-fitting, so I don't feel restricted and they're easy to move in.
Aoki
What about your costumes?
AKIRA
Costumes are quite layered.
Aoki
Doesn't it get hot?
AKIRA
Really hot! But I take them off during my performances and make a few alterations here and there as I go (lol).
Aoki
Do you choose the costumes yourself?
AKIRA
For the most part. Some I customize myself, too.
Aoki
Wow! You've got skills.
Makeup Tips for Dressing as a Man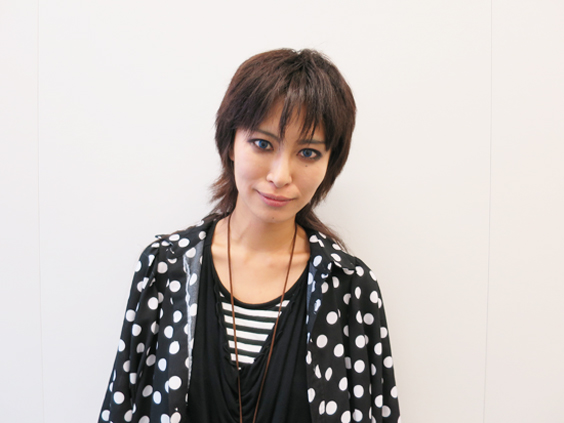 AKIRA
Aoki
I would love to hear your makeup tips for looking more like a man when you cross dress.
AKIRA
I guess nose shadow is an important one.
Aoki
How about aside from the area around the nose?
AKIRA
Lower the position of the eyebrows. And also, apply dark shadow to the corner of the eyes to make them look longer.
Aoki
So around the whole eye?
AKIRA
Yes. It's good to put eye shadow under the eyes as well.
Aoki
You don't do anything to the cheeks?
AKIRA
No.
Aoki
What about lipstick?
AKIRA
I use a concealer to make the lips look thinner.
Aoki
It's really the opposite of lolita, isn't it! We tend to accentuate the lips. That way they look nice and plump.
AKIRA
When I do makeup for a doll-style boy, I thin out the lips with a concealer and then I apply color only to the very center of the lips.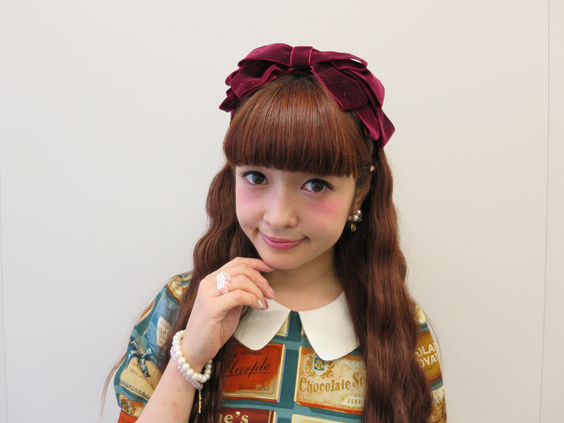 Misako Aoki
How do you Pose when you Cross Dress?
Aoki
Where do you usually go shopping?
AKIRA
Harajuku.
Aoki
That doesn't suit me.
AKIRA
That's because all you wear is MILK (lol). I'll go to MILKBOY but I mostly stick to the basement floors of Laforet and places like SEX POT, STIGMATA, and SEXY DYNAMITE LONDON.
Aoki
And you can pull off fast fashion as well.
AKIRA
It's more of a combining of cheap items with expensive ones.
Aoki
How do you pose when you cross dress? I still look pigeon-toed whenever I try to dress up as a man.
AKIRA
And I look duck-footed whenever I try and wear lolita (lol). Generally, you try and keep your knees facing outward.
Aoki
That's the opposite of lolita as well (lol)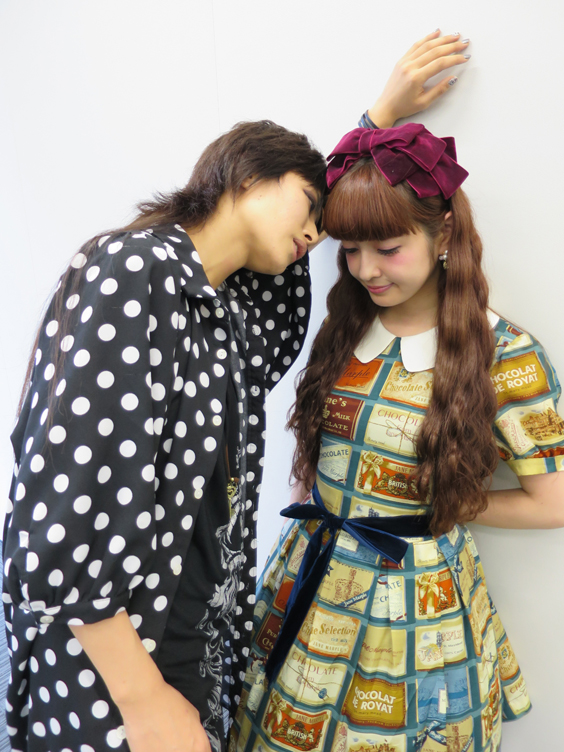 Going public!? The two girls show off their best "kabe-don."
Are there any Countries you want to Visit?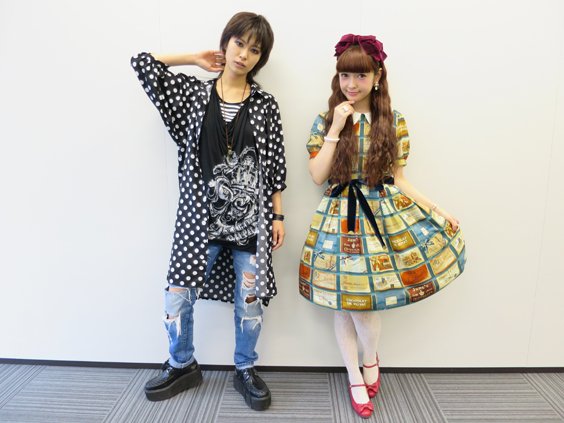 Couple Scenario #1 (Newly dating?)
Aoki
So this year, we got to spend some time together in Houston.
AKIRA
After we had finished our work, I said to everyone, "Let's all hit the pool!" but you just shut yourself up in your room (lol). Then when I said, "Let's go for a drink!" you were like, "I don't drink."
Aoki
I don't really do work parties either.
AKIRA
They made me wear lolita clothes at the work party in Houston, but to me, it felt like I was dressing up as a girl (lol). Dressing as a man is so normal for me now that it doesn't feel like dressing up. But wearing lolita clothes feels like dressing up.
Aoki
You don't like lolita fashion?
AKIRA
No, it's not that at all. I think it's really cute. But when I wear lolita, it tends to feel more like cosplay.
Aoki
I guess that's the same feeling I get when I dress up as a man. Interesting. Are there any countries you want to visit?
AKIRA
Germany! The beer there looks delicious. Plus I love potatoes. And sausages, and sauerkraut. They have all things that I love! It's paradise. That's not to say that I'm that heavy a drinker, though.
Aoki
I look forward to our next overseas adventure together. Thank you for your time today.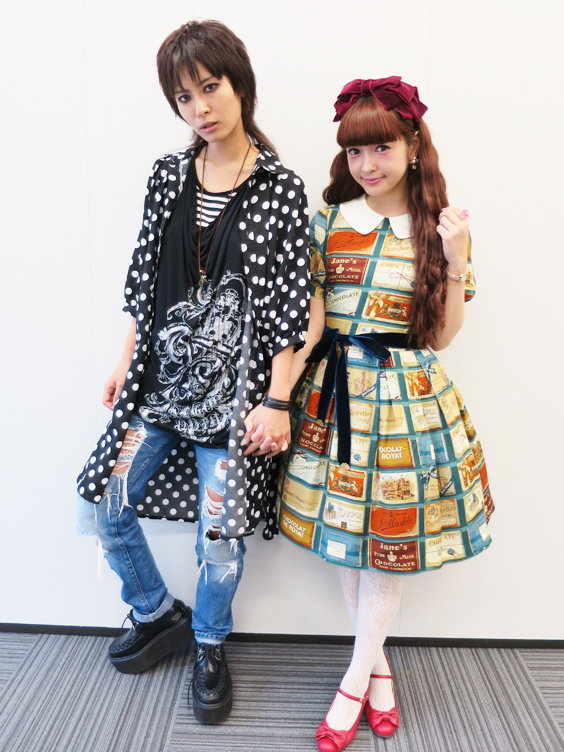 Couple Scenario #2 (Dating for 3 months?)
A Word from the Producer
I would love to go on a tour with AKIRA and Misako Aoki, promoting Japan to people all over the world. We could go around to various cities, hold fashion shows with AKIRA, Misako and the local girls, and AKIRA-chan could give a live performance. I think girls the world over would wholeheartedly approve of this vision of mine. And if I got to
kanpai
with AKIRA-chan after the show, that would just be the icing on the cake.
Takamasa Sakurai
AKIRA Profile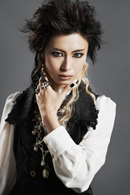 AKIRA Born February 15th. From Chiba Prefecture. A student at Ferris University. In 2007, she took on the role of vocalist for the band, "DISACODE." In 2008, she appeared on her first magazine cover as a model for "KERA." On July 30th 2014, she made her major debut as solo artist, "AKIRA," releasing the single, "Aoki Tsuki Michite" (also the ending theme song for TV anime, "Kuroshitsuji: Book of Circus"). On January 21st 2015, she released her second single, "Kirie Toroimen no Shirabe," generating a buzz as the theme song to stage play, "Vampire Knight," in which she plays the role of Kaname Kuran. On July 1st 2015, she released her third single, "Vanitasno Waltz." Since her major debut she has performed at various festivals around the world, including those in San Francisco, Hawaii, Chicago, Hong Kong and Taiwan. In September this year, she also performed an eight-show tour across China!
Columnist: Misako Aoki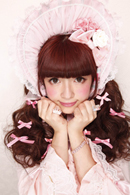 Started as an amateur model who appeared in Gothic Lolita magazines, triggering an interest in lolita fashion, which she now promotes with her charismatic personality. Appointed as a Trend Communicator of Japanese Pop Culture (Kawaii Ambassador) in 2009 by the Ministry of Foreign Affairs. Attended pop culture events in over 10 different countries and regions, has been featured in fashion shows and talk shows, promoting Japanese "kawaii culture."
Author of: Misako Aoki's Kawaii Kakumei "Lolita tokidoki Nurse" (Published June 16 2011 by TAKESHOBO Co., Ltd.)
Blog (Japanese):
http://ameblo.jp/ribbon-misa/
Columnist: Sakurai Takamasa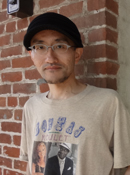 Contents Media Producer, author, specially-appointed professor of Digital Hollywood University / Digital Hollywood University graduate school, and International Otaku Expo Association Executive Office Director. Carrying out cultural diplomatic activities in over 150 cities across 27 countries/regions in total, has held numerous positions in various consultancy committees for the Ministry of Foreign Affairs. In 2009, served as a producer for the "Kawaii Ambassador" program, which was established by the Ministry of Foreign Affairs, has also pioneered cultural diplomacy that makes use of Japanese pop culture, such as anime fashion and music. Frequently invited as a guest to various Japanese events across the globe, has authored several books including, "Nihon ga Suki sugiru Chugokujin Joshi" (PHP Shinsho), "Sekai Kawaii Kakumei" (PHP Shinsho), and "Anime Bunka Gaiko" (Chikuma Shinsho). Has also worked as a television commentator, radio personality and contributed articles for newspapers, as well as web magazines. Currently writing the column, "Pop Culture Chronicles" for the asianbeat website (in Japanese, Chinese and English.)

-twitter http://twitter.com/sakuraitakamasa/
Pop Culture Chronicles: http://asianbeat.com/en/popculture/
Updated every 4th Thursday of the month!
*Next update: Thursday, the 22th of October
This comment section is for readers to leave opinions and comments. Inappropriate comments may be deleted, so please remember to be respectful. Thank you!