Vol.6 Sumire Uesaka (Voice Actor) - I always want to use the power of Lolita!

I can't recall going shopping with anyone over the last few years (lol)!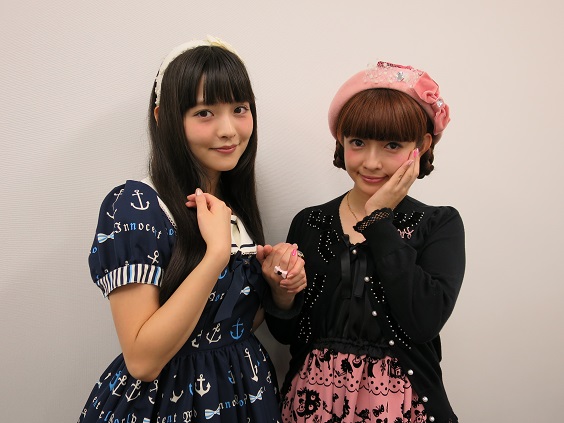 Misako Aoki
The Lolita style that you've gone for today features a nautical pattern, it's so kawaii!
Sumire Uesaka
Thank you so much, my outfit and the headband are from "Innocent World!" I bought them at the beginning of the summer, I don't know why but I just didn't had a chance to wear them until today.
Aoki
The clothes from Innocent World have such a graceful look. I like the laid back vibe of the clothes and how they fit in with the urban city. Where have you been shopping recently?
Uesaka
Lots of places around Shinjuku! But, I've also recently started going to the Shibuya PARCO. I've been feeling that I want to wear clothes that have an interesting shape. I've been wearing lots of pieces that have interesting frills and ruffles.
When I have a chance to go to Laforet HARAJUKU, I definitely go and check EmilyTemple cute! Oh, and when it comes to Lolita fashion, you can't go wrong with the classics, such as BABY,THE STARS SHINE BRIGHT and Angelic Pretty. I also really love Metamorphose!
Aoki
Do you go shopping by yourself?
Uesaka
I can't recall going shopping with anyone over the last few years (lol). Misako-san, do you go shopping with your Lolita friends?
Aoki
I do! I guess I usually go shopping on my own. But for me, I like hearing my friend's opinions when I'm a bit lost, or undecided on something!
Uesaka
Oh, I see!
Aoki
When you're buying clothes, what do you look out for? Do you have any fashion tips or advice?
Uesaka
 Well, I love burgundy and deep red colors. But rather than wearing head to toe red, I prefer clothes that have kawaii red motifs on them! I also love "Alice (Alice in Wonderland)" patterns, as well as "Trump (playing card)" inspired fashion. I personally tend to by items with big bold patterns, as opposed to small intricate designs. And if I'm choosing an outfit for an event, I like to go for pieces that look kawaii even from far away!
Aoki
What kind of Lolita fashion items are you going to be looking for this autumn and winter?
Uesaka
With Lolita fashion, putting together an outfit for the autumn and winter is quite easy, right?! Right now I want to get hold of a kawaii cardigan! Every year BABY,THE STARS SHINE BRIGHT bring out super kawaii coats, I just love their stuff! And when winter comes around, I'll finally be able to wear my BABY coat! Last year I bought a MILK coat. I usually buy jackets from MILK in the spring. Misako-san, what about you? Do you have any fashion secrets and tips?
Aoki
There are trends in Lolita fashion, so I think it's important to wear what's hot!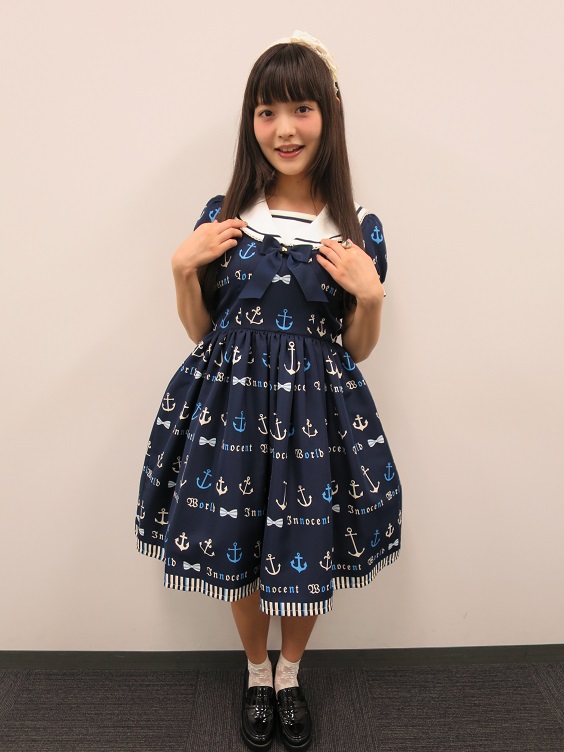 What points do you keep in mind when you're putting on make-up?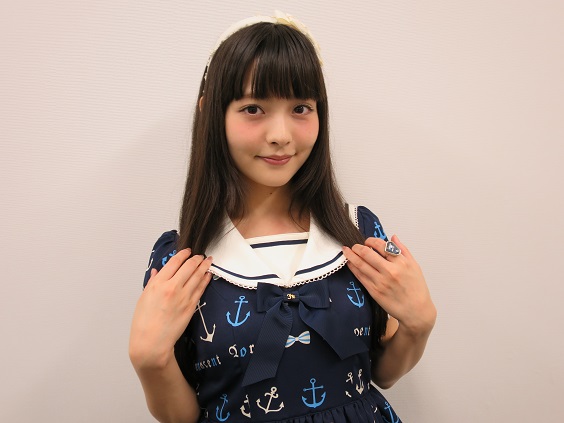 Sumire Uesaka
Aoki
I've always wanted to find out what points you keep in mind when you're putting on make-up?
Uesaka
When it comes to voice actresses… I find that there are quite a lot of people who are wearing less make-up. Standing amongst them, I really started to think that subtle make-up is quite cute! But, I don't want to spoil my Lolita look, I'm always trying to find the right balance of how much make-up to wear! Lately, I use a lot less foundation, blush, and even thin eye-liner.
Aoki
Oh, do you use eyeliner?
Uesaka
Just a little bit. But not so much that you can notice it! That way my make-up isn't too heavy when I'm on stage with other voice actresses. And with this kind of make-up I can also wear Lolita clothes!
Aoki
Recently, in magazine photoshoots, you don't see many lolitas wearing wigs, and the models are also using a lot less make-up.
Uesaka
In the past, girls dressed in lolita fashion definitely would wear a lot, right?
Aoki
Sumire-chan, I'm loving your black long hair and bangs, is it a look that you're really into at the moment?
Uesaka
I like to grow my hair out, and I never dye it. So, if I do happen to get it cut or dye it, I find myself almost saying "hang on a second, who's that?"when I look in the mirror. When it comes to my hairstyle I'm really stubborn. I guess that's because I love touching and playing with it. When I'm nervous, I play with it and have a habit to pull it to my nose. Just the thought of not being able to do that, makes me anxious (lol)!
Aoki
So pulling your hair to your nose is soothing? It calms you down??
Uesaka
Yeah, it helps me relax (lol)! And you know what?... When I smell the scent on my hair, it makes me feel like I've chosen the right shampoo (lol)!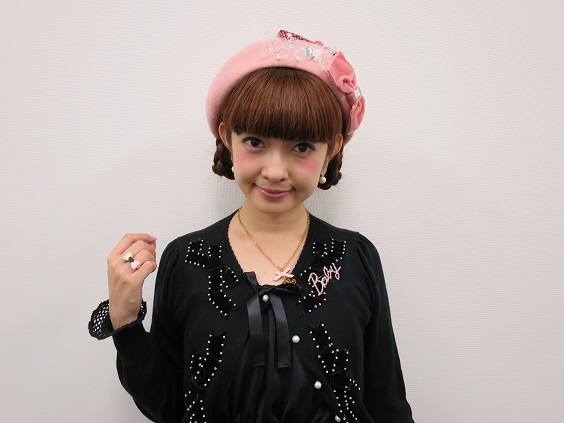 Misako Aoki
Finally visiting Saint Petersburg!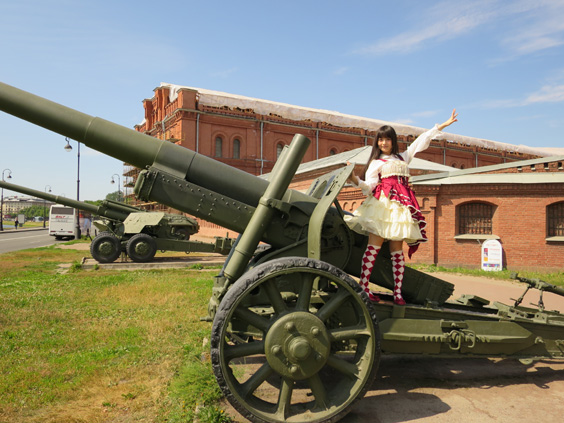 Museum of Artillery, Engineers and Signal Corps, Saint Petersberg
Aoki
This year you visited Saint Petersburg with Sakurai-san, right? What were your impressions? How is it different to Moscow?
Uesaka
Yes, Sakurai-san was the group leader of the Japan-Russia Youth Exchange Group. I had to return to Japan a little bit earlier than the rest of the group, so unfortunately I didn't get to have a really thorough look around. But having said that I able to do so many things and go around so many places in a short period of time! The town itself is full of historic buildings. I guess the difference between the two might be something like the difference between Kyoto and Tokyo.
Aoki
It was a bit surprising to see you riding in a tank in one of the photos!
Uesaka
Oh yes, that was at the Museum of Artillery, Engineers and Signal Corps. For me, that was like realizing a long held dream! But actually, in that photograph I'm on top of a gun from an artillery battery. But next time I really want to get inside a tank!
Aoki
In one of the photographs there's a huge loaf of bread!
Uesaka
That was Russian-style "welcome bread," which had been prepared for us. The organizers of the "AniCon" event that we attended kindly made it for us! It was my first time eating this kind of bread and it was much bigger than I expected. It's a part of Russian hospitality, like a ritual. When I thought about how hard it must have been to bake a loaf of bread as big as that, it just further enhanced my sense of joy and gratitude for the kind welcome they afforded us!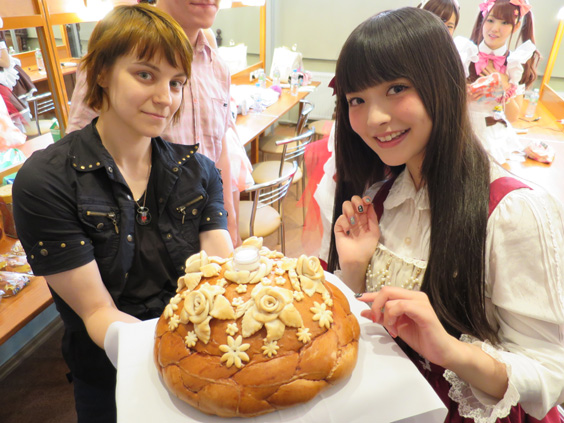 Russian style bread presented to the Japan-Russia Youth Exchange Group at "AniCon" in Saint Petersberg.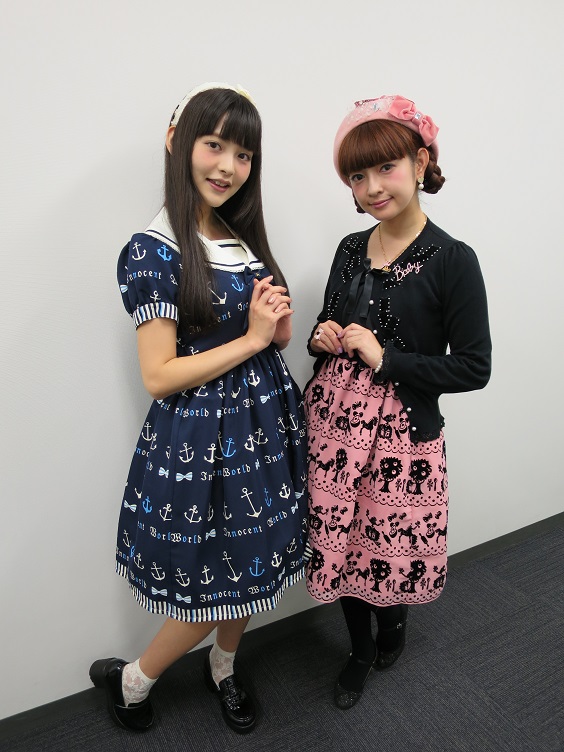 The mature Lolita Look
Aoki
As a voice actor you must be so busy, how do you take a break, unwind and take your mind off things?
Uesaka
Recently I've found shopping in stores selling brands that I'm not familiar with to be a nice way to unwind. It can be a challenging and is an interesting thing to do! What do you think will be next year's craze in the world of Lolita fashion?
Aoki
The mature lolita look is something that is easy is to pull-off. I think we'll see more adult-like lines and laces come into fashion. And I do personally hope that this fashion will be the next big thing!
Uesaka
That's definitely what I want to see, too! I also want to continue wearing Lolita fashion for many years to come. When I'm dressed in a Lolita outfit I always feel a sense of tension rising inside me, which without fail gives me a power and energy that I can utilize!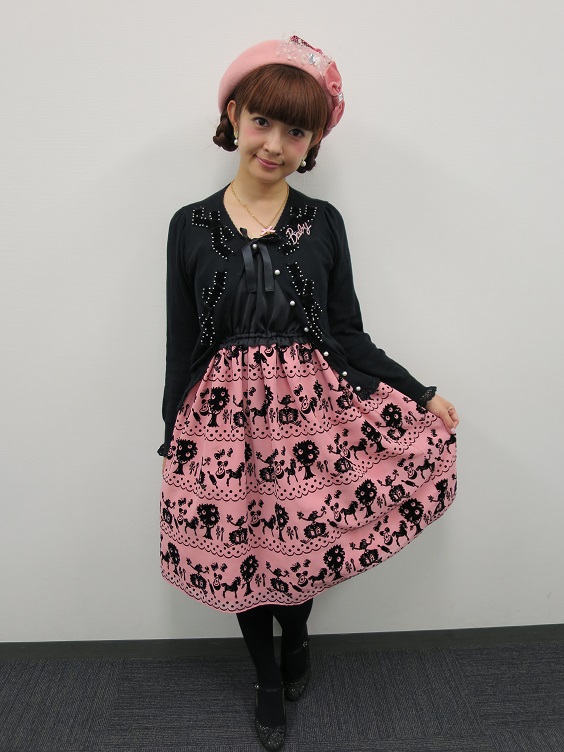 A Word from the Producer
Over the years Sumire Uesaka and Misako Aoki have been comrades of mine, carrying out cultural diplomatic activities throughout the world; however, as of yet all three of us have never been in the same place at the same time. When I was in Qatar on a long trip for cultural diplomatic purposes, Uesaka came over during the first part and Aoki made an appearance in the second half. And it will be so great when the three of us can do an event where no Japanese artist has performed before!
Takamasa Sakurai
Sumire Uesaka Profile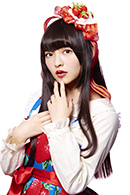 Born 19th December 1991 and is signed to Space Craft Entertainment. Graduated in Russian Studies, from the Faculty of Foreign Studies, Sophia University in 2014. January 2012 debuted as a voice actress whilst studying at university.

As an artist, started out by recording the theme song "Nanatsu no Umi yori kimi no Umi" for the TV anime "Namiuchigiwa no Muromi-san" which was first broadcast in April 2013. Is currently appearing in "Concrete Revolutio -Chojin Genso-," as well as "Itoshi no Muco (Lovely Muco)."
Columnist: Misako Aoki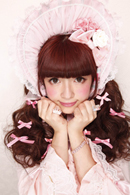 Started as an amateur model who appeared in Gothic Lolita magazines, triggering an interest in lolita fashion, which she now promotes with her charismatic personality. Appointed as a Trend Communicator of Japanese Pop Culture (Kawaii Ambassador) in 2009 by the Ministry of Foreign Affairs. Attended pop culture events in over 10 different countries and regions, has been featured in fashion shows and talk shows, promoting Japanese "kawaii culture."
Author of: Misako Aoki's Kawaii Kakumei "Lolita tokidoki Nurse" (Published June 16 2011 by TAKESHOBO Co., Ltd.)
Blog (Japanese):
http://ameblo.jp/ribbon-misa/
Columnist: Sakurai Takamasa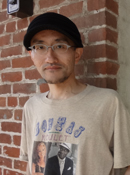 Contents Media Producer, author, specially-appointed professor of Digital Hollywood University / Digital Hollywood University graduate school, and International Otaku Expo Association Executive Office Director. Carrying out cultural diplomatic activities in over 150 cities across 27 countries/regions in total, has held numerous positions in various consultancy committees for the Ministry of Foreign Affairs. In 2009, served as a producer for the "Kawaii Ambassador" program, which was established by the Ministry of Foreign Affairs, has also pioneered cultural diplomacy that makes use of Japanese pop culture, such as anime fashion and music. Frequently invited as a guest to various Japanese events across the globe, has authored several books including, "Nihon ga Suki sugiru Chugokujin Joshi" (PHP Shinsho), "Sekai Kawaii Kakumei" (PHP Shinsho), and "Anime Bunka Gaiko" (Chikuma Shinsho). Has also worked as a television commentator, radio personality and contributed articles for newspapers, as well as web magazines. Currently writing the column, "Pop Culture Chronicles" for the asianbeat website (in Japanese, Chinese and English.)

-twitter http://twitter.com/sakuraitakamasa/
Pop Culture Chronicles: http://asianbeat.com/en/popculture/
Updated every 4th Thursday of the month!
*Next update: Thursday, the 26th of November
This comment section is for readers to leave opinions and comments. Inappropriate comments may be deleted, so please remember to be respectful. Thank you!