#20 Lolita Tea Party in Brazil!(1/17)

The delightful tea party featured a buffet that included traditional Brazilian specialties!
In mid-October I visited Brazil, which is on the opposite side of the world to Japan! The flight time was similar to my Chile trip last year! It's great to see how excited people in South America are getting about lolita fashion! This was my second visit to Brazil, but I hadn't been for quite a while. My last visit was to an event organized by the Ministry of Foreign Affairs eight years ago. During that two week trip I managed to stop by four cities (Sao Paulo, Rio de Janeiro, Recife, and Brasilia)!
It really had been a long time since my first visit to Brazil! It was great to go back! This time I only went to Sao Paulo. Japanese people need a visa to go to Brazil and the procedure for getting it sorted out was quite tricky. The journey took me about 30 hours and I had to transit in Chicago! It was such a long time to be in the air, but fortunately we arrived safe and sound! Even though flight took a considerable amount, I got a lot of sleep on the plane but I still had some time to kill, so I watched films, but I eventually got bored. In ended up watching episodes of the food-related variety-program "Kodoku no Gurume (Solitary Gourmet)" that I had downloaded on my tablet. That really helped me to relax. I think watching your favorite TV show on a tablet or other kind of device can really help take your mind off things if you are traveling on long-haul flight. Time will definitely fly by if you give this a try! Why not check-it-out for yourself!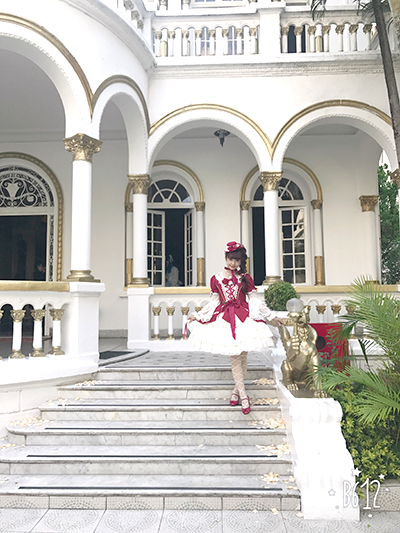 The lolita fashion event in Sao Paulo saw nearly 300 people gather from all over Brazil! The country is so big that a lot of the lolita enthusiasts who participated had to travel by plane to get there! I felt so grateful! The party was held in an classic, old-style house that is rented out for wedding ceremonies and other events. There were all kinds of fun attractions taking place on the day. Lots of lolita fashion items (including clothes, accessories, bags, shoes, etc.) were on sale at the venue. I got the chance to hold a meet and greet with the participants. It was a lot of fun to take photos and hold a signing session for all the lolitas. We also held a fabulous tea party, as well as a special hair and make-up workshop! The event lasted all day long!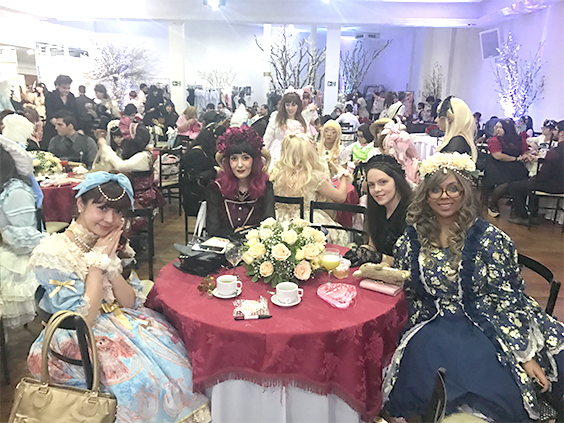 The tea party was delightful and even featured a Brazilian-style buffet that included a range of delicious local specialties! I got the chance to sample a deliciously soft type of cheesy bread known as pao de queijo. I also tried some famous Brazilian beverages, including yerba mate tea and a type of soda called guarana. I was lucky enough to be involved in a talk at the venue, which was followed by a question and answer session with the audience. The main topics people wanted to hear about related to the dresses, ways to strike a kawaii pose, and how to store outfits. I could tell how much people were into lolita fashion just by hearing the questions. Seeing their excitement was such a joy! It was a long 30 hour flight, but well worth the trip!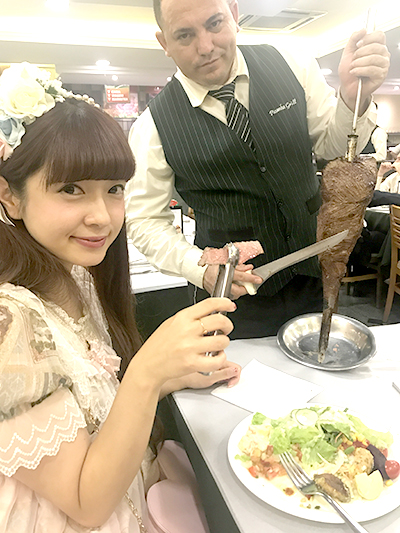 During my time in Brazil I also got to try Churrasco, which is a buffet style meal that serves huge amounts of meat. I ended up eating so much! I also stopped by the supermarket and saw all kinds of fruits and sweets that I hadn't seen before. I also made sure to pick up a few souvenirs! Whichever country I visit the supermarket is one place I always want to visit! I think its such a great spot to find-out about the local food culture. I just love it!
That was my 6 days 2-night trip of Brazil! I think I will happy go anywhere for Lolita fashion. I want to participate at even more events in the future! In order to do so, I'll have to draw on all my strength! I am determined to continue supporting cultural diplomacy through promoting lolita fashion around the globe.
Misako Aoki
PROFILE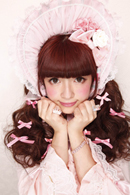 Misako Aoki
Lolita model, nurse, and President of the Japan Lolita Association

Models for KERA and the GOTHIC & LOLITA BIBLE while also working as a nurse. Was appointed as a Kawaii Ambassador (Lolita Fashion Representative) by the Ministry of Foreign Affairs in 2009. Has visited and attended events in over 30 cities across 20 countries and regions. Now has countless overseas fans.

Involved in setting up the Japan Lolita Association, has released "Lolita Fashion Book," has also worked in the development and promotion of new products. Contributes to activities that promote Lolita Fashion.

Misako Aoki official blog: http://lineblog.me/aokimisako/
Misako Aoki official Twitter:@aokimisako
Misako Aoki official Instagram:
https://www.instagram.com/misakoaoki/
Related Articles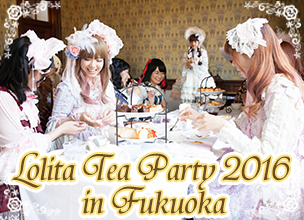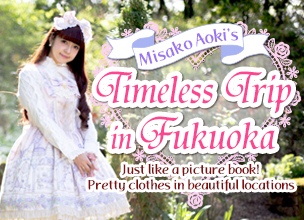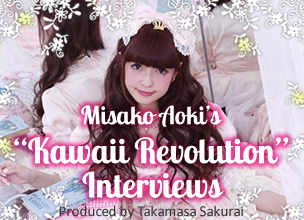 This comment section is for readers to leave opinions and comments. Inappropriate comments may be deleted, so please remember to be respectful. Thank you!