# 25 Fashionable lolita tea party in LA – Instagram worthy snaps at every turn! (1/9)

It's interesting to find-out what's going in the world of lolita as each place has its own styles and trends!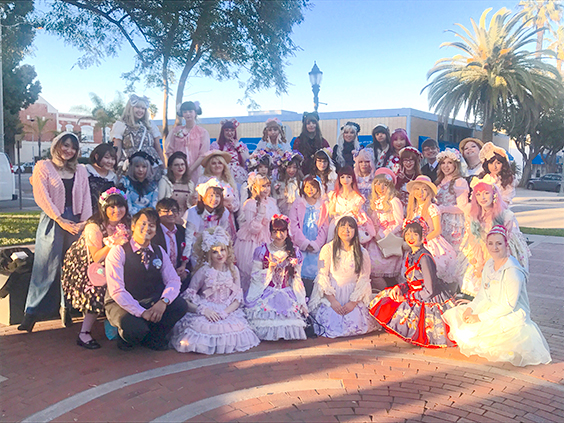 My aim was to attend a tea party in Los Angeles to help promote cultural diplomacy through Lolita fashion! In my free time I was also hoping to visit Disneyland, California and check-out some of the most Instagrammable local spots! I got the chance to visit Los Angeles at the end of February. It was a little bit cold while I was there. There were days when the temperature dropped below 10 degrees, so I needed a coat! I'd only ever been to Los Angeles in the summer, so I was surprised by the chilly weather!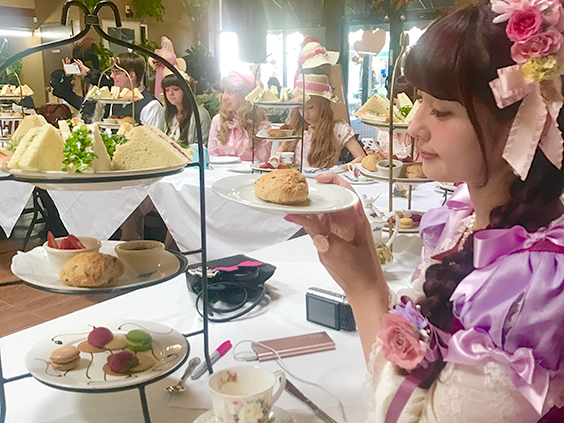 It is four years since my last trip to Los Angeles. This was the third time I've visited! During my stay I made a guest appearance at a tea party. The event took place at the "Chado Tea Room," a super kawaii Alice in Wonderland-themed café. The "Chado Tea Room" is a firm favorite with lolita fashion enthusiasts in the Los Angeles area. Inside the café, the seats were arranged in u-shape, so it was possible to see everyones faces! The afternoon tea and homemade scones were absolutely exquisite!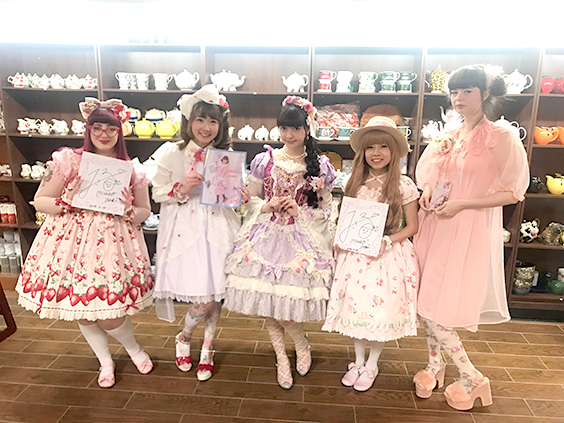 Because it is a tea specialty store, flower tea using petals was very delicious and cute. As the event was held inside a tea specialists, we got the chance to try a cute and delicious type of flower tea made from petals. During the tea party event there was a talk, an open discussion amongst the participants, and a signing session. There was also the chance to meet up with friends that I hadn't seen in a long time! I was wearing a Rapunzel-inspired lolita style outfit! I was asked a lot of questions about how to style hair, which made me really happy. It seems that when it comes to lolita fashion, the classic look is currently more popular than pop-style outfits. Everyone had such lovely outfits and make-ups. It's always good to talk about these kinds of topics!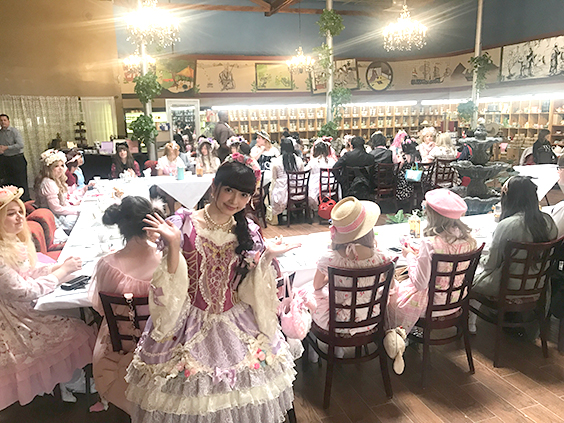 I get to participate in tea parties all around the world. It was really fun to interact with the guests in Los Angeles and learn more about the current lolita fashion scene in the area. Everywhere has its own styles and trends, so it's always interesting to find-out what's going in the world of lolita in each place that I go to!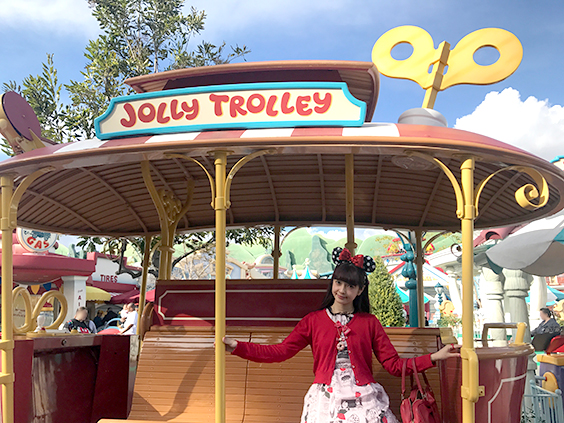 During some spare time I got the chance to visit Melrose Avenue and Disneyland, which is packed full of Instagram-worthy sights and attractions! We stopped by some cool Instragrammable spots around Melrose Avenue to take some photographs! We did a small-scale lolita fashion shoot in front of some of the cool local buildings that had fun designs painted on their brick walls. There were lots of Japanese tourists around. It is a really popular area! Lolita fashion looks great in photos! The combination of lolita-style outfits around Melrose was perfect!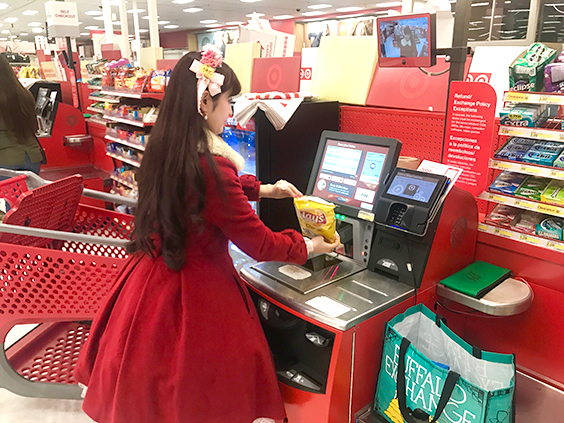 There were lots of kawaii shops, candy stores, and ice cream parlors dotted all over the place. The color combinations are really eye-catching and perhaps not so common in Japan. You can't help but want to take photos while you're there! When I go to the U.S. I always make a point of going to the huge supermarket chain "Target." I think it's the best place to by souvenirs. I used one of the stores self-checkout machines to make my purchases! I also went to "Pink's Hot Dogs." If you're in Los Angeles, makes sure to stop what is regarded as one of the most popular hot do places in Los Angeles. The queues can get quite long, but the food is so delicious! It's well worth checking out!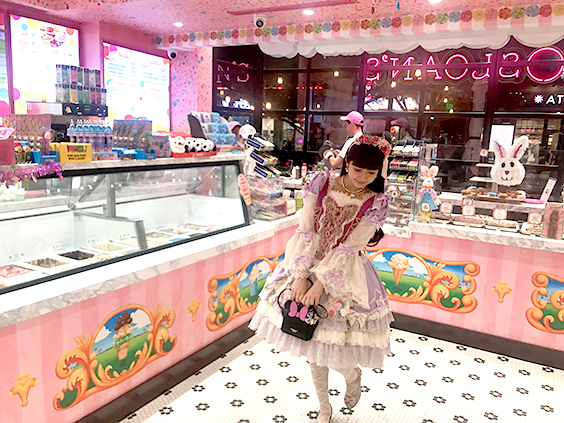 Although it had been four years since last met, no one had changed… Everyone was exactly the same and still enjoying lolita fashion. Seeing that kind of thing always fills me a sense of energy and excitement! I want to see more and more people happy because of lolita-style fashion! Moving forward, I will continue to promote cultural diplomacy through lolita fashion!
Misako Aoki
PROFILE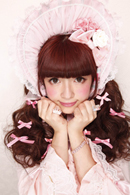 Misako Aoki
Lolita model, nurse, and President of the Japan Lolita Association

Models for KERA and the GOTHIC & LOLITA BIBLE while also working as a nurse. Was appointed as a Kawaii Ambassador (Lolita Fashion Representative) by the Ministry of Foreign Affairs in 2009. Has visited and attended events in over 30 cities across 20 countries and regions. Now has countless overseas fans.

Involved in setting up the Japan Lolita Association, has released "Lolita Fashion Book," has also worked in the development and promotion of new products. Contributes to activities that promote Lolita Fashion.

Misako Aoki official blog: http://lineblog.me/aokimisako/
Misako Aoki official Twitter:@aokimisako
Misako Aoki official Instagram:
https://www.instagram.com/misakoaoki/
Related Articles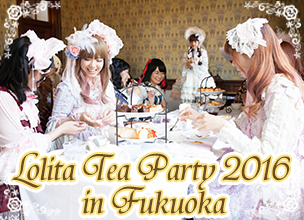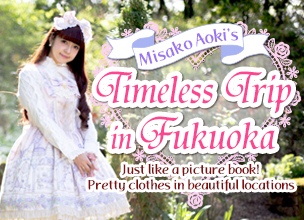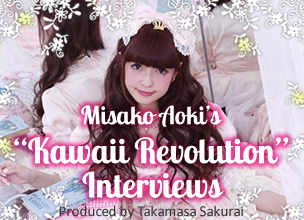 This comment section is for readers to leave opinions and comments. Inappropriate comments may be deleted, so please remember to be respectful. Thank you!