#31 A journey back to where it all started! A long cherished dream! A trip fit for a princess!(1/9)

It is important to know about other cultures when you are promoting Japanese culture!
I had a lot of events in August and September. But I had a week off towards the end of September, so I decided to visit Paris and London! I have been to France and England for work, but this was the first time that I holidayed in either place! I have saved up a lot air miles during my travels! There is an expiration date for them, so I decided to treat myself!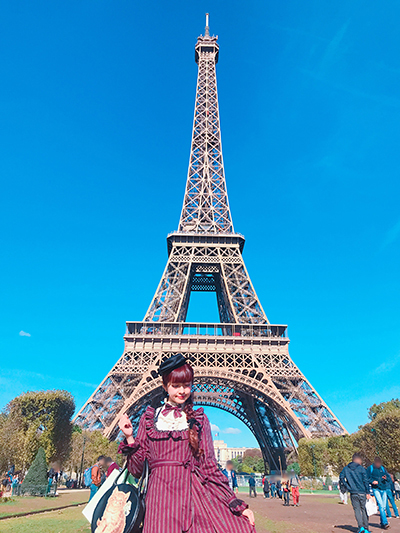 Marie Antoinette is a figure that often comes to mind when people think about lolita fashion. And when you talk about Mary Antoinette, the Palace of Versailles is one of the first places that springs to mind. My aim for the trip was to visit the Palace of Versailles in France and enjoy traditional afternoon tea in the UK! This was the first time I got to experience these sort of activities, even though they have strong connections to lolita fashion. I have been taking on a lot of new jobs recently. I have also had quite a bit of TV work going on. So I haven't had so much time to focus on lolita fashion stuff. This trip kind of helped me get back to basics and rediscover the charming appeal of lolita fashion!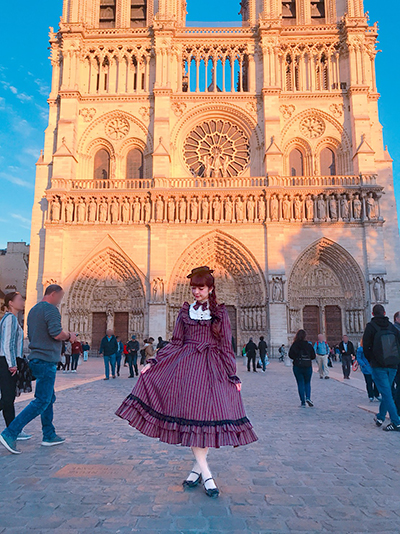 There's a big event in Paris, which takes place in July called the "Japan Expo." I have had the opportunity to make a guest appearance at the festival about four times! It seems like lolita fashion is really popular in France as well! The Palace of Versailles is located about an hour away from Paris. I have not had the chance to visit during my previous trips to Paris as I am usually busy attending events. Lolita fashion originated in Japan. It is like a Japanese take on Rococo (late Baroque) style patterns and designs. The Palace of Versailles and lolita fashion are a perfect match! This time I got the chance to visit the palace! It was a dream come true! The huge grounds feature a glittering palace and beautifully kept gardens! You can't help but feel like a princess in such a magical environment!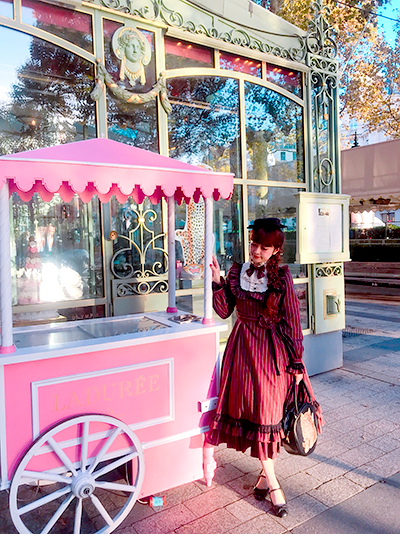 There were so many rooms. I almost got lost! It took me an entire day to see everything! I also ate famous Mont Blanc in a cafe called "Angelina," which is located inside the grounds of the Palace of Versailles! The macaroons and cakes in Paris were absolutely delicious! I had a stroll around Eiffel Tower, the Arc de Triomphe, and the Champs-Élysées. I felt like a true Parisian! I think European buildings and lolita fashion are super compatible! I also went to Disneyland Paris! I went in an Alice in Wonderland-inspired lolita outfit! Some parts of the theme park were the same as the one in Japan, but Mickey was speaking in French. It was so cool!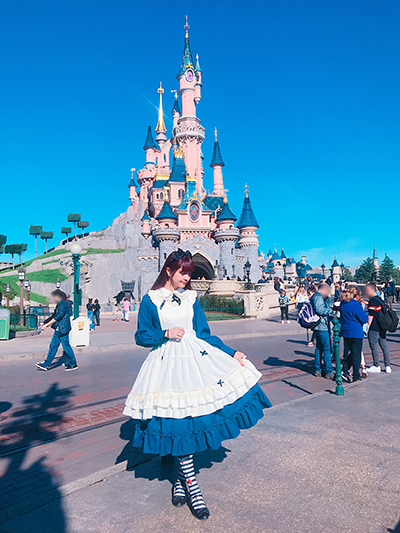 After a great time in Paris I went across to London! Speaking of lolita fashion events... Tea parties are now being held all over the world. And while I am on the topic... I have got to speak about afternoon tea! Seasonal afternoon tea services are popular in some Japanese hotels, but the practice originated in Britain, so I really wanted to experience it while I was over there! Expensive hotels sometimes have a dress code for their afternoon tea service. For example, male diners might be required to wear a jacket or blazer. Be sure to keep that in mind if you get a chance to go to one!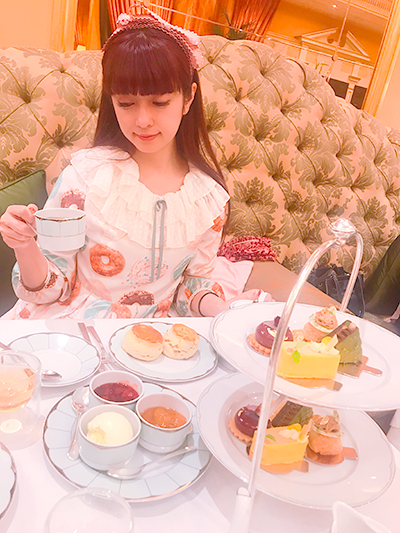 I got the chance to have afternoon tea at the Dorchester Hotel! I've got to say, it's a pretty luxurious afternoon tea. It costs about 10,000 yen per person! Sandwiches are served first. Then scones come out with clotted cream and jam! Diners can eat as much as they like! The dishes are served in a specific order. The sweet dishes are brought out last. Enjoying an elegant afternoon tea in such a delightful place made me feel like a real princess! This was the first experience of this kind of venue. It was so luxurious. I finally got the chance to experience a traditional-style afternoon tea! I really learnt a lot! I also went shopping in the Vivienne Westwood store! It was such an awesome experience!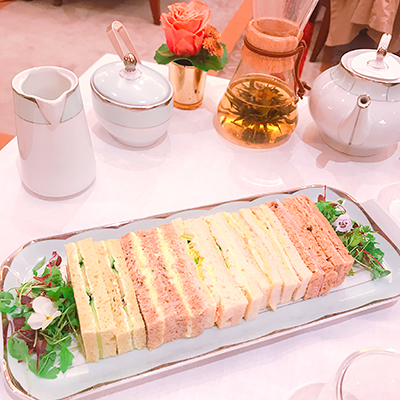 I participate in lots of events overseas. But I usually go home once the event finishes. So I don't usually get to do much sightseeing. I think this trip was a great opportunity to find-out more about some of the cultures that inspired lolita fashion. I went back to where it all started! It is important to know about other cultures when you are promoting Japanese culture! During my travels, I got to visit the Palace of Versailles, which has close ties to Mary Antoinette, and the home of afternoon tea. I got to live like a real-life princess! It was so lovely! I do not have a lot of free time in my daily life. But on weekends I get to wear lolita-style and feel like a princess! It's a chance to escape reality and then get back to work on Mondays! I think that many people out there who think the same!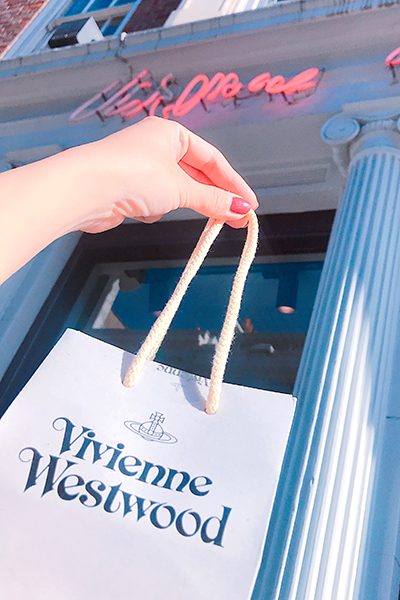 Even when you're grown up, I think everyone has a desire to be a princess! It's always going to be a dream of mine! I want to continue sharing the charming appeal of lolita fashion with people throughout the world. It is a style that brings excitement and happiness to so many! I went to Paris and London at a time when I was starting to feel a little bit lost and anxious about my efforts to carry out cultural diplomacy through lolita fashion. But through this trips I was able to get back to basics. It helped me to redetermine to do my best! I have more events overseas coming up. I am going to continue promoting lolita fashion and will be working hard in the field of cultural diplomacy!
Misako Aoki
PROFILE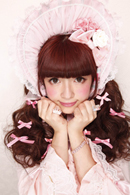 Misako Aoki
Lolita model, nurse, and President of the Japan Lolita Association

Models for KERA and the GOTHIC & LOLITA BIBLE while also working as a nurse. Was appointed as a Kawaii Ambassador (Lolita Fashion Representative) by the Ministry of Foreign Affairs in 2009. Has visited and attended events in over 30 cities across 20 countries and regions. Now has countless overseas fans.

Involved in setting up the Japan Lolita Association, has released "Lolita Fashion Book," has also worked in the development and promotion of new products. Contributes to activities that promote Lolita Fashion.

Misako Aoki official blog: http://lineblog.me/aokimisako/
Misako Aoki official Twitter:@aokimisako
Misako Aoki official Instagram:
https://www.instagram.com/misakoaoki/
Related Articles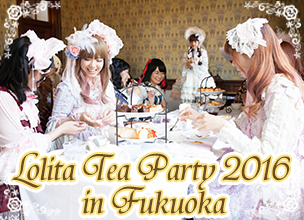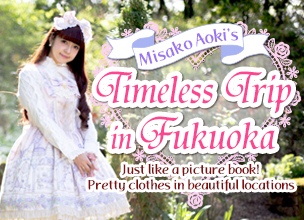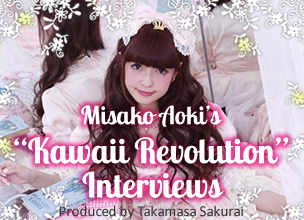 This comment section is for readers to leave opinions and comments. Inappropriate comments may be deleted, so please remember to be respectful. Thank you!