#30 Gorgeous lolita-style fashion is now hugely popular in China! - Impersonating Marie Antoinette -(1/9)

I am thinking about focusing on the production side of things!
Hot Summer weather is kind of an enemy of lolita fashion! We often layer our garments. Wearings lots of layers, such as a pannier (side hoops), a blouse, and a pinafore dress can be tough for lolitas! I'm kind of relieved that the weather will get cooler as we move into Autumn! We're now in the build-up to Halloween! Various lolita brands will be releasing clothes that feature Halloween inspired colors and designs! There will be a lot of seasonal stuff going on for Autumn and Winter, so I am starting to get pretty excited!
People usually take their summer vacations in July and August (in Japan). During these months I went to events in China on an almost weekly basis! I was pretty busy, but fortunately the schedule didn't have a negative effect on my physical wellbeing! Missing out on an event can cause trouble for a lot of people. I think its important to take care of yourself, to ensure that you can participate. Health always comes first!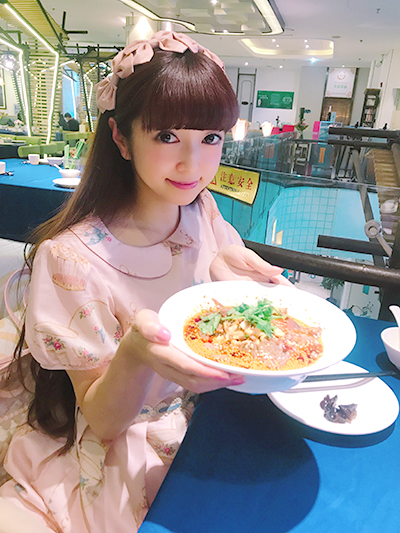 I was basically in China every week, so I got to try the local cuisine on a regular basis (lol)! I love Chinese food, so I was really excited, but I'm not so good with spicy dishes, so I was a bit nervous about going to Chengdu in Sichuan Province! But I ate a lot of hot, spicy food, so I sort of got used to it. I started to find it really tasty! I have been to various places during my travels. One constant source of joy throughout my expeditions has been "food!" I always eat well-known local dishes with lolitas from the area and then post the photos on social media! Its like a fusion of lolita fashion and food!
In August I visited Guangzhou, Chengdu, and Shanghai! Recently I have been travelling to lots of places in China, not just the three biggest cities... Beijing, Shanghai, and Guangzhou. I have encountered lolita fashion enthusiasts wherever I go! The number of people that are into lolita style clothing in China is really starting to increase!
I really want to tell you about an event I went to in Shanghai towards the end of August! I made a guest appearance at a fashion show and participated in a tea party organised by two Chinese brands. They are among the most popular lolita fashion companies in China and sell a wide range of goods!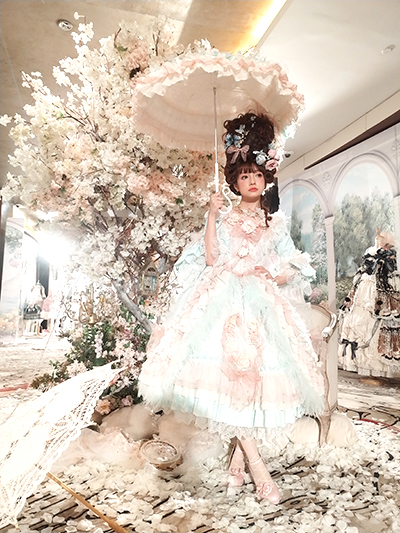 I had a dress specially tailor made for the occasion! It was a really gorgeous number with lots of frills. This lolita fashion look sort of takes inspiration from Marie Antoinette's style. Designs filled with lots of gorgeous details are more popular in China than Japan, so for this event I really took the hair and make-up to another level! I mixed together my own hair with a wig to create a Marie Antoinette look for the fashion show and I made sure to took some photos! The wig was heavy on my head, which made it a little bit hard to walk in a straight line, but I think all the participants were impressed with the result!
The event took place inside a hotel facility that is usually used for wedding ceremonies. There were lots of lolita fashion photo booths at the venue. You don't see many tea parties as gorgeous as the one held during this gathering! I appeared together with model Midori Fukasawa! Recently I have been collaborating with Chinese lolita fashion brands on a more regular basis! It is so much fun to see your ideas and designs turned into a real outfit! We are trying to produce even more as the number of lolita-themed fashion activities continue to increase! I find the work that goes into creating these items super fun!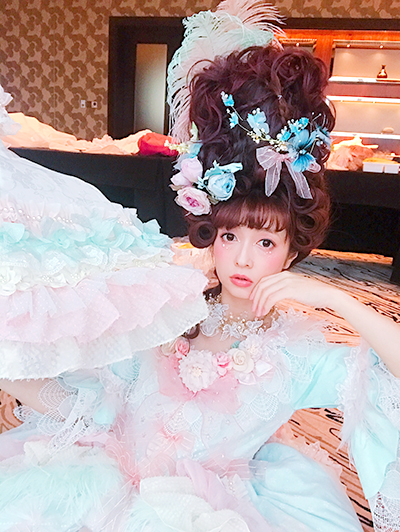 As a lolita model and Kawaii Ambassador (by the Ministry of Foreign Affairs), I have had many opportunities to travel, but in the future I'm thinking about moving more into the production side of things! It might be that I work on a smaller scale without getting a lot attention from the press. And it could also mean that I will not get a chance to make an appearance at the Tokyo Girls Collection, but I have been committed to this world for the last 18 years! Trends in the world of lolita fashion have changed. There is a surge of interest in this style in China right now! It is fair to say that lolita fashion is really experiencing a boom over there! There is no way I could have predicted things would have developed in this way when I first started out 18 years ago!
I have remained active because of my passion for lolita fashion. That has been the number one factor! I do not want to give up doing what I love due to my age or just because my living conditions have changed. I want to keep moving forward along the path that suits me best. I will continue to give everything I have to promote lolita fashion and contribute to cultural diplomacy!
Misako Aoki
PROFILE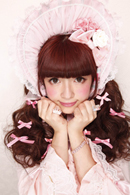 Misako Aoki
Lolita model, nurse, and President of the Japan Lolita Association

Models for KERA and the GOTHIC & LOLITA BIBLE while also working as a nurse. Was appointed as a Kawaii Ambassador (Lolita Fashion Representative) by the Ministry of Foreign Affairs in 2009. Has visited and attended events in over 30 cities across 20 countries and regions. Now has countless overseas fans.

Involved in setting up the Japan Lolita Association, has released "Lolita Fashion Book," has also worked in the development and promotion of new products. Contributes to activities that promote Lolita Fashion.

Misako Aoki official blog: http://lineblog.me/aokimisako/
Misako Aoki official Twitter:@aokimisako
Misako Aoki official Instagram:
https://www.instagram.com/misakoaoki/
Related Articles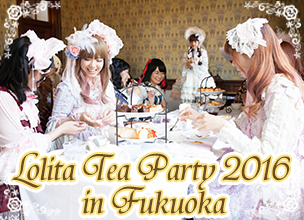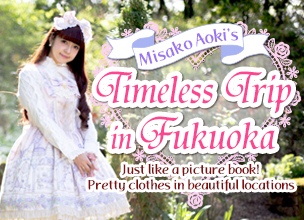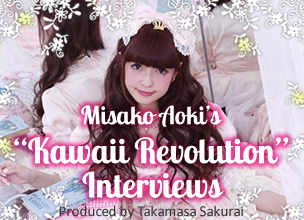 This comment section is for readers to leave opinions and comments. Inappropriate comments may be deleted, so please remember to be respectful. Thank you!