#68 Let's enjoy a spot of winter-themed afternoon tea!(1/5)

Cute yet graceful... Enjoying a solo afternoon tea!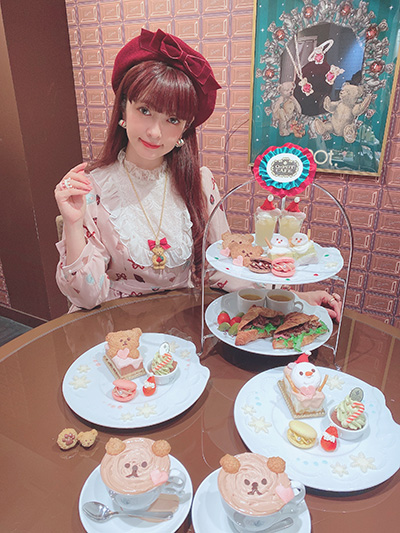 Halloween is over and it's starting to get colder, which means Christmas is around the corner! Christmas is one of the most exciting times of the year! I'd like to have a tea party, but I think it's still not a good time to hold an event with large groups of people. We've got to be patient! It seems like the pandemic is getting a little better, so I've recently started afternoon tea-hopping again. Lolita fashion is my passion but tea-hopping is also one of my hobbies! It's still difficult to go abroad, so having a nice afternoon tea here helps brighten my day! I like to go to tea parties with my friends, but I also started going alone during the pandemic. It's actually a lot of fun! I went to various venues that are full of Christmas decorations and have a lovely white winter vibe. I would like to tell you a bit more about some of these places!

First, I would like to introduce "Q-pot CAFE." in Omotesando, Tokyo! The accessary brand "Q-pot." is in charge of the cafe, which will be serving afternoon tea until December 25th (Saturday). Cake plates are featured on the menu, too! The tasty snowmen, strawberry santa claus, and teddy bear cookies have arrived from the land of candy, so it's time for the "Kuma (kuma means bear in Japanese)-stmas party to start! This really is a delightful teddy bear-themed Christmas afternoon tea party!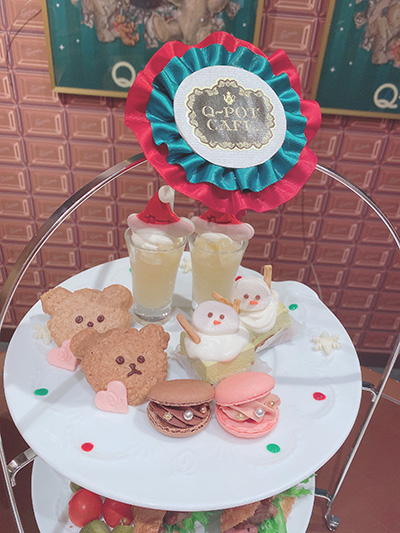 I have a teddy bear cookie necklace from "Q-pot" so I wore that to match the tasty treats. I also put on a red beret to create a Christmas look! It's fun to match your outfit to the theme of the tea party!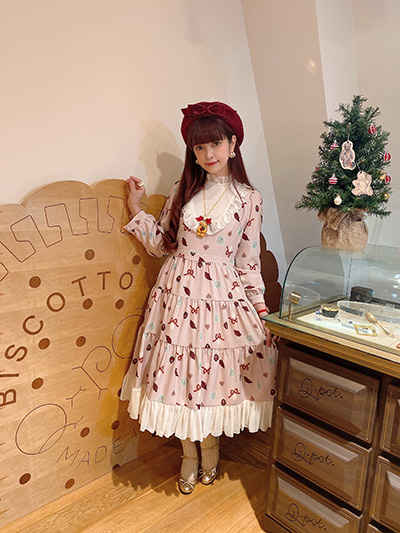 I also went to the "ANA Intercontinental Hotel Tokyo" in Roppongi, Tokyo. The "Kintsugi Afternoon Tea" will be held at the Atrium Lounge until January 31st (Monday) next year! The theme is inspired by a traditional Japanese restoration technique called "Kintsugi". The afternoon tea is an elegant, refined "White and Gold Celebration of Chocolate"!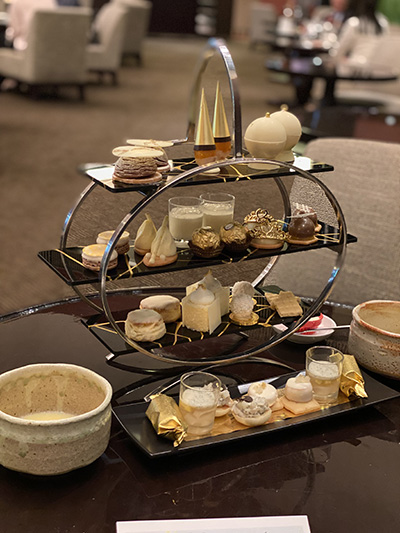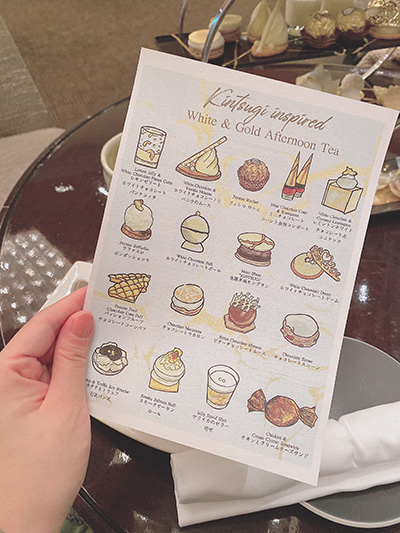 The use of white and gold helps create a stylish and classy atmosphere. I wanted to look nice and also stand out, so I decided to wear a matcha-colored classic lolita outfit for my visit!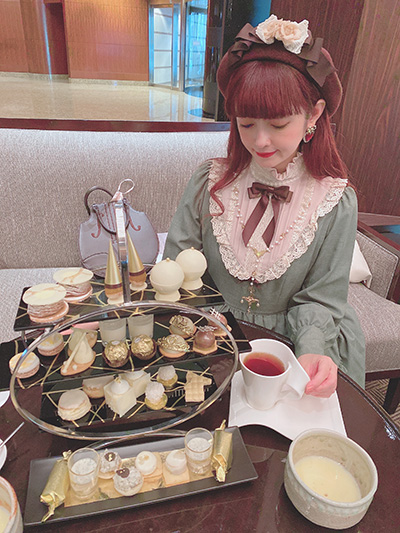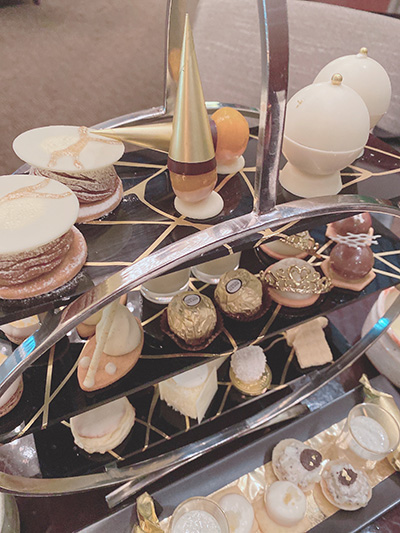 The city is gradually getting back to normal. I think that enjoying seasonally-themed afternoon tea can relief stress! I find it even more enjoyable when I coordinate my clothes with the theme of the afternoon tea. I would definitely recommend checking these spots out during Christmas. I hope to have more lolita tea parties next year and participate in overseas events!
Misako Aoki
PROFILE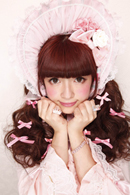 Misako Aoki
Lolita model, nurse, and President of the Japan Lolita Association

Models for KERA and the GOTHIC & LOLITA BIBLE while also working as a nurse. Was appointed as a Kawaii Ambassador (Lolita Fashion Representative) by the Ministry of Foreign Affairs in 2009. Has visited and attended events in over 30 cities across 20 countries and regions. Now has countless overseas fans.

Involved in setting up the Japan Lolita Association, has released "Lolita Fashion Book," has also worked in the development and promotion of new products. Contributes to activities that promote Lolita Fashion.

Blog: http://lineblog.me/aokimisako/
Twitter: @aokimisako
Instagram:
@misakoaoki
YouTube: Click
HERE
!
微博 (Weibo):
@青木美沙子-Official-
bilibili:
https://space.bilibili.com/487631711
Related Articles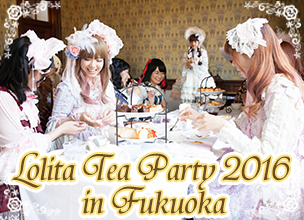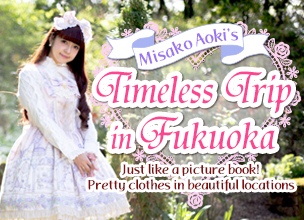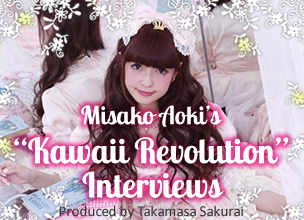 This comment section is for readers to leave opinions and comments. Inappropriate comments may be deleted, so please remember to be respectful. Thank you!