Vol.6 A9 HIROTO - People Themselves Are Music -

- People Themselves Are Music -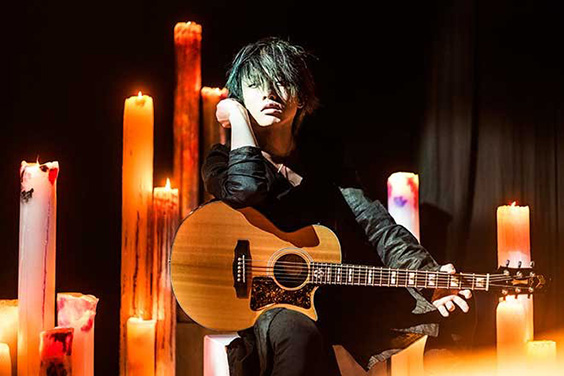 I've felt this way for about the last two years and I believe it now more than ever.--------------
As a kid I was never good at talking with people; I was cynical, unfriendly and couldn't even manage a simple greeting. There were lots of things I was interested in and I would take up new hobbies in a flash, but I would just as quickly get tired of them and give up.
When I got a bit older, I was always the first to get into the latest toys or games and I would get everyone around me involved, make it as big as possible and then I would just move straight on to the next toy or game. I didn't have anyone I could confidently call my friend, but I just told myself that was because I was above everyone else, and I would spend lunch breaks alone at the top of a ginkgo tree. I thought hanging out in groups was so lame and I looked down on my classmates (quite literally – from the top of a tree) for it, trying to act all mature.
Really I just wanted to make pointless chit-chat, talk about the shows on TV last night (like the comedy show, "hitori gottsu"), and share the things that I like with everyone just like everybody else.
It's what would now be referred to today as communication disorder or 'sho-go-byo' (5th-grader syndrome).
And that's how I spent my time as a kid, but I'm sure most people don't know who I am so I'll give a brief introduction.
I'm the guitarist for the five-member band, A9 (formerly known as Alice Nine). The members in the group are Shou (vocals), Hiroto (that's me, guitar), Tora (guitar), Saga (bass), and Nao (drums). We formed in 2004 as a so-called "visual-kei" band.
I performed my first one-man-live (at Liquidroom, Ebisu) with this band (one month after tickets went on sale we had only sold 91 tickets…!! The office people were lost for words. However!! Come the day of the show tickets sold-out!!! Thankfully.)
During the recording of our first ever album, "Zekkeishoku," the life of everyone in group looked to hand in the balance.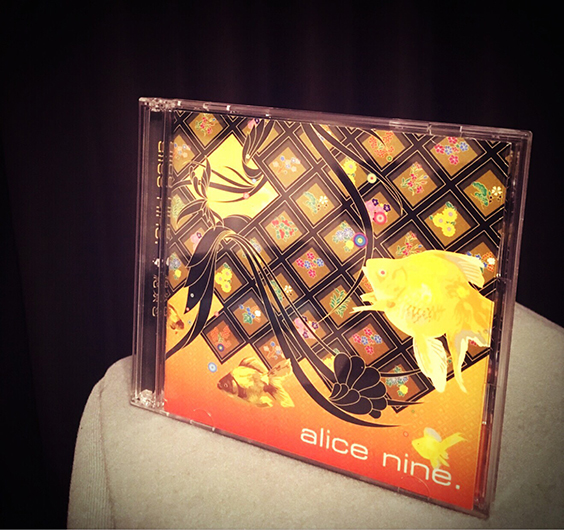 Just as our band activities were taking off, Tora (guitar) suffered a hernia in his neck and for a time the continuance of the band looked to be in doubt. (This was the first time we actually postponed a number of concerts. I feel particularly sorry to the fans in Aomori who waited in quite heavy snowfall to see us but didn't get to in the end.)
For six years I've been involved with a live broadcast talk show – something that takes some getting used to after performing in a rock band – on NICO NICO DOUGA.
Seven-years after our formation, we finally got to answer the wishes of fans, the production staff, and the band members ourselves, and perform our "TOKYO GALAXY" show at the Nippon Budokan. (We were so nervous that guitarist Tora had face cramps for the first few songs and for some reason bassist Saga was just half-smiling the whole time.) (You can see for yourself on the DVD recording: "TOKYO GALAXY Alice Nine Live Tour 10 "FLASH LIGHT from the past" FINAL at Nippon Budokan.")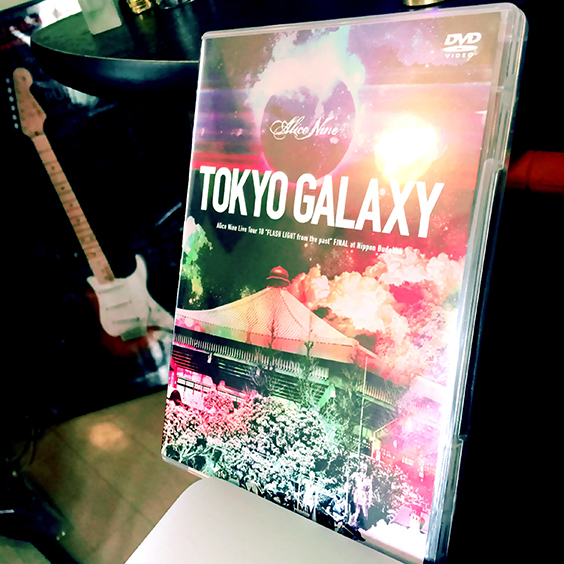 Ten years on from our formation in 2014 and we completed our first Asia tour!!!
Then, the day after our 10-year anniversary, on August 23rd 2014, we held our 10th anniversary concert at Fujikyu Highland Conifer Forest and officially removed ourselves from the production company that looked after us for 10 years (and we're truly grateful for all the work they did for us for 10 years!), signaling the start of our 1-year hiatus.
On August 23rd 2015, we broke our 1-year silence and rose again like a phoenix! (Our very first song for our return to the music scene also happened to be called "Phoenix.")
And now, here I am, writing this article.
So that's my life in a nutshell up until this point.
But going back to the communication disorder of my boyhood and what felt like my impending demise, it was a certain turning point that changed me and helped me avoid total destruction.
[Encountering hide – Picking up a Guitar]

Verging on the peak of my 5th-grader syndrome, I would turn to delinquency night after night until one day I saw "him."
On the cathode-ray tube, a group of guys with crazy colorful hair unlike anything I had ever seen before, as cool and lively as the electric light parade of a certain Tokyo theme park, were giving an invigorating performance of both song and sound.

That's right, it was hide.

After that "encounter" my life changed completely; the boy who couldn't maintain interest in anything longer than 2 weeks gave up study, play, sleep, and the one and only thing I truly enjoyed "Hitori Gottsu" (although I was really only watching recorded versions anyway), and immersed myself in music, devoting myself completely to rock.

It was really my encounter with "the thing that I love."

I couldn't stop. Nobody could stop me. *There's more detail to this part of the story which you can read in "ROCK AND READ 038." Have a read if you're interested.

Every day I played the guitar, and once got the hang of it a little, the next thing I wanted to do was form a band.
All of a sudden I was making conversation with the classmates I used to looked down upon and advertising for band members in magazines. The old me that would stand in front of a pay phone for 5 hours trying to pluck up the courage to call the first girl I ever liked was now making phone call after phone to complete strangers who were interested in forming a band without the slightest bit of hesitation and travelling around from town to town. People really do change.

Before I knew it all these "person to person" encounters began to form a chain and suddenly I found that I could actually hold a decent conversation with people!!

I continued to meet more and more people and in doing so I progressed past my communication disorder, signaling the turning point for me to become a more confident and passionate young man.
[Band Members and Partners in Life – the Formation of Alice Nine]

When you're in an amateur band, chances are you're going to be able to count the number of people who come out to see your first performance. But there's also a ticket quota and if you don't sell a certain number of tickets not only are you not going to get paid, you'll have to pay the live house out of your own pocket to make up for it.

I was angry and saying things like, "The start wasn't flashy, it wasn't anything!" stomping around and kicking things, but that also became my drive. "I'm going to show you I can make it!! I'm going to claw my way up from here!!"

After performing in a number of battle of bands events, I got to see various people perform and met with the ones who I thought 'he's cool," or 'he's got a great energy.'
At the beginning of 2004, I met each of my current band members who were all in different bands at the time, and we were drawn to each other, so the five of us formed Alice Nine. (Even though this is the extremely abridged version of the story, it still seems quite long…!!! I've never mentioned anything about this part of our story anywhere yet, so hopefully one day I'll get the chance to elaborate further…)

After this, my encounters with various people reached all new explosive levels.

Up until this point the only places I had really visited inside Japan were Tokyo and Kyoto, but travelling all over the country on tour I got to go places I almost certainly never would have had I not been in a band.

Meeting fans, various people, and all the live house staff in each region, all these encounters with people and the passion they bring to our live performances gives birth to inspiration for new songs.

The members met with each other and that meeting lead to the creation of songs, and because of those songs we meet people who want to hear those songs, and because of those meetings we meet people who become accompaniments to those songs (people in the media and the support staff who work behind the scenes), and because of those people we meet more people, and that in turn gives birth to more songs. This has been the continuous cycle for the past 10 years.

Of course it's not just encounters, though.
With more encounters come more partings and over the years I've seen my fair share of partings, like certain fans' faces that you're used to seeing in the crowd suddenly not there anymore, or magazines that we worked closely with ceasing publication.

Just like songs and the creativity that's born out of "encounters," "partings" too have inspired many songs.

There's one song in particular that I have a strong emotional attachment to.

The song is about a member of the first band I formed when I was 14, who died in an accident one week before our first live performance.
Every night we would say things to each other like "We're gonna make it big and rock Budokan and Tokyo Dome!!" – the kind of things you read in all the coming-of-age manga.

Then suddenly one day he wasn't here anymore.

This was probably my first close experience with "death," as well as my first understanding of partings, and the most traumatic experience of my youth.

After this experience, for a time I was extremely sensitive to the word "death" and I hated people who used the word carelessly. (When you're young everyone just jokes around and says it all the time, but for me, even this was unforgivable.)
A number of years on and after meeting the band I decided to risk everything on, I decided to face that trauma head-on for the first time, the end result of which is the song "FANTASY."

This is exactly what something born out of "parting" is.

And, I think it's because it was born out of such strong emotions that fans have taken a real liking to it.

There are just as many songs about partings throughout the world as there are songs about encounters, if not more, as people can relate to pain and sadness, and seek solitude within that shared understanding.
And once people overcome their traumas, they grow stronger, and this leads them to new encounters.

Getting off track slightly, one TV show I'm hooked on lately is "Nobunaga Concerto."
It's based on the manga by Ayumi Ishii and has since been made into an anime, TV drama series, and a movie.
A regular high school student is suddenly transported back in time to the Sengoku era where he meets Oda Nobunaga who has the same face, voice and personality as him, and so is asked to become Oda Nobunaga.
I started watching the TV series, but this is the perfect representation of "encounters" and "partings," as well as friendship and love, desire and trauma, all jumbled together is a human drama!!!
The actors are brilliant and I cried numerous times.
What really gives fire to the story, though, is the musical score by Taku Takahashi.
While it has the feel of a period piece, the musical arrangement and use of sound is also modern and provides instant pace to the story.
When "words" aren't simply enough, music can help people feel atmosphere and emotion.

If you haven't seen it yet you should!

Getting back on topic, the reason behind the theme of this article "People themselves are music" comes from my own realizations and experiences looking back on my life thus far when the band went into hiatus (I was preparing for our return to the music world – I wasn't having a holiday!), and I realized it was overflowing with "music," and at the same time, "people" constantly coming together.

I touched on it a bit earlier on, but in 2014 and 2015 we toured Asia (Shenzhen, Guangzhou, Wuhan, Beijing, Shanghai, Chongqing, Xiamen, Taichung, Taipei, Singapore, Kuala Lumpur, Hong Kong, Seoul) and one of the reasons behind this tour was my encounter with someone who constantly toured around the world promoting Japanese pop culture.
He told us that 'In China and overseas, there are a heap of people who love Alice Nine!' showing us messages from fans from various regions, and in the end we ended up going to places we had no intention of going to in the beginning.
In a former age, labels like "From JAPAN" and "visual-kei" would draw a crowd, and even though we're in a different time now and things aren't like that anymore, a lot of people still came out to see us perform.

Once we began our performance there was roaring cheers from the crowd and everyone singing along in Japanese.
Our first time to stand on this soil, in a country with a different language, and the people who gathered for us were all singing together and dancing.
We the members were all shocked, we were moved, and along with this invaluable experience, these men and women across the sea changed our views completely, and this "encounter" will surely go on to become a new sound for A9. (On a side note, "A9" is the abbreviation of Alice Nine that all the fans in Asia referred to us by.")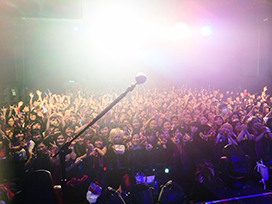 2015 was a new start for us as a band, but it was through the chain of encounters that brought us together in the beginning to become アリス九號 (arisu nain), then Alice Nine, and now, A9.
Each phase is precious to me as each are the fruits of encounters and partings with precious people.
Through my musical activities and through avenues like this, I hope that my "encounters" with "people" from different countries and genres continues to inspire new "music"!!!! (Does that wrap things up?!!! lol)
HIROTO A9
PS: If I ever get the chance again, next time I would like to do an interview with someone from a different industry…lol
PROFILE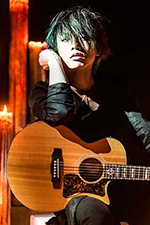 HIROTO(A9)
Guitarist and composer for the visual-kei rock band "A9." Also looks after designs for their goods and merchandise.
Having started out with "Alice Nine (アリス九號)" in 2004, is currently engaged in lots of activities, including pursuing solo work. Whilst still in the band, is also performing live as an individual artist at various events and has also been a support act for X JAPAN Toshi.
A9 official website
http://a9-project.com
Twitter
https://twitter.com/hrt_A9
Facebook
https://www.facebook.com/hrt.from.A9
Instagram
https://www.instagram.com/hiroto_a9/
PRESENT!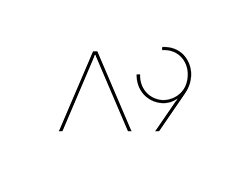 One lucky reader
of asianbeat have the chance to win an A9 Live Tour item autographed by A9 HIROTO! Don't miss this chance to win!
[Application Period]
Friday June 10th to Sunday July 17th 2016 (Japan Standard Time)
Announcement of Winners
Wednesday 20th July 2016
The application period is now over. Thank you!
The lucky winner is...
Little J✩ san
(Please note, winners will receive an email directly from asianbeat. If you don not reply with a confirmation message within a week, you application will become invalid and you will not be able to claim your prize.)
This comment section is for readers to leave opinions and comments. Inappropriate comments may be deleted, so please remember to be respectful. Thank you!