Vol.7 Ayumi Fujii - There's More You Can Communicate When You're a Fan of Something Yourself -

My future was decided the day I found out that voice acting was a profession
Hello everyone, I'm voice actor Ayumi Fujii.
This might sound like a fairly typical statement, but I set out to become a voice actor because I loved anime. At first, I thought that the characters in the anime were speaking themselves, so it came as quite a shock when I found out it was actually real people speaking the lines! And with this realization that people can become characters I thought, what a great job that would be! And so my future was decided the day I found out that voice acting was a profession.
My love of anime owes a lot to the influence of my father and all the famous manga series like "SLAMDUNK" that he used to collect. Before I even knew about voice acting, though, I would read manga to my younger sister instead of picture books. I also received special otaku training from the older girls in my neighborhood who got me hooked on old anime (like "Mashin Eiyūden Wataru"), so I would go out and buy old magazines and stick all the anime related posters that were usually included inside up around the walls in my room, and then when I got into "Hikaru no Go," I started going to the junior training school for the Nihon Kiin (national go organization of Japan) signaling my debut as quite an enthusiastic otaku of rather unique tastes.
As a school student my natural-born otaku nature came to light as I was always quicker than all the other otaku girls of my age to take part in cosplay and
dōjin
(coterie) activities and go along to
tenimyu
(The Prince of Tennis Musical) shows.
Somehow I thought that my love anime and games would last forever, but once I actually became a voice actor and the industry became my job, strangely all my otaku inclinations disappeared. I would see friends around me getting excited over anime and games that I used to love but I didn't feel the same passion for them anymore and it occurred to me that maybe my otaku days were over.
But that was me just letting my guard down. I forgot how
moe
tends to jump out and grab you one day when you least expect it!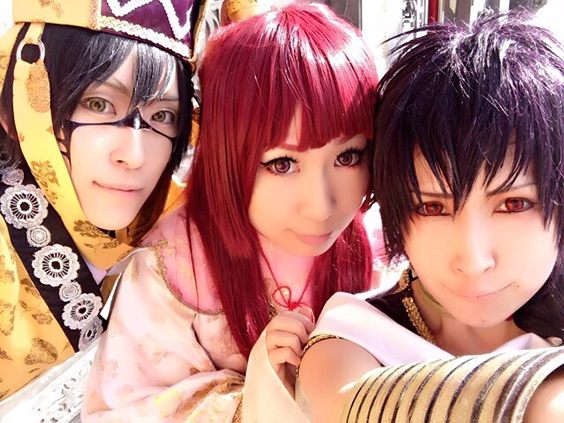 It was on Christmas day of 2015. I was with my friend – just two sad girls with no plans on Christmas day – and we decided to go the cinema to watch a movie. My friend was a fan of the Kyoto Animation series "Free!" so we went to see the spin-off movie of that series, "High☆Speed!"
At the time, all I really knew about "Free!" was that it had a cute boy in it with pointy, shark-like teeth. People around me kept telling me to watch it but it was one of those series that I just flatly refused to watch. "Free!" is a story about a boys' swim club, so you know the characters are all going to be the cool, handsome types, swimming around half naked, all shiny and glistening throughout – it's basically like saying, 'Here you go
fujoshi
(nerdette's who are into BL-type stories), here's everything you've ever wanted!!!' and so I refused to watch it on that basis alone.
So without any expectation whatsoever, I went along to the cinema.
Then as I'm watching the movie I'm thinking,
'Okay, the images are sharp... it's Kyoto Animation, though, that's to be expected…'
'Okay, the characters are cute…' 'Okay, the story has started to peak my interest…'
My friend also looked super happy and "High☆Speed!" turned out to be a really fun experience.
Then, after the movie, I gave in to my friend's enthusiastic appeal for me to watch the anime as well, and the two of us ended up spending that holy night watching "Free!" It might sound like a rather sad was to spend Christmas to you, but for me, it was like being touched by an angel!
And that angel was the pointy-toothed Rin Matsuoka! He's strong yet weak, a hard-worker but a cry-baby, he's a romanticist, and everything from his looks to his personality is my ideal guy!
In the end I lost out to the onset of sleep, putting an end to our anime night, but on my way home I stopped by TSUTAYA and rented the entire first and second season of "Free!" Before I knew it I had watched all 12 episodes of the first season and all 14 episodes of the second season in three days.
When I finished watching it the first words to come from my mouth were "Free! is priceless…" I couldn't believe it took me so long to watch such a brilliant and priceless series and I wanted to curse myself for holding such a narrow-minded view in the first place.
Interesting characters, the shimmer on the water, passionate friendship, soppy tear-stained faces, the road to adulthood…It's like the springtime of youth has been condensed into one intense summer that sparkles before you on the screen. It makes me want to turn to Kyoto and thank them for creating such a brilliant series.
I'm sure there are people out there who don't know what "Free!" is, so allow me to explain. It's an anime series produced by Kyoto Animation based on the light novel "High Speed!" which received an honorable mention in the second "Kyoto Animation Award Contest." The first season aired in Japan from July-September 2013, and the second season "Free! -Eternal Summer-" aired from July-September 2014. The story is about the daily lives of a group of boys who part ways after winning a swimming tournament in elementary school but reunite a number of years later in high school where they set up a new swimming club and form friendly rivalries with each other. The setting of the story is based on the real town of Iwami in Tottori prefecture and fans of the anime who go on pilgrimage to visit the town are always warmly welcomed by the locals apparently.
Ever since then I started collecting goods from the series, going along to events and generally just promulgating "Free!" to anyone I meet. Up until now I had never actually ventured into the realm of series-related goods, but the cuteness of all the anime goods these days took me by surprise! The designs of a lot of the items are quite fashionable and don't give away the fact that you are otaku, and there are a lot of items that you can easily wear now, too!
There was a bit of influence from a friend who was collecting anime goods and in a short time I had completely surrounded myself with "Free!" goods. Another friend also gave me a box of "Free!" goods when she was moving house and before I knew it the situation in my room was next level.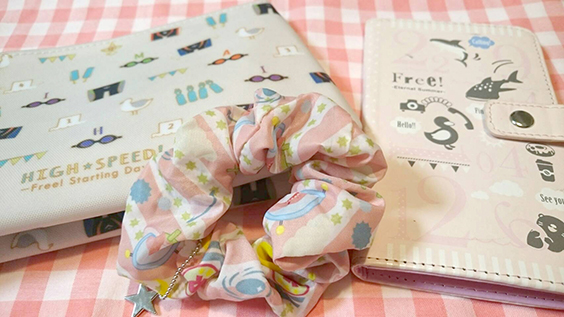 Then came my first ever visit to a
korabo-café
(collaboration café).
I was extremely, extremely impressed by "High☆Speed! Café" and "Kissa Iwasame" produced by Anime Plaza. The pale hues inside were kawaii, the walls decorated all in "Free!" illustrations, they even had the anime playing on the monitors!
All the dishes on the menu were cute as well but I couldn't go past the Rin-inspired meal and drink. With each character inspired item you order off the menu you get a free sticker selected at random. It was fun to open the envelope to reveal which character I got, but it wasn't Rin, unfortunately… I ordered another drink but no Rin again… Then I ordered dessert – again no Rin… How many more things do I have to order!? I thought to myself, slightly shaken by own unluckiness.
That's when my friend told me about the collaboration café sticker exchange rule. Basically, if you don't get the character you want you can put the sticker down on your table, which is the signal that you want to exchange, and if you find someone with the character you want who is also signaling they want to exchange then you can go over to them and ask them if they would like to swap. This also provides a platform for greater interaction amongst the customers. Immediately I went up and spoke to another customer who had their stickers laid out and finally I got my hands on a Rin! I also got to speak with other "Free!" fans, so it was a true eye-opener to the real joy of collaboration cafes.
I was surrounded by the characters I love, in a space where all the people at the tables around me were talking about "Free!" Just the thought that everyone in the room loved "Free!" was enough to make me happy.
This just might be paradise
…I thought to myself and immediately I was hooked on the collaboration café. Every spare moment I had I would go to Kissa Iwasame, so I bet the staff were all thinking, 'Here she is, back again…' Before I knew it I had amassed quite a number of Rin stickers, as well as complete collections of the other characters, and I was really just amazed at how strong the power of love can be. "High☆Speed! Café" isn't operating at the moment, but collaboration cafes of various other anime series are set up regularly throughout the year, so you should all go and check them out!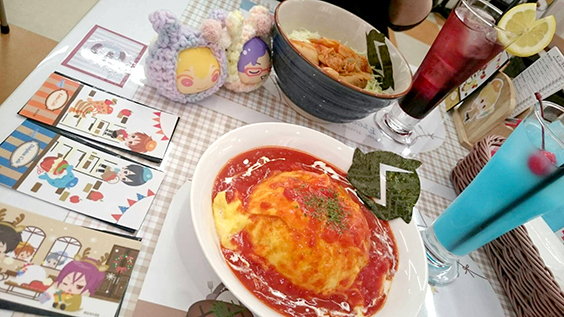 Ever since I finding "Free!" every day is a joy. Having worries and feeling down is all a part of living. The great thing is, in times like those I can just watch my favorite anime and think, 'Alright! Rin is doing his best so tomorrow I'm going to give it my best, too!'
Through the brilliance of anime and experiencing the power of
moe
firsthand, I was able to revisit the days when I was truly excited about anime. I do this for a living so I thought that maybe it's best not to have these kinds of feelings, but there's also a lot more that you can communicate to people when you're a fan of something yourself. I'm truly grateful that I have a job that lets me work with the games and anime that I love.
It's because of Kyoto Animation that I was reminded of these feelings and I hope that I get to work with them one day. That's my new dream for the future and I'm going to work my hardest to make it a come true!
If reading this article peaked your interest even a little, I highly recommend you go and check out "Free!" for yourself! You should watch it in summer. It centers around themes of friendship and youth – it's really a wonderful series! The characters make swimming look so enjoyable that this Summer I'm planning to go to the gym to swim!
My heart is in Eternal Summer!!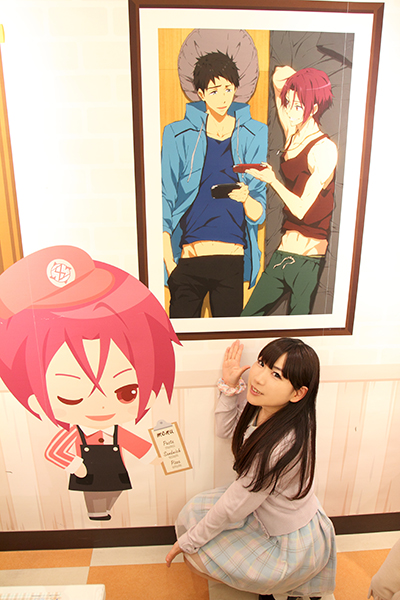 PROFILE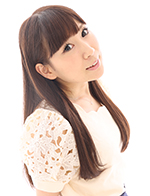 Ayumi Fujii (藤井アユ美)
Active as a voice artist, also has experience in game planning and screenplays. Has a dog called Gonzo, who looks like a bear. Is working night and day to see Gonzo become an idol.
Major roles: Madoka Enami from "Tokyo 7th Sisters," "Bullpen-ko" from "Trickster – Shokanshi ni Naritai," Nina/Carol from "Ange Vierge," Café-chan from "Café-chan to Breaktime," Suzuki Alto Lapin from Syanago Collection, etc.
Twitter:
@ayunnyu
PRESENT!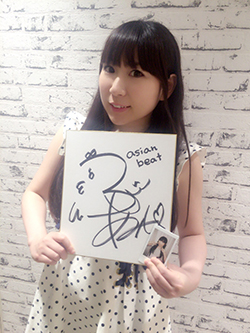 One lucky reader
of asianbeat has the chance to win a card autographed by Ayumi Fujii and a cheki (photo)! Don't miss this chance to win!
[Application Period]
Friday June 24th to Sunday July 31st 2016 (Japan Standard Time)
Announcement of Winners
Wednesday 3rd August 2016
The application period is now over. Thank you!
The lucky winner is...
다시또한번 san
(Please note, winners will receive an email directly from asianbeat. If you don not reply with a confirmation message within a week, you application will become invalid and you will not be able to claim your prize.)
Related Articles
This comment section is for readers to leave opinions and comments. Inappropriate comments may be deleted, so please remember to be respectful. Thank you!