Vol.8 Haruko Momoi - "# 8300" -

"#8300": A Short Story
Author: Haruko Momoi
-The XXth of XX, 199X-
Shibuya Crossing, in front of Shibuya Station. The department stores and shops in the subway mall were yet to open. There were no advertising boards in the streets and all the TV screens were off. It was like the city itself was still asleep but the people still came and went. Countless cigarette butts littered the path in front of the statue of Hachiko and as I hurried past, a fat pigeon took off into the sky.
Looking down at my favorite watch (G-SHOCK Illuminator) it wasn't yet 8am. There was still time. A line of telephone booths stretched out before me and I made my way to the third one from the left. Hugging my school bag close to me, I pushed my way through the heavy-weighted door. The thick phone books stacked underneath the phone were almost too heavy to hold in one hand. I sifted through them and pulled out the directory for occupational listings. Once I found the listings beginning with "M," I pulled a five-thousand Yen note from my agnèsb wallet and placed it inside the directory. I then closed the book again and returned it to the bottom of the stack. I glanced around outside the booth to make sure there wasn't anybody around and then paused before picking up the receiver.
"All done. I'll be back again sometime after 3pm."
I'm in my second year of high school. I go to a school in a suburban area of the city that's all hills and slopes but I'm used to it now. Just like any other day, I made it to school in one piece again today, but whether I was trying to solve equations in class, or chasing tennis balls, or sitting down in the courtyard sipping on the triangular milk carton that I got from the school canteen, my thoughts kept going back to the five-thousand Yen note that I placed in the phone book earlier that morning. I just wanted the day to be over so I could go back to the phone booth in Shibuya.
As soon as the bell rang I told my classmates, "I won't make it to the committee meeting today" and made a dash for the school gates. I jumped on the Yamanote line train, this time the reverse-loop to the morning, and sat agitatedly as the old guy next to me buried himself in the sports section of his newspaper without any regard for my hair which his paper repeatedly kept coming into contact with all the way to Shibuya Station.
The grey-washed city was full of people and noise, and near impossible to walk in a straight line. I hurried along short of breath and quickly made my way to the phone booth third from the left. In front of the booth, though, was a long line of high school girls in loose-fitting socks, clutching pagers, and business-type men in suits. I did my best to hurry the people in front of me along in my mind and in the meantime listened to three-tracks worth of back ground music through my earphones, trying not to get too worked up as I waited.
Finally it was my turn, and as I maneuvered my way into the same cramped box as the morning, sweat began forming on my temples from the heat of the sun's rays or perhaps the heat from all the bodies around me. Inside the booth, the hustle and bustle of the city outside was blocked out – it was unbelievably quiet. I quickly searched for the directory of occupational listings. I expected to find it on the bottom where I left it, but it now sat second from the top.
"I've done this three times in the past and nothing went wrong, so it should be fine," I told myself, half praying as I slowly turned the pages to the "M" listings.
The five thousand Yen note was gone, and in its place a ticket to tonight's concert at the Nippon Seinenkan convention complex.
"Alright!" I said to myself, striking a little pose before carefully stashing the ticket away in my wallet. I picked up the receiver, inserted my phone card and quickly punched in the numbers: #8300.
Entering the booth number and my pin number I recorded my message.
"Thank you so much. I've collected my ticket for tonight!"
This was a time before social networks and the internet. From a certain point onwards, the small community of idol fans around me had to arrange tickets to concerts like this through computer-based communications, message dialing and public phone booths.
Message dialing is a service that phone companies offer that lets you record voice messages for people and play back messages left to you by others – much like an answering machine. It's a fee-charging service though, so it's not something you want to be using all the time. In order to hear your message you first have to get the password from the computerized bulletin board, but even more obscure is the fact that even at a public phone booth in such a busy and populace area, there isn't anyone who uses a phone book, so I've never had any troubles carrying out dealings in this way.
"The secrets of the Shibuya Station telephone booths don't look to be in danger of compromise anytime soon."
(To be continued…maybe!?)
※The contents of this story are fictional!
PROFILE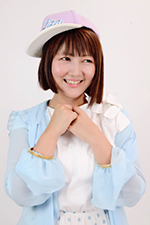 Haruko Momoi
A singer-songwriter who can not only sing, orchestrate and arrange music, compose, as well as write lyrics, but also works as a voice actress. Started performing on the streets of Akihabara as a high school student in the 1990s. As a writer in the field of games/computers, has earned the nickname of "Ganso Akiba-kei Jyoou (The Original Queen of Akiba-kei)." *
Has provided the voice for many different characters, including Komugi Nakahara in "Nurse Witch Komugi," Faris Nyannyan in "Steins;Gate," Sun Seto (Japanese: 瀬戸 燦 Seto San) in "My Bride is a Mermaid," as well as Anise Tatlin in "Tales of the Abyss." As a lyricist/composer has provided songs for games, anime, as well as other artists. Active as a live performer, has established a reputation as an assured solo-singer.
Performs all over the world, in places such as North America, Central America, South America, Russia, Europe, and Asia. As of March 2016, has traveled to 29 cities across 16 countries and regions throughout the world, amassing many overseas fans in the process. In 2015 released "Stay Gold," her first original album in 3 years, on the record label tokyo torico.
*Akiba-kei (otherwise known as Akiba-chan is slang and refers to an Akihabara style, which is somewhat "nerdy." Has a similar in meaning to "otaku.")
Twitter:
@momoiktkr
Website:
http://rg-music.com/momoi/
New Album: "Pink Hippo Album - Self Cover Best -"
Release Date: July 20th 2016
- Click here for more details
http://tokyotorico.jp/discography/momoi0002/
Upcoming Live Performance: "Haruko Momoi One Man(Solo) Live 2016 Pink Hippo Tamashii (Soul)!!!"
Location: Kawasaki Club Citta Tickets on sale now
- Click here for more details
http://rg-music.com/momoi/news/pink_hippopo/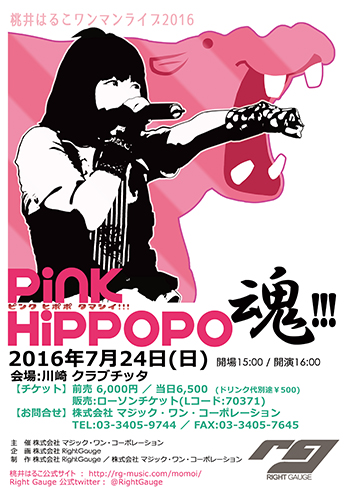 PRESENT!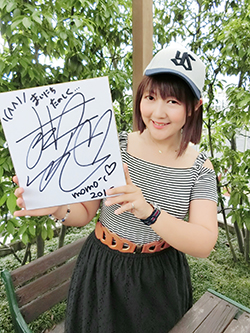 One lucky reader
of asianbeat has the chance to win a card autographed by Haruko Momoi! Don't miss this chance to win!
[Application Period]
Friday July 8th to Sunday August 14th 2016 (Japan Standard Time)
Announcement of Winners
Wednesday 17th August 2016
The application period is now over. Thank you!
The lucky winner is...
warydata san
(Please note, winners will receive an email directly from asianbeat. If you don not reply with a confirmation message within a week, you application will become invalid and you will not be able to claim your prize.)
This comment section is for readers to leave opinions and comments. Inappropriate comments may be deleted, so please remember to be respectful. Thank you!