Vol.9 KITALOLI Asako Mitsuhashi - KITALOLI Sakhalin Cultural Exchange Report

Promoting Japanese Gothic & Lolita Fashion Culture to the World!
Have you heard of "KITALOLI"? I'm sure most people probably haven't.
"KITALOLI" is a clothing brand that designs and sells lolita fashion out of Hokkaido and promotes gothic and lolita fashion to the world as a form of Japanese culture. Hokkaido is also the home of Hatsune Miku, and though we may be small, we are full of dreams, and one of our big dreams is to make Hokkaido the home of lolita fashion as well.
I'm KITALOLI owner and representative, Asako Mitsuhashi – now into my sixties and quite the "oba-loli" (
obasan
(old-lady) lolita) – and I also lecture at a fashion design school. The job market in Japan has been sever for some time now, so five years ago a fellow co-worker, Ota, and I decided to go into business together to try and offer more employment opportunities to all the graduates looking for work. We were two old girls trying to get into lolita fashion just as Japan's lolita population was going into decline, so it's no surprise people treated us like we were crazy. We entered a business contest for town promotion, proposing the idea of using Otaru's historical buildings to host lolita tea parties and hold lolita fishing tournaments, and believe it or not, we won! And with the one million Yen ($10,000) prize money we set up "KITALOLI."
With public and private support, we held the "Otaru Kawaii Tea Party" using the town's retro, Western-style buildings and canals as a backdrop, and we became somewhat of a hot topic in the media. After that we began running lolita tours and held workshops with the late Sakurai Takamasa, and we have continued to promote lolita fashion to the world as a form of Japanese culture ever since.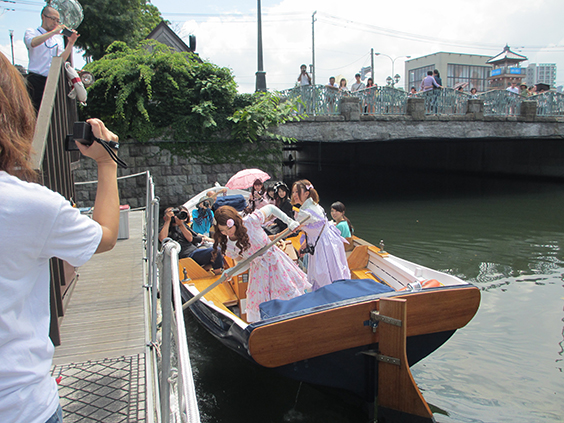 Here are the "cruising lolita" steering a boat on the Otaru Canal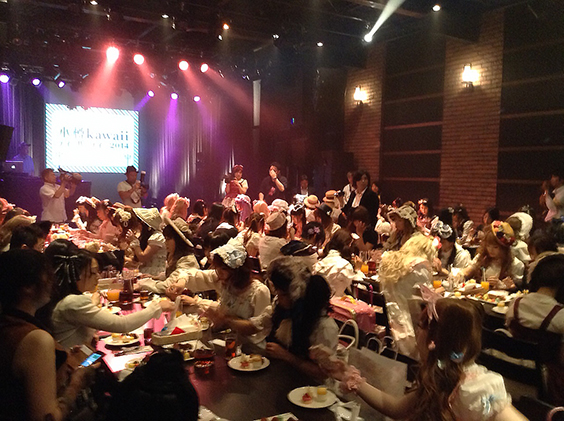 DJ TAMA performed at the Otaru kawaii tea party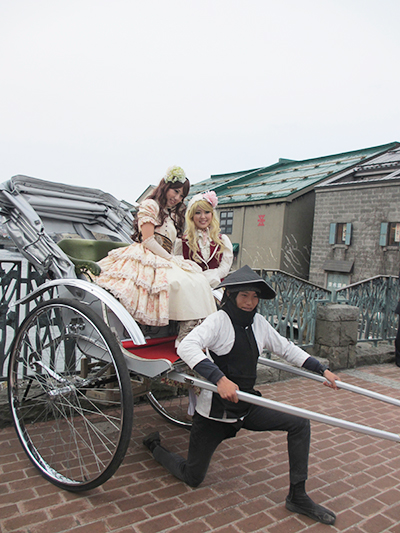 They even managed to hold a small photo session in front of the canal
-Participating in Sakhalin's Japanese Culture Day-
In March, we two "oba-loli" were invited to the Consulate General of Japan in Yuzhno-Sakhalinsk to take part in the "Sakhalin Japanese Culture Day," where we held a fashion show and lolita-makeover session. We left New Chitose Airport with seven suitcases stuffed full of 150 items worth of cute frilly clothes and accessories, and despite it being spring, arrived in freezing cold Yuzhno-Sakhalinsk Airport, Russia. The flight was roughly one and a half hours. It's approximately 42km north of Cape Soya (the northernmost tip of Hokkaido), and on a clear day you can even see the peninsula with your own eyes.
After the war, there were no diplomatic relations between the two countries for a long time, so as a person of Hokkaido, though Russia may be the closest country to us, it also feels like the furthest away. So the goal for Japan Day was to interact with the local youth and get them to learn about a new form of Japanese culture. And thus cosplay and lolita fashion were accepted into the ranks of the more traditional forms of culture like calligraphy, flower arranging and tea ceremony. The event was held at "City Mall," the largest shopping mall in the far east, and around 2500 cosplay, anime and Japan fans came out to attend.
For the KITALOLI fashion show, we got students from Sakhalin State University be our models and Misako Aoki of the Japan Lolita Association, who also attended as a guest, taught everyone how to walk and pose. On the day of the show everyone was walking the catwalk like lolita pros! We also did a Russian-lolita arrangement, pairing lolita fashion with the traditional Russian sarafan, and all-round it was just a wonderful show. At the lolita-makeover booth people could try on lolita clothes and get their hair styled, and it was an immediate hit. The 30 outfits on the 150 item hanger-rack were gone in an instant. Around 100 people took part in the lolita-makeover. Misako Aoki also helped out with the makeovers and the Russian lolita girls were ecstatic. Have a look at the photos for yourself!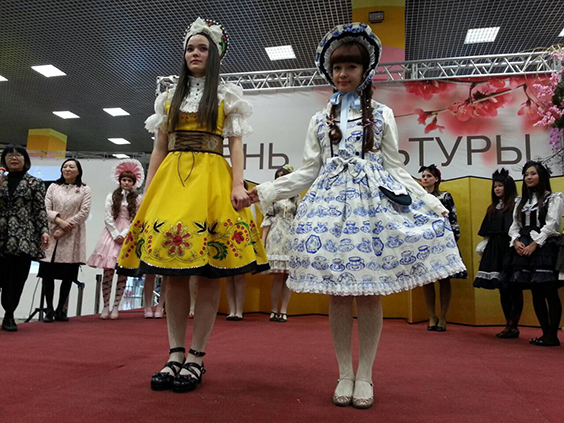 Here are two Russian lolita wearing a Gzhel tea cup dress and a sarafan, which is a type of traditional outfit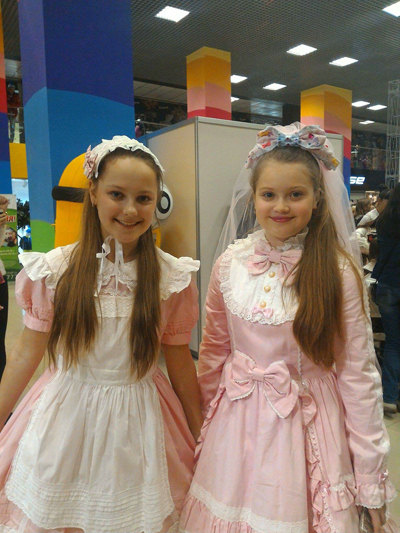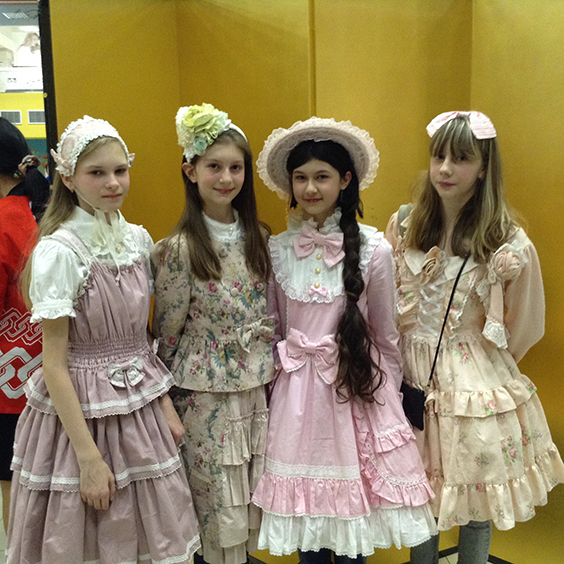 Here are some of the local girls
A group of middle school girls were so excited it was a struggle to get them to take the outfits off! Everyone looked so happy getting to wear such kawaii, princess-like clothes. Girls all seem to dream the same no matter which country they're from. There doesn't seem to be any true lolita fashion loving lolitas in Sakhalin as yet, but after this day, it feels like that's about to change in a big way. Three different cosplay associations formed here in one year after all, so it really feels like the influence of Japan's anime and kawaii culture is permeating through to young people everywhere. Sow the seeds of lolita culture in an area where lolitas don't exist – that was the KITALOLI global action strategy that we set in motion at the event in Sakhalin!
This was my first time to visit Sakhalin and the island has these vast stretches of natural surrounds just like Hokkaido, so it definitely has a lot to offer if you're a fan of the outdoors. I would love to bring my off-road bike here and hit the dirt tracks and forest paths! Food is also important, though…and the food in Russia is amazing.
They've got great seafood and it's all fresh and in abundance – their fish dishes in particular are superb!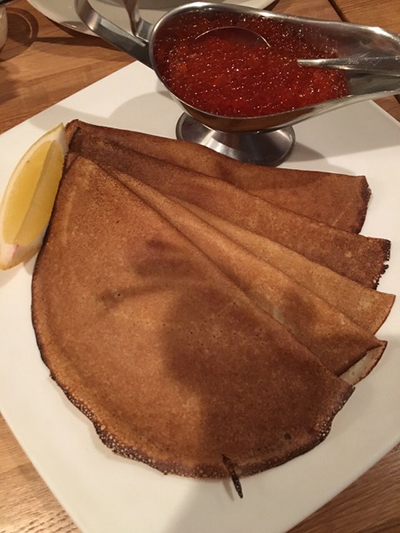 Blini is a type of Russian, it usually a home cooked dish that is eaten at the Maslenitsa festival, which is celebrated as a means of welcoming in the Spring. It's a bit like Japanese Ohagi.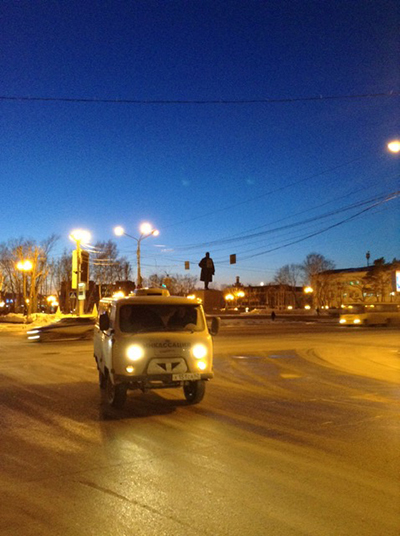 This is Lenin Street, one of the major roads in Sakhalin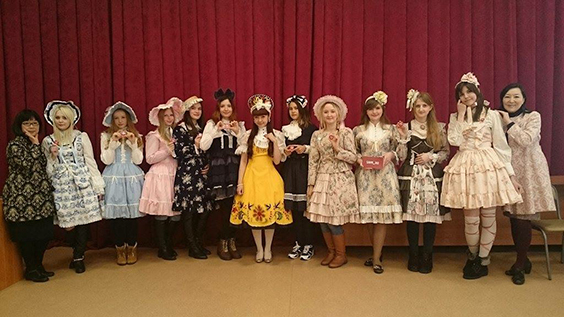 A commemorative photo with students from the Japanese Department at Sakhalin State University
"Hokkaido the home of lolita" – that's the slogan that KITALOLI will be advocating in our global promotion of lolita fashion culture. Thank you for reading my Sakhalin cultural exchange report.
PROFILE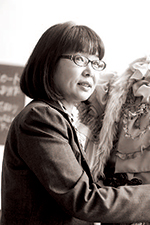 Asako Mitsuhashi (三橋 朝琴)
Representative for the company KITALOLI
Having worked for women's fashion companies, served as a display coordinator for NOMURA Kougei and then as a fashion coordinator charged with overseeing fashion direction for the Marui-Imai department store.
Spent 10 years covering fashion collections in Paris and Milan. Based on her marketing experience has suggested new fashion trends and discovered up and coming brand designers.
Using this experience is currently active as a lecturer at a vocational school for fashion. Having helped turn Sapporo into something of a Mecca for sub-culture by setting up the lolita brand "KITALOLI," has also been working to revitalize Hokkaido through lolita fashion.
Born in June 1954.
公式HP:
http://kitaloli.com
キセカエ: 
http://brand100.jp/kitaloli/
Facebook:
https://www.facebook.com/kitaloli.salon/
Official website/homepage:
http://kitaloli.com
KISEKAE: 
http://brand100.jp/kitaloli/
Facebook:
https://www.facebook.com/kitaloli.salon/
PRESENT!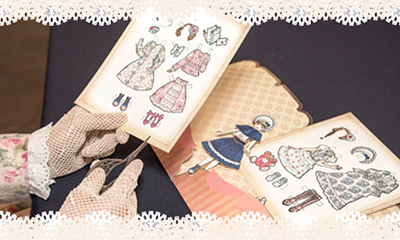 Three lucky readers
of asianbeat have the chance to win a "KISEKAE PAPER DOLL" by KITALOLI! Don't miss this chance to win!
[Application Period]
Friday July 22nd to Sunday August 28th 2016 (Japan Standard Time)
Announcement of Winners
Wednesday 31st August 2016
The application period is now over. Thank you!
The lucky winners are...
わかちん san
张梦涵 san
backho san
(Please note, winners will receive an email directly from asianbeat. If you don not reply with a confirmation message within a week, you application will become invalid and you will not be able to claim your prize.)
Related Articles

This comment section is for readers to leave opinions and comments. Inappropriate comments may be deleted, so please remember to be respectful. Thank you!