Vol.28 Pikarin Shiina - From Prejudice to Positive -

I Want People to Turn Their Prejudiced Views into Positive Thoughts
I hate rejection based on prejudice.
This world is full of preconceived views.
I hate negative thinking as well. I wish everyone would just come to embrace positive thought.
Prejudice itself is fine. There is nothing wrong with developing an idea about something that you've seen. I just don't want people to deny all future possibilities based on narrow views. I think the pursuit of one's own sense of aesthetic is wonderful. But in this world, that tends to come at the disregard of all else. I want to make the world a place that embraces prejudice for the interest and positivity that it can achieve.
"
Did you know she used to be a 'gyaru'?! Why is she so different now, then? I dunno, but I'm not into it.
"
I don't keep my past a secret and some people won't listen to my music now because I used to be a gyaru. They shut me off because of their preconceived ideas. That's all it takes and its game over. For me personally, gyaru, '
makai
' (lit., 'demon world'), and inner self are all the same. The setting and your way of expressing yourself might change, you might be released from the chains of a particular genre or field, but the wide road ahead is still the same. The inner-workings of my brain are the same now as they were when I was in elementary school. Nothing has changed. I've been through many phases: my hikikomori-otaku-DQN-
yankii
phase, my gyaru and
ban-gyaru
phase, my POPTEEN phase, my current makai demon world and KERA model phase – I've added to my repertoire of phases over time, but they don't disappear. I'm not embarrassed and I don't feel I have to hide anything. What is there to gain from hiding a part of me? Maybe I would if I thought it was a mistake or it wasn't my real intention, but it was me and that's not something that I need to shut away, seal off or hide. Even today, I would consider myself a hikikomori-otaku-DQN-yankii-bangyaru-gyaru of the demon world. From my past to now – they're all me. I didn't suddenly change part-way through. I was this way from the start. Whatever I felt inside back then, even if I hadn't intended to keep things hidden away inside, there were still parts of me that remained hidden because I had forgotten about them. And more things are going to continue to surface from now and into the future. There are also things inside that I want to let out but I can't because of the change in environment and field. When I do eventually let them out, though, I'm sure I'll change again in a big way.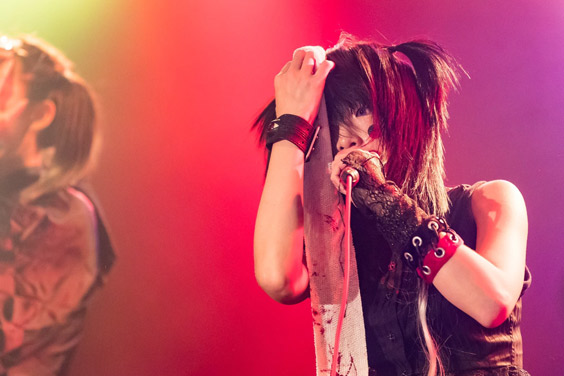 I'm eternally shackled by a conflict between things I want to protect and the things I want to express. For as long as the emotions of this vessel called "me" exist on this earth, this conflict will forever be chained to me. Even if I'm tired and worn from pouring out all my emotions on stage, I will keep trying for eternity to convey all these things that I can't put into words – these struggles and pains, these feelings, me – for all of you. Even times when I felt like I was able to get my message across, there's always a side of me that can never be so fully conveyed. Because that's infinity. It doesn't stop. The words needed to express what's in my very inner being do not exist in this world yet and they're not to be found in any textbook or anywhere on earth. Nobody knows the words, so how am I to relay them to you? Sometimes I feel like an exchange student trying to learn a new language. It's more cryptic than trying to decipher the Arabic message that mysteriously appears on your Twitter feed, and more baffling than a crop circle. That future, though, is limitless. A world that nobody knows and nobody can teach you. That's my aesthetic.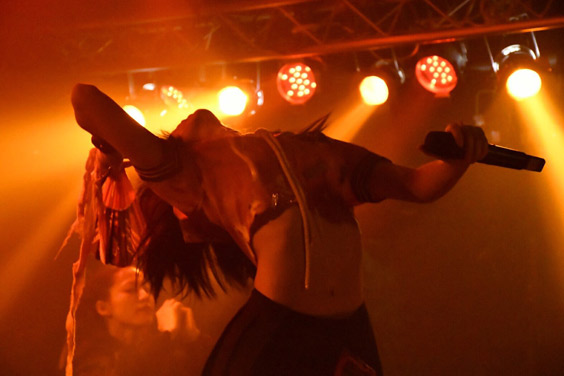 Hold on. Not even I can predict that, so just hold on.
In this world there are people who are prone to ascribe you two narrow paths, left and right, and they evaluate you based on "straying" from one path or "changing" to another. Only the person in question can possibly know whether or not they "strayed" or "changed" paths. Some people who try to understand them might have a better idea, but even then they can't know everything. Regardless of what prejudiced opinions people may voice, if they could only think in the end that "but I like that, so…" or "yeah, but that's what interests me," their worldview would broaden greatly. But the people of the world are always quick to shut themselves off. So they can only be opened. Which is fine also. There are things you can learn from being opened.
No matter how sad a scene, no matter how reluctant a place, I want to smile through my tears.
The tense atmosphere of an unspoken agreement. The unwanted gaze of being different. The inner-self measured with a finite ruler.
If that's the way things are, if emotional pain is too great, then let's be together – me, you and the person you love – in whatever form you want. I'm not talking about a flimsy, shallow love, but a love that's prepared for anything. The world is filled with shallow sentiment; people will tell you that they like you one moment, but when you say how you really feel about something they get repulsed. Eh? Eh? Eh? Eh? Eh? Eh? That's not right. I wouldn't call that love or affection.
In my ideal demon world, however, I want to make a place for you where you can have true peace of mind. I want to give you all a love that you can feel and experience – so much love that it hurts. It's a world where no one will reject you. If your love is real, then you are just. Making a mistake does not make you wrong. That's the kind of world I want to make. A magnificent world based on loyalty, loving consideration for others and their pain, and no lies.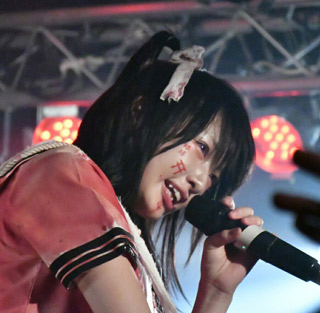 I think it's okay to boo and complain. It's what comes after that that's important. If you try and make up with someone after that. If you can fill that void with something that you like. If you have love. You can bark and rebel for ten-thousand years as long as there is love. But everyone always grows up and become adults. That's the sad part. I hate it. Don't leave me. Stay here forever. Play with me forever. Always keep a place in your heart for the things you played with as a child, your hobbies and things you liked. Don't throw away those feelings and emotions. Wanting to marry your father. Wanting to be a Hercules beetle when you grow up. Never forget the dreams you had as a child even after becoming an adult. Don't reject them. Be able to say 'I still have them today.' Stay
chu-ni-byo
, stay
sho-ni
, stay DQN, stay
shojo
, stay rebellious, stay pubescent, stay adolescent, forever.
You don't have to conform to the people around you. Grow up, but don't throw yourself away. Don't forget. Don't lose yourself. Just keep adding and polishing your greatest self. Everyone changes. "
That band? I don't listen to them anymore
", "
Ohh, I used to love them back in the day
" – don't put everything in the past tense. I will love something forever. Even if people hate me for it. The kinds of bands I was listening to when I was a DQN in junior high I still like today. I still empathize with the toys whenever I watch "Toy Story." I even find myself superimposing my current situation on these feelings of a much loved toy and all of you are my masters. "
You used to love playing with me but now you're always that guy. I'll never say 'Don't play with him,' just don't throw me away. Don't act like it never happened. I will always remember you. Come back to me anytime. It can just be me and you if that's what you want, I'm okay with that. I know it depends on whether I can make your heart mine; I know it's up to me. But I'll definitely make you mine in the end, so just be free and do what you have to do for now
." In the end, everyone is free to do as they wish. But I think that busy people in the human world, some with families, who don't throw away their hobbies and continue to cherish them are truly special.
The human world is full of 'white' falsehoods and despair, but it also has light and hope. So let's fix all the fake whites and turn the world pitch black.
PROFILE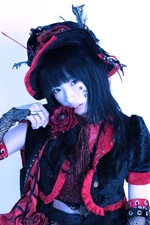 Pikarin / Hikari Shiina (椎名ぴかりん)
idol / model
Debuted as a model for "POPTEEN" in 2010 during her days as a junior high school student. While still a "gyaru" model, her unique otaku-band girl (bangyaru) fashion style gained tremendous popularity. Was one of the youngest models ever to grace the front page of "POPTEEN." Major debut was as 'Pikarin Shiina,' an idol from the world of demons and spirits, in 2012. Currently appears as regular model for "KERA." Recognized by herself and others as an otaku, her popularity is not heavily attributed to her idol background, but more to the death growls and head-banging she performs during live shows. Not only active in Japan but also overseas. Seen as a fashion icon specializing in various subcultures, such as manga, anime, gaming, and cosplay.
Official Website:
https://www.pikarin.jp/
Twitter:
@Pikarin_shiina
Facebook:
https://www.facebook.com/pikarinjp/
PRESENT!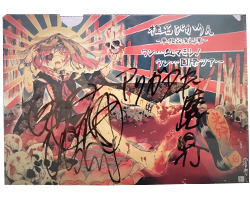 We've got some great prizes to giveaway to a lucky asianbeat reader! Here's your chance to win a clear file signed by Pikarin Shiina!
We're looking forward to hearing from you!
-Application period: Monday 25th September to Sunday 19th November 2017
-Winners announced on: Wednesday 22nd November 2017
The application period is now over. Thank you!The lucky winner is ...るいちゃん san......Congratulations!!
(Please note, winners will receive an email directly from asianbeat. If you don not reply with a confirmation message within a week, you application will become invalid and you will not be able to claim your prize.)
External Links
This comment section is for readers to leave opinions and comments. Inappropriate comments may be deleted, so please remember to be respectful. Thank you!