Vol.36 YOU KIKKAWA - The path to becoming a singing Joan of Arc!

Music is the same wherever you go in the world! I hope I can share my feelings and emotions with others!
Hi, nice to meet you! I'm a solo idol performer called You Kikkawa. I am from Ibaraki Prefecture and I am 26 years old. My debut track "Kikkake ha YOU!" was released on May 11th 2011. I recently celebrated 8 years since my debut and I've now been active as a performer for 11 years! In this column, I would like to tell you about how I got into this world. I want to talk about the conflict, anxiety, and great points associated with being a solo act. I want to make the most of this this opportunity... I'd be so happy if you gained an interest in me and what I do.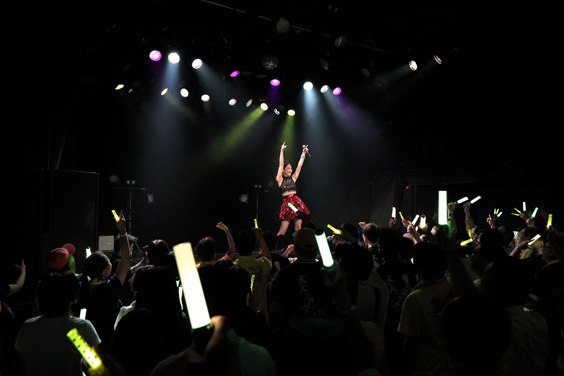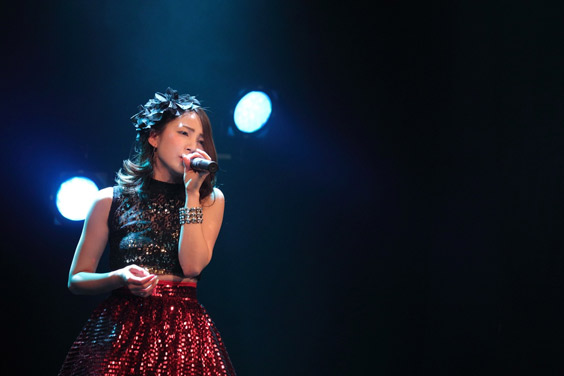 Live performance on my birthday (1st May)!
I want to begin by talking about how I broke into this industry! Growing up in the Ibaraki countryside, I used to watch the idol group Morning Musume。shinning on TV! Until that time, I was very shy around other people, but then I encountered Morning Musume。and I really started to grow. Before I knew it, I was singing and dancing in front of everybody. When I was around 14 years old, I really wanted to join a group like Morning Musume。. I would record my favorite TV show "Hello! Morning。" every week and watch it nonstop. Watching the auditions for new members every Sunday was one of my few sources of enjoyment. During the auditions there was all kinds of shouting and crying. I used to think that it would be impossible for me.

I felt so moved when I watched the angels during a special feature on the seventh stage of auditions (this was the round of tryouts when miracle girl, Koharu Kusumi was selected). Even now I can still remember how shocked I was to see a young, cute kid from my generation appearing on television. At that moment my feelings of "admiration" transformed into "ambition." I decided that I also wanted to audition! About one year later they held the "Morning Musume。Happy 8 Auditions." I'll never forget returning home from the studio with tears in my eyes. I got to the final stage, but in the end… I didn't quite make it!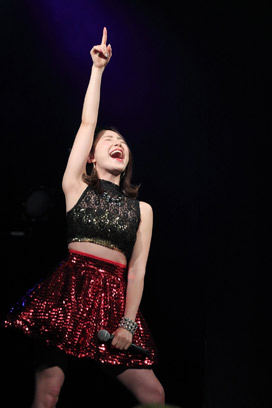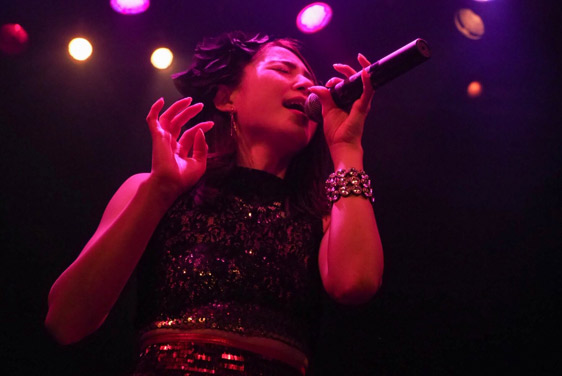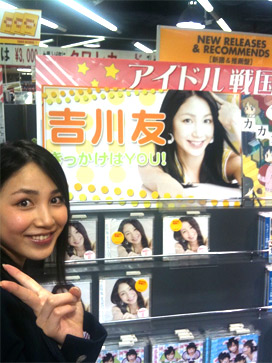 I was just starting to think that I would have to give up on trying to break into the entertainment industry… a business that can be very harsh. That's when I joined Hello! Pro Egg (now known as Hello Pro Kenshusei) as a trainee. I used to wait to get a bus from Ibaraki to Tokyo, which took two hours one-way, every day for lessons. It's probably not an exaggeration to say that I spent most of my adolescence on a bus. I would even eat my meals and do my homework on the bus!

Then the number of song and dance lessons began to increase. Hello! Pro Egg really taught the excitement of performing live and the joy that comes from expressing yourself! Back then, even if I'd had a tough time, having the chance to participate with Hello! Project gave me so much happiness. There were songs that I loved... And there was support from everyone... That gave me the strength to keep on going and never give up!
People around me were making their debut one after another. I saw some friends quit the business and didn't know whether I should go to college or not. That's when it was decided that I would make my solo debut. I was full of doubts and insecurities. I would ask myself "am I good enough?" or "will I be alright?" But in the end, I got so busy preparing for my debut that I did not have enough time to worry about those kinds of things. I remember experiencing my first recording session… My first photo shoot… My first live solo performance. The fans would always shout and give me encouragement when I felt nervous about doing big activities for the first time.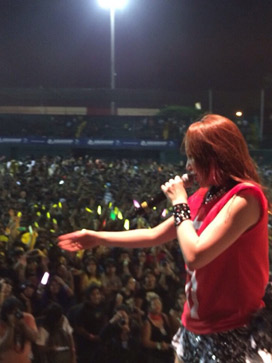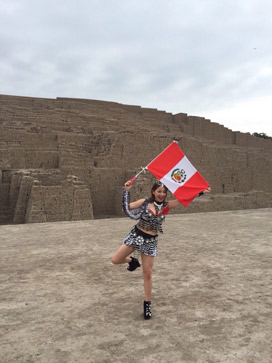 Everything that's happened is because of all the people who have offered me support throughout this journey. Thank you so much for all of your support! Since making my debut I've had the opportunity to perform live both inside and outside of Japan. So far, I've performed live 19 times across the globe, including the U.S., France, Brazil, and Thailand. It's been a real blessing. So many people in Japan and overseas have given me encouragement and cheered me on. That alone gives me the energy I need to sing. All people can be united by music, regardless of where they are from in the world. Music is universal. That's something I strongly believe!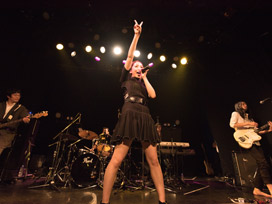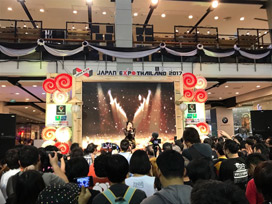 Even though its kind of a golden era for idol groups, performing solo on stage has always been a strength of mine. I think the ability to move around the stage freely without thinking about choreography and positioning is a valuable weapon for solo performers. I try to remove the sense of distance between me and the audience when I perform live. I like to be as close as possible to each person in the audience, so sometimes I jump off stage and move around among the crowd. I hope I can continue to interact with people in every part of the world through my performances. I just love singing live! Recently I have been playing live with a band. The sound of a live band is so cool, I really think it adds something extra to a song. Having members of the band behind me when I'm standing alone on stage give me a sense of security. Their presence is totally indispensable. Singing with a band triggered something in my mind. As a set begins to develop at a live show, I gain a strong sense of unity with everyone at the venue. I want to develop into a singer who brings all kinds of different components together.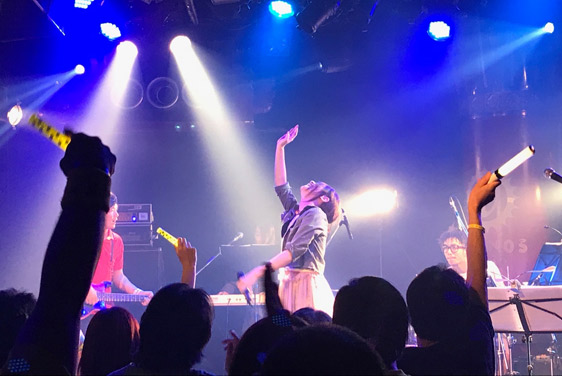 I really want people to see me perform live with my band right now. I will release a new track called "NEO SUGAR SUGAR YOU" together with the band Akasick in May. In the production stage I said that I wanted to do a track that would allow me to sing in a way that represented who I am right now. It was maybe the biggest challenge I've had in the industry since my debut 8 years ago! There's still so many things I want to do… Places I want to go… And music I want to create… There's so much to do! Looking forward, I want to continue expressing how I feel through the work I do and activities I take on!
PROFILE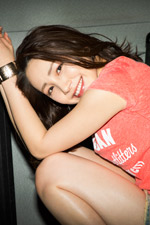 吉川友 (You Kikkawa)
A 26-year-old Ibaraki-native born on May 1st 1992. Made her solo debut in 2011 with "Kikkake ha YOU" after training with Hello! Project. A skilled singer, filled with humor, and her great proportion, she has the ability to light up any venue with her captivating quality and enthusiastically performs overseas. She was appointed as an ambassador of Hitachiota City, Ibaraki Prefecture. Active as an actress in dramas and musicals. She is aiming to further establish herself as a solo artist during something of a golden era of idol groups. In 2018, released her 12th single "DISTORTION / Tokimeita noni Through" as she embraces the challenge of performing live with a band.
Official Website:
http://www.kikkawayou.com/
Twitter:
@kikkawa_you
---
■Latest Information
[New Single]
"NEO SUGAR SUGAR YOU" is You Kikkawa's first single to only be distributed digitally. Continuing from her previous track work "DISTORTION," this song was put together by the band Akasick (lyrics by Rihi and composition by Tatsuya Okuwaki). You Kikkawa joined the songwriting team and was particularly keen to create a festival-type sound that would have a real impact when performed live. The track was completed following a healthy and vigorous exchange of ideas. The rock-inspired tune has a refreshing groove that is perfect for the summer months! You Kikkawa is maintaining a forward thinking, offensive attitude, as she looks forward to embark on her first tour of Tokyo, Nagoya, and Osaka​!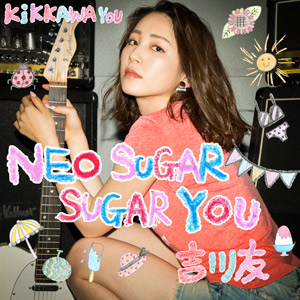 - TOUR INFO. -
You Kikkawa's is touring Tokyo, Nagoya, and Osaka with a band for the first time!
The name of the tour is "Kikkawa You Band Live Tour - 2018 - Ichiren-takusho - NEO SUGAR SUGAR YOU -"
◯Dates
Sunday May 20th: F.A.D.YOKOHAMA (Kanagawa)
①14:00/14:30 ②18:30/19:00
Saturday June 9th: HOLIDAY NEXT NAGOYA (Nagoya)
①14:00/14:30 ②18:00/18:30
Sunday June 10th: amerikamura BEYOND (Osaka)
①14:00/14:30 ②18:00/18:30
Ticket Pia: Tickets are available online, visit
http://w.pia.jp/t/kikkawayou-k/
to make your purchase (tickets for the Nagoya and Osaka performances go on sale from 26th May)
PRESENT!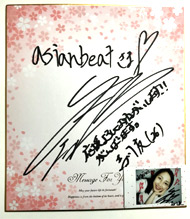 One lucky reader of asianbeat has the chance to win a card and a cheki (photo) autographed by You Kikkawa! Don't miss this chance to win![Application Period]
Friday May 25th to Sunday July 15th 2018 (Japan Standard Time)
Announcement of Winners
Wednesday July 18th 2018
The lucky winner is ...Jaco san......Congratulations!!
(Please note, winners will receive an email directly from asianbeat. If you don not reply with a confirmation message within a week, you application will become invalid and you will not be able to claim your prize.)
Related Articles
External Links
This comment section is for readers to leave opinions and comments. Inappropriate comments may be deleted, so please remember to be respectful. Thank you!