The long awaited new production finally hits Kyushu! "Musical 'PRETTY GUARDIAN SAILOR MOON' -Amour Eternal-" will open in Fukuoka soon!

So many ways to enjoy the world of "Sailor Moon!"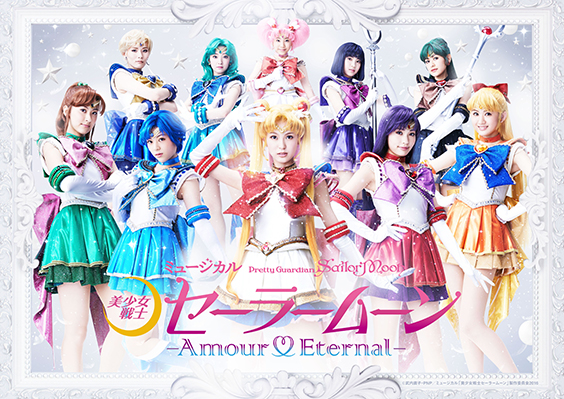 Originally a manga series, the hugely popular "PRETTY GUARDIAN SAILOR MOON" has been developed across a number of different media, including anime and gaming, continuing to attract new fans along the way. Also a series of musicals, a production of "Musical 'PRETTY GUARDIAN SAILOR MOON' -Amour Eternal-" is coming to Kyushu for the first time and will be performed at the Canal City Theater in Hakata, Fukuoka, over 2 days this month (Saturday 29th and Sunday 30th October 2016)! The "Sailor Moon" musicals, known affectionately as "Seramyu," are back with a long awaited new production. And with theater goers able to see this musical in Fukuoka for the first time, expectation among fans all over Kyushu is on the rise!
Inside Canal City, there will be a "Photo Spot Booth" where visitors can get a commemorative photo of themselves with the Sailor Soldiers (ran until 16th October), enter a "Fun Lottery", and also enjoy an exhibition of the "Sailor Moon" characters, a display of the costumes used in the musical, as well as original frames drawn by the creator Naoko Takeuchi! Having started in 1992, is now about 20 years since the manga series and anime first began. Over this time so many people have fallen in love with the protagonist, Usagi Tsukino's famous saying "On behalf of the moon, I will right wrongs and triumph over evil." Even today, Sailor Moon attracts from all over the world, so those who haven't had the chance to experience the musicals, check it out! (Editorial Dept.: Gon)
STORY
Promising to take care of you, we will protect the "place where your dreams exist"...

Usagi Tsukino and her friends are now high school students,
leading new lives in the pursuit of their dreams.
However, on the day of a total solar eclipse the "Dead Moon Circus" arrives in search of Pegasus, who hides out in the dreams of living beings. The hand of the devil reaches out to the girls.
To make matters worse, Mamoru has fallen under the spell of the black rose…
Helios, the priest of the holy land "Elysion" who watches over earth, warns Usagi and her friends about the grave dangers that threaten the planet's very existence, with this they determine to put all their energies into finding the "Golden Crystal," the key to saving everything.
In order to protect the most sacred stars above, the Sailor Soldiers must join forces once again!
Musical: PRETTY GUARDIAN SAILOR MOON -Amour Eternal-
[Dates and times (for all 3 performances)]
Saturday 29th October: 17:00 (performance starts)
Sunday 30th October 2016: 12:00 / 17:00 (performance starts)
(Please note: Doors will open 30 minutes before the performance starts)
[CAST]
Nomoto Hotaru / Yume Takeuchi / Karen Kobayashi / Kaede / Rimo Hasegawa / Yuga Yamato, dll. and others…
[Venue]
Canal City Theater
4th Floor, North Building, Canal City Hakata, 1-2-1 Sumiyoshi, Hakata-ku, Fukuoka-shi, Fukuoka-ken
(Photo Spot Booth) [Photo Spot Booth closed on the 16th October]
Venue: Canal City Hakata B1F Star Court
Period: Wed. 21 September - Sun. 16 October 2016 *10:00 - 18:00
(Chibi Exhibition)
Venue: Lobby at Canal City Theater
[Time slots]
60 minutes before the start of the performance, during the interval, and for 30 minutes afterwards.
(Please note: Exhibition is only open to those who have tickets to the performance. Time slots applicable to the performance you have seen. Cost is free.)
[Tickets]
S Seats: 7,800 yen / A Seats: 5,800 yen (All seats reserved, price includes tax)
For further information, please check the details on the Canal City Theater Official Website
http://www.canalcitygekijo.com/performance/18041
[Organizer]
RKB Mainichi Broadcasting Corporation / Canal City Theater / NELKE PLANNING Co. Ltd.
[Website]
Musical: PRETTY GUARDIAN SAILOR MOON Official Website
http://sailormoon-official.com/musical/
Related Articles
External Links