2017 Kawaii Ambassador from China Tang Chen (唐晨) took part in a Japanese speech contest!

This year's contest had a record number of entrants… 11,401!
The "12th Japanese speech contest for students in China" took place on Tuesday 18th July! 16 people participated at the final event having already made it through the preliminary rounds, which were held in 8 blocks across China. One of them was Tang Chen, who was selected as a 2017 Kawaii Ambassador from China through an asianbeat web vote! Earlier this year in March, Ms. Tang sparkled on the runway at the "Fukuoka Asia Collection 2017 (FACo)," which is one of the biggest fashion events in Kyushu. Two of the asianbeat editorial staff kurocco and Nene traveled to Tokyo to cheer on Ms. Tang during her next appearance on a big stage.
This year, the students could present on one of two topics, "Aiming for mutual understanding between Japan and China - what I have done and what I want to do," or "What kind of business would set-up if you had the chance?" Ms. Tang chose the former and spoke about her visit to Fukuoka as a Kawaii Ambassador, as well as her experiences during her stay.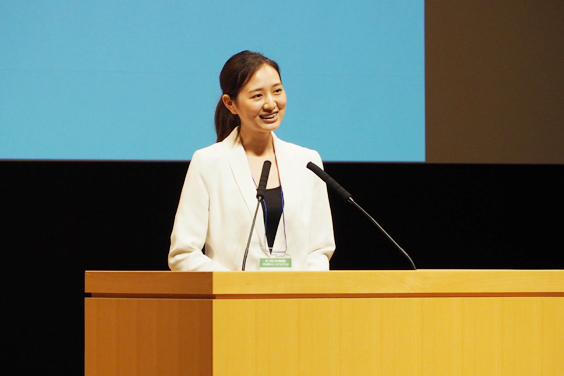 2017 Kawaii Ambassador 唐晨 (Tang Chen) (>> Read her profile here!)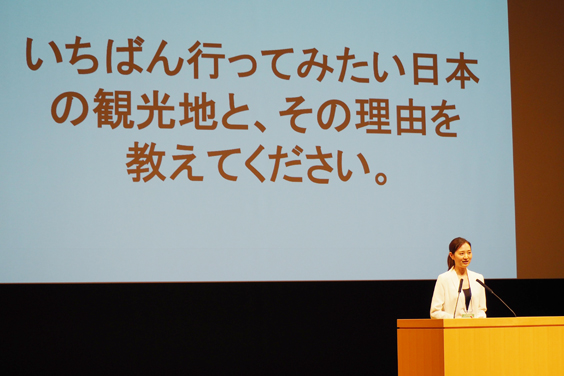 During the question and answer section she did a great job responding on the spot!
The level of all the contestants was incredibly high. Ms. Tang was one of the last people to take to the stage. She did not show any nerves and smiled throughout her fantastic speech. She shared with the audience that "Through my experience as a Kawaii Ambassador, I have really come to recognize that there are new possibilities for youth culture to develop in China and Japan." She continued by stating that "I used to feel unsure what I could do, or how to be useful, but I have come to believe that I can help deepen Japan-China relations."

In order to ensure that there was absolutely no bias in the judging process, contestants did not reveal their name or school. Self-introductions were left strictly until the very end. It was lovely to see the look of relief on the students' faces after they had finished their speeches and properly introduced themselves. Ms. Tang explained how she is not just into fashion, but also J-POP, and proceeded to demonstrate her vocal ability by performing a song a cappella. A wonderful sense of serenity swept through the venue when she started singing and she was able to totally transport the audience to another world with her fantastic voice.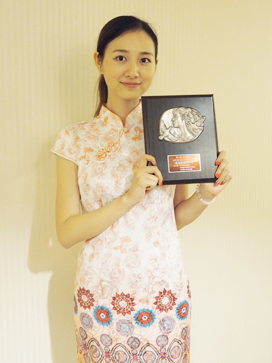 Here is Ms. Tang holding a special jury award plaque. She told us that rather than feeling nervous, she enjoyed the experience.
A total of 11,401 students from 226 schools throughout China participated in the preliminary rounds. We are so pleased that Ms. Tang was one of the few people to advance to the final and got to share her experience of being a Kawaii Ambassador with so many people.
The number of students learning Japanese in China continues to grow, and it so reassuring to hear the passion young people, such as the competitors in this speech contest, have for advancing Japan-China relations. We are excited to witness the emergence of activities that will help foster bridges between China and Japan. If you are interested in finding out more about the speech contest and the results from the day, make sure to check-out their official website by clicking
here
! (Editorial Dept.: Nene)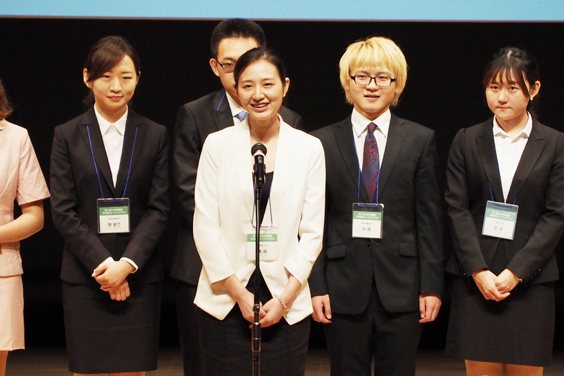 She sang beautifully during her charming self-introduction.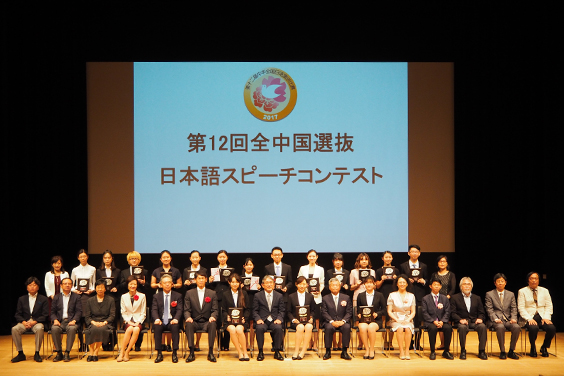 第12回 全中国選抜 日本語スピーチコンテスト (The 12th Japanese Speech Contest for Students in China)
Date: Tuesday 18th July 2017
Time: 13:30 - 17:30
Venue: Nikkei Hall (Nikkei Bldg. 3F 1-3-7 Otemachi, Chiyoda-ku, Tokyo)
Organizer: Nikkei Inc., China Education Association for International Exchange, The Society of Chinese Professors in Japan
In co-operation with: 教育部高等学校外国語言文学類専業教学指導委員会 (lit.: Foreign language and literature advisory board under the ministry of education), 日語専業教学指導分委員会 (lit.: Advisory subcommittee for Japanese language teaching), 中国日語教学委員会 (lit.: Japanese Language Learning Committee of China)
Supported by: Ministry of Foreign Affairs of Japan, Ministry of Education, Culture, Sports, Science and Technology, The Japan Foundation, NHK, The Society for Teaching Japanese as a Foreign Language, Japan Science and Technology Agency China Research and Communication Center, Japan-China Friendship Center, Embassy of The People's Republic of China in Japan, 中国日本友好協会 (lit.: China-Japan Friendship Association), China education daily, 中国高等教育雑誌 (lit.: Chinese Higher Education Magazine), China Education Television
Cosponsored by:JFE Holdings Corporation, MORI BUILDING CO.,LTD
Special cooperation by: Japan Airlines Co., LTD.
Official Website:
http://cn.nikkei.com/china/sc/12/
Related Articles
External Links