Feudal Warlords in the Modern World!

Samurai Sighted in Fukuoka!!
NHK's "Taiga drama" (a historical television series broadcast by NHK in Japan each year) currently being broadcast throughout Japan is "Gunshi Kanbei" (
Kanbei the Strategist
) and is based on the historical figure Kuroda Kanbei, who was regarded as a strategic genius of the battlefield in Japan's
Sengoku
(Warring States) period. Kuroda Kanbei was also the man who named this territory "Fukuoka" and built Fukuoka Castle, so he's a figure whose name bears strong ties to the land and the people of Fukuoka. But did you know that Kuroda and his
bushoutai
(samurai troupe) can be found in Fukuoka, even today?
They go by the name of "Fukuoka Kuroda Bushoutai," established by Fukuoka City local government, and "Fukuoka Kuroda Bushoutai +" (read: Fukuoka Kuroda Bushoutai Plus), established by Fukuoka Prefecture. The former, "Fukuoka Kuroda Bushoutai," was formed in August last year and is comprised of four members: Kuroda Kanbei, his son and first lord of Fukuoka province Kuroda Nagamasa, their retainer Ginji, and the merchant Gen.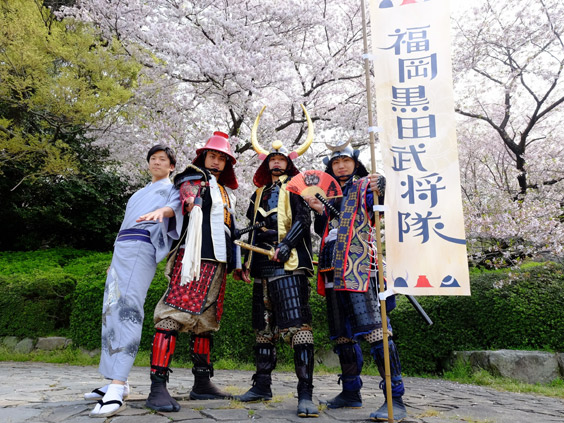 ▲ Fukuoka Kuroda Bushoutai (from left: Gen, Kuroda Kanbei, Kuroda Nagamasa, Ginji)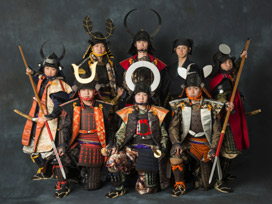 ▲ Fukuoka Kuroda Bushoutai + (plus)
Kuroda is also well known for the close ties he maintained with his retainers, particularly the "Kuroda Nijuuyon Ki" (Twenty-four Kuroda Cavalries) – a group of his most devoted subordinates. So whether it was for this reason or not remains unclear, but in April this year, Fukuoka's prefectural government put together a new group, "Fukuoka Kuroda Bushoutai +," that features Kuroda's retainers and other closely related figures.
The members of this group are all actual historical figures and the retainers are portrayed in the televised drama as loyal supporters of Kuroda Kanbei. In saying that, thought, Bushoutai+ is comprised of figures with connections to various regions throughout the prefecture, so the group not only features Kuroda's retainers, but also a wealthy merchant and two of Kuroda's rival lords.
The TV drama features a fine cast of actors, but if you live in Fukuoka or are visiting the area, these groups regularly hold events and performances (with plenty of snapshot opportunities) throughout the prefecture, so you can experience a piece of Japanese history, and Fukuoka history, right up-close. If you want to know when and where you can catch the Bushoutai, check the schedule on their homepage or SNS account. Bushoutai+ will be posting theirs at a later date.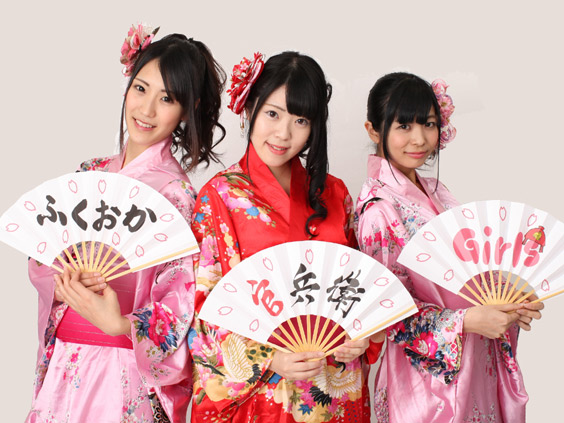 ▲ Fukuoka Kanbei Girls
Fukuoka also has the "Fukuoka Kanbei Girls": a sub-unit of Fukuoka's local idol group, HR.
The Bushoutai groups were established in accordance with the TV drama, and as such, their activities will cease (with the drama) at the end of the year. So be sure to catch them while you can!
(Editorial Dep't.: Haomei)
External Links