Fukuoka souvenirs and my new standards!

They may be a little expensive for instant noodles but everyone will absolutely love it!
The other day, I was very surprised when I was talking to a friend from Korea who said, "In Japan there are a lot of types of ramen, with everything from tonkotsu (pork broth) ramen to soy sauce-based ramen and Hokkaido ramen. I didn't know that until just recently." Often coming to Fukuoka from Busan, I thought he is quite fimiliar with the tonkotsu ramen variety but it seems like the kind of ramen he often encounter is tonkotsu ramen in Korea. Robin, an overseas correspondent in Hong Kong, who gives us updates for our "From Asia" corner is also a big fan of ramen and said that "the most popular ramen variety is currently the Kyushu tonkotsu ramen" on the previous topic!
A lot of non-Japanese who come to visit Fukuoka, especially those from the Asian regions always say they "want to try tonkotsu ramen for sure" so it looks like tonkotsu ramen has gained some recognition outside of Japan.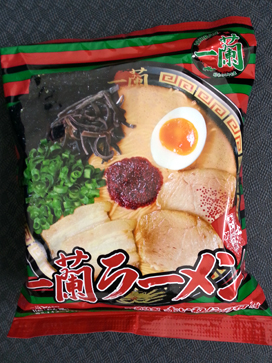 ▲Ichiran ramen package.
Previously, we had released a special article here at asianbeat on the natural tonkotsu ramen shop "Ichiran." As arguably one of the most famous ramen chain stores, everyone wants to stop by and eat there. On June 28th, their new gift product was released and is so popular that often you will have to wait in line for it.

Different than any other souvenir-type ramen released until now, we present you the "Ichiran Ramen instant noodles." The 1-meal set costs 290 yen and in addition to being reasonably-priced, it is something that can only be bought in a Fukuoka branch of "Ichiran" which may be the reason why they sell so fast.
It's hard to say if the taste is an exact replica of that of the store's original ramen, as I was only able to purchace some this morning, but I will be sure to bring you an update very soon. I have the feeling that I will be buy "Ichiran" instant ramen packs as souvenir gifts for some time to come. (Editorial Dep't. Yamashita)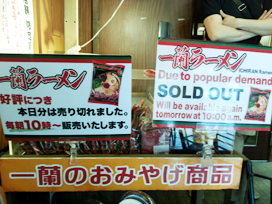 ▲Sales start at 10 am at the ICHIRAN Nakasu -Head Shop & Office- which opens 24 hours.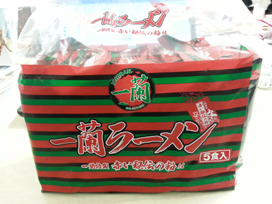 ▲A five-meal Ichiran ramen pack, 1290 yen
Update: We tried making the Ichiran Ramen for ourselves!
You can make this like you would any other instant ramen. It's the broth, however that really makes the difference! The powdered broth was heavily packed with extract and perfectly reproduced the delicious flavors of the Ichiran shops. The noodles, as predicted could be made as quickly as any other instant noodle products. Also included in the pack is the "secret red powder," which is very similar to that of Ichiran's "secret sauce."Since it is quite spicy, it may be best to start off with a little and adjust from there.
This is a pretty amazing product, especially if you take into consideration the fact that it is an instant noodle pack. I'm so satisfied with this product and how similar it is to the original that I feel as though I could hold off of visiting Ichiran for a while longer. I'm sure you'll feel that way, too!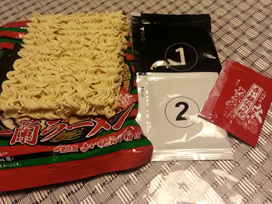 ▲These are what's inside.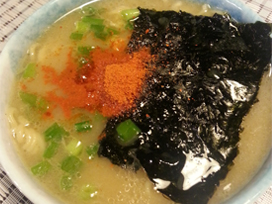 ▲Exellent broth! I've added some "nori(dried laver seaweed)" and sprinkled chopped long onions (Naga Negi).
Related Articles
External Links