How to Rock out to Visual-Kei!

Let's Rock!
A few weeks ago I (Asami of the asianbeat editorial staff) went to see Psycho le Cému's concert that I introduced in the article, "
Super Cosplay Band "Psycho le Cému" Returns! February Comeback Concerts in Tokyo: 3 Venues Decided
" last year.
One of the things that makes Psycho le Cému so special is that the guitarist AYA and the dancer, vocalist, and drummer YURA-sama sometimes drop their instruments all together and just dance!
You can see them dance not only in their PVs but also at their concerts.
In fact, this dance has become an essential part of Visual Kei live concerts recently. Did you know that for a lot of Visual Kei concerts, there is a special way that people enjoy the concerts? And it's not only about pumping your fist in the air! For those of you have never attended a Visual Kei concert, I would like to briefly explain to you how to best enjoy one!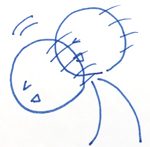 "Hedo-ban"
Head banging, or "hedoban" for short! During the song's intro or interludes, people shake their heads up and down, from side to side, and at times even around and around. Vigorously shaking their heads, they'll maybe make a "V" shape or a figure-8 with their head banging. Find a style that suits you and keep on shaking that head. However, please make sure not to over-do it since it could lead to neck pains, dizziness, and headaches.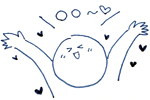 "Saki (bloom)"
Show your favorite band members your love by throwing out both your arms towards them. Most people will also call out band members' names in a high-pitched tone as a part of the routine. Some bands have actually banned this "Saki" move, so please be sure to check their website/fan site before doing so.
"Tesensu"
For this move, you can use your wrists to move your hands from side to side or cross your arms back and forth and extend them towards the stage. Depending on the song or band, this move can take on a variety of shapes. Since this movement looks as though you're waving a folding fan back and forth, it's been dubbed the"Tesensu (hand folding-fan)".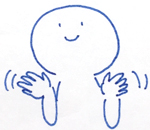 Te-ban
This is when you move your hands up and down using your wrists. It is used in place of the "Hedoban." When you get tired from doing the Hedoban, you can use this as a breather.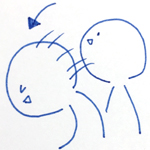 "Oritatami"
Here, you use the upper half of your body in a forward-backward movement similar to a hedoban in rhythm with the song.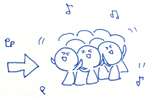 "Mosh"
This is when everyone tightly packs themselves together either at the front or left and right sides of the stage. In this state, they sometimes start spinning and move towards either the left or right side of the venue.
It is actually not unusual for bands to teach everyone the choreography for each of their songs over video sites.


This is the V-Kei band 己龍(Kiryu)'s official choreography video. In it, you can see the members head banging, doing backward dives, and much more.
What did you think? This is just a brief overview of some of the ways you can enjoy, so be sure to look closer into each band for sure! Also keep in mind that these are not the only ways you can fully enjoy concerts so do what you want when you want to have the most fun! (Editorial Dep't. and Psycho le Cému fan Asami)
Related Articles