Tenjin Chikagai's new currency exchange machines and refurbished European-style toilets!

More convenient and customer-friendly than ever before! Kyushu's first currency exchange machines capable of dealing with transactions in both directions!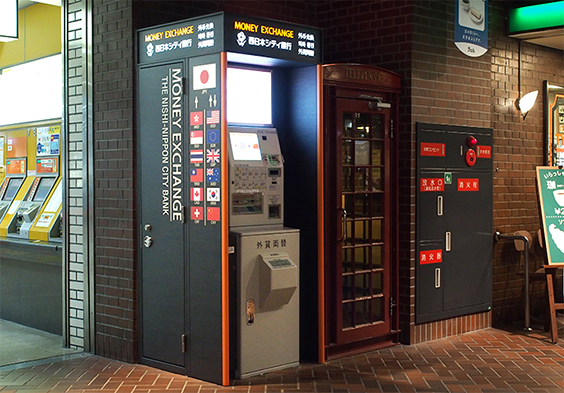 Situated in the center of Fukuoka City, Tenjin Chikagai runs from the north to the south of Tenjin, and having first opened its doors for business in 1976, celebrates its 40th birthday this September. Connecting Tenjin Station (Subway) with Tenijin-Minami Station, Tenjin Chikagai is highly convenient for commuters and has become affectionately known as "Tenchika." Whether it's during the commuting rush hour, or a rainy day outside, Tenchika remains a perfect shopping location; a bustling hotspot filled with people looking for the latest trends! With around 150 stores to choose from, it seems that each year more and more tourists are coming from abroad to enjoy shopping.
In line with Tenchika's popularity with overseas tourists, a new "automatic currency exchange machine" was installed on the 8th June 2016. This currency exchange machine, which is capable of dealing with transactions from yen and vice-versa, is the first of its kind in Kyushu. You'll find the machine as soon as you come down the Chuo Guchi (Central Exit) for Tenjin Station, Fukuoka City Subway, inside Tenjin Chikagai West, 3rd Avenue (Information Hiroba). For any tourists who are in town from abroad, or anyone in Fukuoka who is planning a trip overseas, be sure to check-it-out!
Tenjin Chikagai has a range of services that make life as easy as possible for tourists visiting from abroad, it's fully equipped with FREE Wi-Fi, which is free to use and doesn't require registration from users, is home to around 70 stores that offer tax free shopping, and also has guide maps that are available in different 4 languages (Japanese, English, Korean and Chinese). As it becomes ever more convenient and customer orientated, be sure to check-out the Tenjin Chikagai!
* Please note: The currency exchange machine deals in 12 different currencies. Up to 100,000 yen (or the equivalent) per transaction. (>> For more detailed information please check the official website by clicking,
here
!)
The newly refurbished toilets are the perfect match for Chikagai's high-class, dignified vibe, which kind of has a feeling of medieval Europe!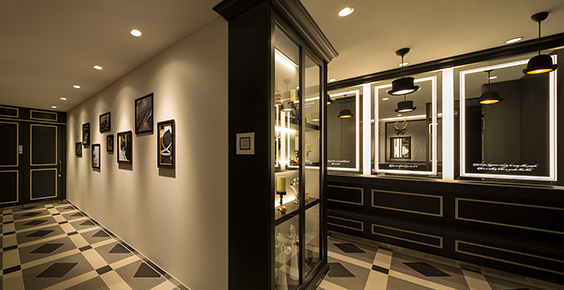 [West 6th Avenue] With a black and white color scheme, these women's toilets look more like an exclusive boutique! A pleasant fragrant aroma fills is used and fills the entire area! (*Male and female toilets, as well as the multipurpose/disabled toilets are available)
At first glance these can easily be mistaken for new shops. But these photos actually show the recently refurbished Tenjin Chikagai toilets! This huge makeover has been carried out in all of the toilets (across 4 different locations in the Chikagai) as a part of the 40 year anniversary celebrations! With each one having its own unique, individual style, there might be some people stopping by just to take a look at the new interior designs!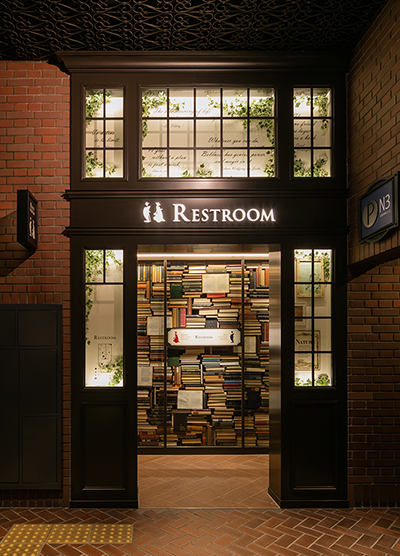 [East 2nd Avenue] This cool, relaxing image looks like a library or study room, with books stacked nearly as high as the ceiling! (*Male and female toilets are available)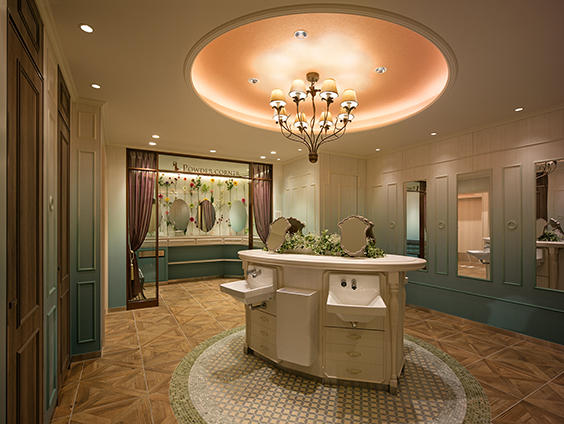 [East 10th Avenue] Pale blues and purples feature in the interior, with colorful flowers and plants used for decoration.
(*Female toilets and multipurpose/disabled toilets are available)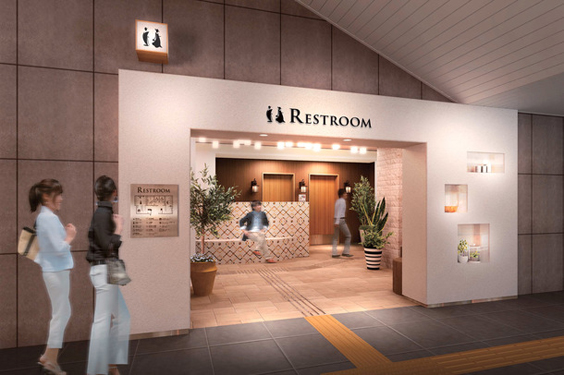 [West 12th Avenue] The natural-style design seen here features a soft, gentle lighting that illuminates the area.
(*The male and female toilets, as well as the multipurpose/disabled toilets and nursing facilities/baby change rooms have been available)
Having started refurbishments in October 2015, all restructuring work was finally finished in July 2016 with the opening of the toilets in West 12th Avenue! Under the concept of "TENCHIKA DRAMATIC TRIP ROOM," Tenjin Chikagai has been reborn as a soothing spot of relaxation. Please be sure to stop by to have a look for yourself! (Editorial Dept.: GON)
Tenjin Chikagai
Tenjin is located in the center of Fukuoka, which is the biggest city in Kyushu. Right in the middle you'll find Tenjin Chikagai. With all the shoppers and commuters (travelling back and forth between work and school) passing through, as many as 200,000 - 300,000 people make their way along this shopping mall on any given day. Linking the Tenjin Subway Station, to the Tenjin-Mimami Station, as well as to the Nishitetsu Fukuoka Station and the Nishitetsu Tenjin Bus Terminal, the underground network also connects together various commercial facilities and office buildings, whilst also offering people of all ages a huge selection of places to shop and eat everyday of the week. There are services for customers who are visiting from overseas, and even some stores that offer duty-free shopping!
- Opening Hours: Shops 10:00 - 20:00, Food and Drink (Restaurants, etc.) 10:00 - 21:00
* Please note, opening times may vary depending on the store
- Official Website:
http://www.tenchika.com/
- Address: Chika 1-3, 2 Tenjin, Chuo-ku, Fukuoka-shi
Related Articles
External Links