The "asianbeat / FACo Kawaii Ambassador" visited the Governor of Fukuoka Prefecture!(1/13)

The "asianbeat / FACo Kawaii Ambassadors" finally got together!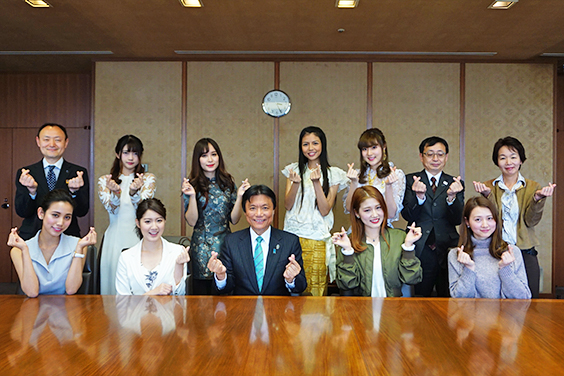 Out of a total of 560 applicants, 8 "asianbeat / FACo Kawaii Ambassadors" were chosen, 2 each from China, Thailand, Vietnam and Taiwan through a web vote that took place on the asianbeat website. On Thursday 16th March they paid a visit to the Governor of Fukuoka Prefecture. Governor Ogawa greeted the group and said to the slightly nervous Kawaii Ambassadors that he would like to see them build bridges with Fukuoka. At the meeting, the Kawaii Ambassadors were presented with "Eto (Japanese Zodiac) Macaron" themed Hakata Ningyo (dolls) as commemorative gifts. They all spoke about how much they were looking forward to participating in FACo which was held on March 18th and promoting all that Fukuoka has to offer back home.
* Meet the Kawaii Ambassadors >>
here!
Make sure to catch our FACo special report!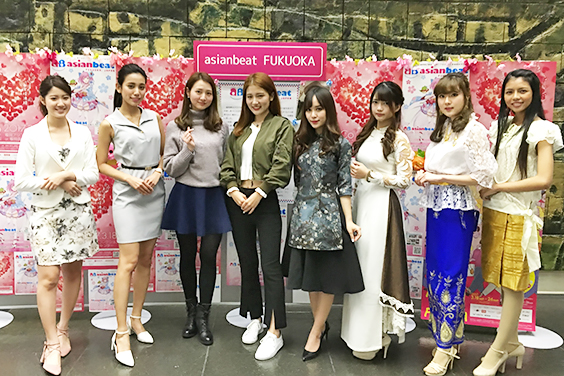 One of Kyushu's largest fashion events, the "Fukuoka Asia Collection (FACo)" is held annually and welcomes in excess of 7,000 guests every year! Back for the ninth time, FACo again featured an array of famous models from Fukuoka and all over Japan. As has become custom, the Kawaii Ambassadors also made a special appearance on the runway! We will be reporting on what went down at FACo and covering what the Kawaii Ambassadors got up to during their stay in Fukuoka, so stay tuned! (Editorial dept.: T-L)
*Click the banner below to read our "FACo 2017 feature!

FUKUOKA ASIA COLLECTION 2017 SPRING - SUMMER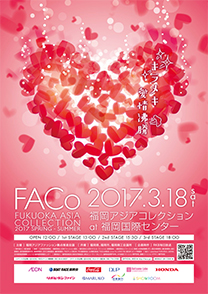 Date: Saturday 18th March 2017
Time:
Venue open from: 12:00
1st stage: 13:00
2nd stage: 15:30
3rd stage: 18:00
Venue: Fukuoka Convention Center (2-2 Chikkohonmachi, Hakata-ku, Fukuoka-shi)
Price:
SS seat: 8,500 yen (reserved seat for all 3 stages)
S seat: 4,900 yen (reserved seat for 1 stage and unreserved seats for the rest)
Unreserved seat seats ¥ 3,800
Organized by: Fukuoka Asia Fashion Kyoten Suishin Kaigi (Fukuoka Asian Fashion Base Promotion Conference)
Sponsored by: Fukuoka Prefecture, Fukuoka City, Fukuoka Chamber of Commerce and Industry
Produced by: RKB Mainichi Broadcasting Corporation
In co-operation with: Mainichi Broadcasting System, Inc.
Official website:
http://www.fukuoka-asia-collection.com/
Related Articles
External Links