Enjoy the best sake that breweries have to offer! "The 3rd Chikugo Nanakoku Sake Cultural Expo" will be held at the Kyushu Geibun-kan!

Sample 43 local sakes from "Chikugo Nanakoku" and enjoy delicious snacks from the surrounding area!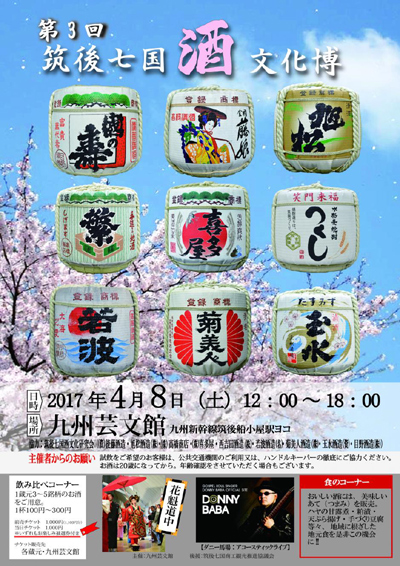 Is this the first time you've heard of "Chikugo Nanakoku?" It's a fairly new term that refers to the 7 cities/towns that surround the Yabe River and produce sake using its high quality water. The 3rd year that it's been held, this exciting event gives guests the chance to experience the charming appeal of these 7 areas through the sake they produce. On Saturday 8th April 2017, you will be able to compare the best sake that 9 local breweries have to offer, while enjoying delicious delicacies from the surrounding area, including sweetened boiled fish and kasuzuke (pickled vegetables or fish). There will be a total of 43 varieties of rice, wheat, potato and fruit based local sakes to choose from, the most that the festival has ever offered!
As its name suggests, the "Chikugo Koiki Koen Geijyutsu Bunka Koryu Shishetsu" (also known as the Kyushu Geibun-kan) is an art and cultural exchange facility located in a huge park in Chikugo. With paths for walking, as well as an area to take dogs, this is one of the biggest prefectural parks in terms of the land that it covers. At just a 1-minute walk away from the "Chikugo-Funagoya Station, Kyushu Shinkansen," the Kyushu Geibun-kan is very easy to access by either trains or buses. On the day, there will be all kinds of exciting attractions for people to enjoy, including an "花魁道中 (oiran do-chu)" (procession of courtesans), as well as a live acoustic performance from Chikugo local Danny Baba. The much spoken about HAWKS BASEBALL PARK CHIKUGO is also just a stone's throw away! And with the event likely to fall on a lovely Spring day, this is a great opportunity to go and experience the beautiful nature that can be found in Chikugo Nanakoku. (Editorial dept.: canna)
"The 3rd Chikugo Nanakoku Sake Cultural Expo (第3回筑後七国酒文化博)"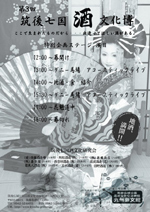 - Date and time: Saturday 8th April 2017, 12:00-18:00
- Venue: Kyushu Geibun-kan (1131 Tsushima, Oaza, Chikugo-shi)
- Participating breweries: (資)後藤酒造場 / Goto Shuzojo, 旭松酒造(株) / Asahimatsu Shuzo, (株)高橋商店 / Takahashi Shoten, (株)喜多屋 / Kitaya, 西吉田酒造(株) Nishiyoshida Syuzou, 若波酒造(名) / Wakanami Shuzo, 菊美人酒造(株) / Kikubijin Shuzo, 玉水酒造(資) / Tamamizu Shuzo, 目野酒造(株) / Meno Shuzo
- Organized by: Kyushu Geibun-kan
- Support from: Chikugo Nanakoku Shoko Kanko Suishin Kyogikai
- Website (Available in Japanese) :
http://www.kyushu-geibun.jp/main/2728.html
* In the drink sampling section, each brewery will have 3 to 5 of their own sake out for visitors to try. Each drink will cost between 100 to 300 yen.
* If you purchase a ticket to sample the sake, you will be eligible to participate in a raffle.
* Advance tickets can be purchased at each of the participating breweries or at the Kyushu Geibun-kan.
◎ Drinking Notices
Related Articles

External Links