What's your tipple of choice? Discover your favorite sake at the "23rd Jojima Sakagura-biraki (Sake Cellar Opening)!"

Sample Jojima sake to your heart's content!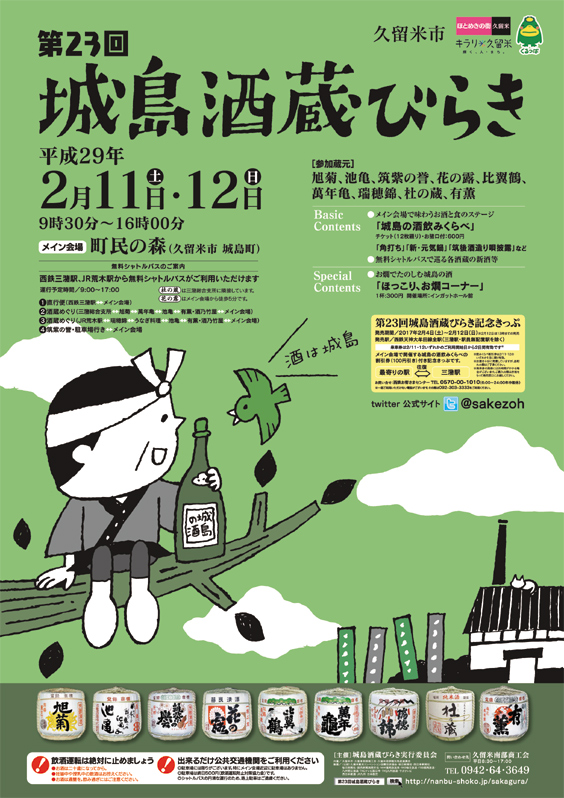 Taking place at "Chomin no Mori," in Kurume City, Fukuoka Prefecture, on the weekend of the 11th and 12th February 2017, the "Dai 23 Kai Jojima Sake Kurabiraki (23rd Jojima Sake Cellar Opening)" is a well-established annual event that fans of Japanese sake should not miss! "Jojima Sake" dates back to the Mid-Edo period, when it was known as "Jojima of the the West" and was one of the major sake producing areas alongside "Nada of the East." 9 of the "Jojima Sake" breweries will join forces and be participating in what is Kyushu's biggest early spring kurabiraki (cellar opening)!
At the main venue, guests can take part in the "Jojima no Sake nomi-kurabe (Compare your Favorite Jojima Sake)" tasting event, where they can sample from 43 different sakes, with one drink costing from 1 to 3 tickets (booklet of 12 tickets and "ochoko" sake cup: 600 yen). At the same time, there will also be outdoor events where you can enjoy warm sake and a "kaku-uchi" style bar. As visitors will have the chance to compare sake from 9 different breweries at the same time, this is a great opportunity to find-out what brand takes your fancy and discover your tipple of choice!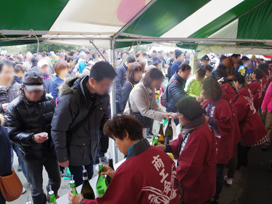 Here is the "Jojima no Sakenomi Kurabe (Compare your Favorite Jojima Sake)" tasting event at last year's festival!
This year, there will be a special healthy "Shin - Genki Nabe (New Genki Hotpot)" on sale. Made with Mizuma-grown hato mugi (job's tears), a grain that is often used to make tea, as well locally harvested vegetables, this limited edition dish has sake as a secret ingredient. So as you can see, it's not just about drinking sake, you can also enjoy the food that is on offer, too!

Aside from the excitement at the main venue, each brewery will also be selling sake on their premises, including nama-genshu bottled on site and freshly squeezed nama-genshu. As these offers are only scheduled to take place during the kurabiraki events, it is definitely worth making the most of the free shuttle bus service that will run between Nishitetsu Mizuma Station and JR Araki Station, going past all of the breweries involved.

Usually, it is possible to go on a tour of a brewery if you make a reservation, but during this festival you can simply just go in and take a look around without having to book beforehand. This is a great opportunity to try the sake that Jojima area has to offer, so why not go along and experience all the different ways there are to enjoy it! (Editorial Dept.: canna)
23rd Jojima Sakagurabiraki (Sake Cellar Opening)
Dates: Saturday 11th February and Sunday 12th February
Time: 09:30-16:00
Main Venue: Chomin no Mori, 764 Naratsu, Jojima-machi, Kurume-shi
Participating breweries: 旭菊 (Asahigiku), 池亀 (Ikekame), 筑紫の誉 (Chikushinohomare), Hananotsuyu (花の露), Hiyokutsuru (比翼鶴), Mannengame (萬年亀), Mizuhonishiki (瑞穂錦), Morinokura (杜の蔵), and Yukun (有薫)
Organized by: Jojima Sake Kurabiraki Executive committee
Twitter:
@sakezoh
*For more information please check the Kurume Nanbu Shoko-kai's Official Website (Available in Japanese).
http://nanbu-shoko.jp/sakagura/
*Please note: In the Japanese sake community, the area located in the center of Jojima-machi and Mizuma-machi, Kurume-shi, Fukuoka-ken, is known as "Jojima."
◎ Drinking Notices
Related Articles

External Links
PRESENTS
All the info. on asianbeat's present campaign!
* "A local specialty set discovered during the trip to Tagawa Area giveaway! Apply by Mon. 11 Jan. 2021 (JST)!