To celebrate its 5th anniversary the Kitakyushu Manga Museum is hosting a special "CITY HUNTER" exhibition!

Featuring materials from the production process and hand drawn manuscripts, you are sure to get a full helping of "CITY HUNTER" with this special exhibition!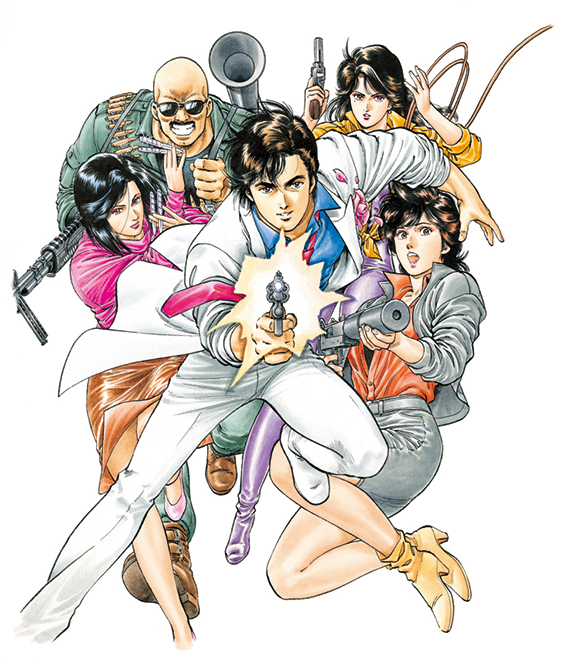 ©北条司/NSP 1985
The hard-boiled comedy "CITY HUNTER" revolves around the sniper Ryo Saeba and his relationship Kaori Makimura, who becomes his partner after her older brother and Ryo's close friend passes away. The series first appeared in "Weekly Shonen Jump" 32 years ago and 2017 marks 30 years since it was first turned into a television anime, which went on to become very popular.

From Saturday 29th July to Monday 24th September, the "Kitakyushu Manga Museum Kaikan 5 Shunen Tokubetsu-ten 'CITY HUNTER' no Subete" (lit.: "Kitakyushu Manga Museum 5th Anniversary Special Exhibition of 'CITY HUNTER' in its Entirety") will explore the enduring and wide-ranging appeal of one of the most popular manga titles around!

The exhibition, which covers "MISSION.1 - 3," features around 150 monochrome manga manuscripts, 30 color original illustrations, one-shot comics produced prior to the series, animated picture cells, scene outlines, scripts, and posters!
The fans will choose the best episode out of all 336 installments, and the story of the one selected will be displayed in full! Make sure to check it out! (Editorial Dept.: Sassy)

PROFILE: 北条司 (Tsukasa Hojo)
Born in Kitakyushi-city (current day Kokura-shi), Fukuoka-ken in 1959. Entered a work titled "Space Angel" into Weekly Shonen Jump's 18th Tezuka Award and got second place, while still a student at Kyushu Sangyo University. Debuted in 1980 with "Ore wa Otoko Da!," before releasing the hugely successful series "CAT'S EYE" in 1981. Started "CITY HUNTER" in 1985, which quickly became a big hit, acquiring a huge overseas fan base in the process. Has continued with works "Family Compo" and "Angel Heart," which have captivated adult readers by building on conventional literary styles in their depiction of life, death, and the love that exists within a family. Helped set up the Coamix Inc. in 2000. As a company director at North Stars Pictures, has been working to support and unearth young manga artists.
Kitakyushu Manga Museum 5th Anniversary Special Exhibition of City Hunter in its Entirety (北九州市漫画ミュージアム開館5周年記念特別展 シティーハンターのすべて )
[Date]
Saturday July 29 - Sunday September 24, 2017
*For the protection of the works, the original color illustrations that are on display will be changed over.
First Period: Saturday July 29 - Friday September 1 / Second Period Saturday September 2 - Sunday September 24, 2017
[Venue]
Kitakyushu Manga Museum - Exhibition Area (Aruaru City 5F)
(2-14-5 Asano, Kokurakita-ku, Kitakyushu-shi, Fukuoka-ken)
[Opening Hours]
11:00 - 19:00 (7/29 - 8/31: 11:00 - 20:00)
[Closed]
Tuesdays (Open during 7/29 - 8/31)
[Organizer]
Kitakyushu Manga Museum
[Special cooperation by]
NORTH STARS PICTURES, INC., Coamix Inc., SUNRISE
[Admission]
Standard: Standard 600 yen (480 yen), Junior High School / High School 300 yen (240 yen), Elementary School 150 yen (120 yen)
* Set (including tickets for the permanent exhibition) Standatd 800 yen (640 yen), Junior High School / High School 400 yen (320 yen), Elementary School 200 yen (160 yen)
*The price in the brackets () is for those who display a Kitakyushu Manga Museum annual passport, or senior citizen's certification for the facility. It is also the entrance fee per person when entering as a group of 30 or more.
*Free entrance for infants / pre-school children, and people with a disability, if they present their identification booklet , as well as one accompanying person.
[Official Website]
http://www.ktqmm.jp/
Related Articles
External Links