Enjoy Yoshimoto Shin-kigeki comedy in Fukuoka! The first Kyushu Shin-kigeki "Kotobuki Zacho Hataage Koen" performance is coming soon!(1/2)

The Kyushu branch of "Yoshimoto Shin-kigeki" (lit. Yoshimoto New Comedy) is about to launch! The first "Kyushu Shin-kigeki" is set to debut at the Momochi Palace on Friday 16th February 2018! Active in Yoshimoto Shin-kigeki and in Fukuoka, Kazumi Kotobuki has been appointed as the head of the much-loved comedy troupe's regional branch. He will be joined on stage by some fabulous guest stars, including Hakata Hanamaru・Daikichi, Robert, and Punk Boo Boo! Appearances from such well-known comedians is sure to help generate a great deal of excitement for the upcoming performances!

Kazumi Kotobuki, Hakata Hanamaru・Daikichi, and Kenbo Tanaka made an appearance at press conference to promote the perfromance. The comedy duo Sakaist, who recently moved to Fukuoka Yoshimoto from Osaka, emceed the event!

Check-out our short interview with Kotobuki to find-out how he is feeling ahead of the first Kyushu Shin-kigeki performance! We also have a short report from the press conference (Editorial Dept.: YF)!
People in Kyushu tend to have a softer sense of humor!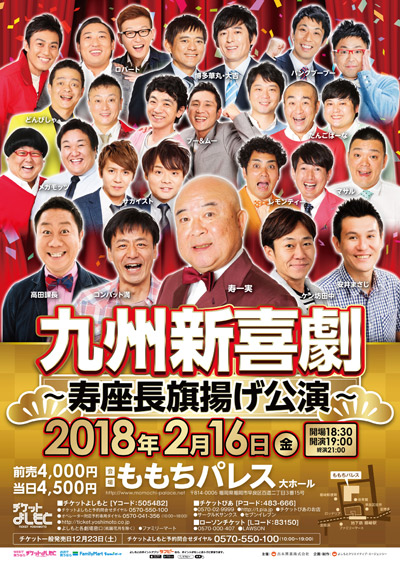 ―― What was behind the decision to start the "Kyushu Shin-kigeki?"
Kazumi Kotobuki (hereafter referred to as Kotobuki):
I have been intersted in bringing shin-kigeki to Kyushu for some time. I initially thought about tweaking some of the sketches so that they would be relevant to different areas, such as Chikuho or a small town in Nagasaki. But it started to become a reality when I performed at the Kaho Theater for my 60th birthday. I spoke to my agency and they said "why not go for it?" That is when it stopped being just an idea and I began to believe that it could really happen (lol)! Things progressed in that kind of light-hearted way. That is how it had seemed until the press conference, but as the magnitude of it all hit home, I started to feel a bit of pressure.
When it does get underway I think it will quite naturally develop in a manner quite distinct from shin-kigeki in Osaka. It might look a little bit like it to begin with, but I think in the end people will come to recognize Kyushu comedy in its own right and see what it is all about. What makes people laugh in Osaka is a bit different. People in Kyushu tend to have a softer sense of humor. I want us to appeal to that kind of sensitivity. As you know, Osaka comedy tends to feature a straight sidekick. It might appear that they are nitpicking in the sketch, but they use this as a method for drawing out laughs from the audience. Have you noticed that?
―― What are your thoughts on comedy in Fukuoka. What's the sense of humor like? What makes the locals laugh?
Kotobuki:
When you think of Fukuoka, the "Hakata Niwaka" senbei mask instantly comes to mind. I think wordplay has always been popular. I guess it is these kinds of things that bring a smile to people's faces in Fukuoka!
―― There is sure to be a great deal of interest in the performers who are set to feature. Starting with the likes of Hakata Hanamaru and Daikichi, is it true that the lineup is going to include comedians active on the Fukuoka circuit, such as Kenbo Tanaka, Takada Kacho, as well as Combat Man?
Kotobuki:
That's right. I think it is always great to feature local talent. Hanamaru and Daikichi will perform a manzai (two-person) comedy act, but it would be great to see them appear in a play, even just briefly. However, they do not like rehearsing and that is kind of a necessity. They hate the training and practicing that is involved with rehearsals (lol). Their schedule is also quite packed, so it is hard to find a date when they are available.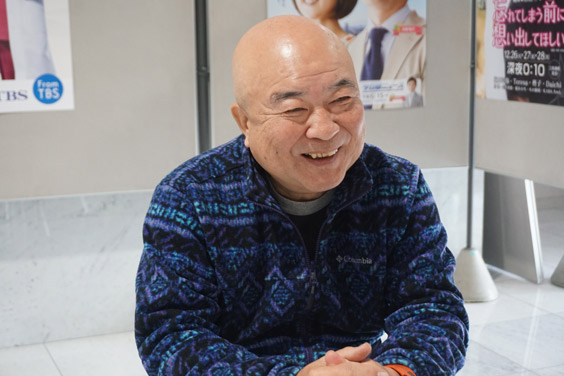 ―― You have known Hanamaru and Daikichi for a long time. Do any particularly memorable experiences of your time together in the public eye or in your private lives spring to mind?
Kotobuki:
Well, we often used to go camping, and play mahjong at Hanamaru's parents' house. We used to go and stay at Daikichi's family home when his grandmother was still alive. Once I stumbled into her after she had taken a bath. She knew that Daikichi's friend was there, but I guess she did not imagine it would be some old guy like me. She said that it was such a surprise that she almost fell over (lol). When we were not getting so much work, we used to gather at the office after rehearsals and all go out for a drink (lol). Whenever I asked Hanamaru・Daikichi and Kenbo if they had finished preparing their skits, they always said no (lol)! Hanamaru and Daikichi usually work quickly, while Kenbo takes his time (lol).
―― What do you think are some of Fukuoka's most appealing features?
Kotobuki:
I think it's a city that has a bit of everything. The balance is just right; maybe more so than anywhere else in Japan. It is good for transportation, the airport is close, the sea is nearby, and you can drive to the countryside in just 20 to 30 minutes, which is perfect for people who love the outdoors. There is a lot of work available for people trying to find it. The countryside and the urban areas are really nice; there is a good mix between the two. With a lot of places one will be more pleasant than the other. I was in Osaka fairly recently. It was the first time I had been for a while and I was blown away by how many people there were (lol)! And some areas were a bit messy. I can not believe I used to be in a place like that (lol)!
―― What are the aims of the "Kyushu Shin-kigeki?" Are you feeling excited?
Kotobuki:
People in Osaka tend to go straight up to another person and enter their personal space, but people in Kyushu are a little different. That's why I think Hanamaru and Daikichi's fresh approach has been well received throughout the country. We want to create a performance that is not just gags, but instead incorporates drama, human emotion, and warm laughter in a similar mould to "Yoshimoto Shin-kigeki's" Kyo Hanaki. We want the audience to laugh a lot. But we also want to see them really smiling.
In order to attract younger people, I am trying to find-out more about the topics that they find interesting and what kind of things strike a cord. We are featuring younger comedians so that a wide range of people come and watch us. When I said at the press conference that the performance will be aimed at middle-aged people who already know about "Yoshimoto Shin-kigeki," Hanamaru and Daikichi told me off (lol)! I would like to see our troupe establish a fanbase amongst young people. One day I would like to hear people who do not about "Yoshimoto Shin-kigeki" think that the Kyushu version is actually the original! That would be so cool! We will try our best to see that happen! It is important for there to be a distinction between the two. Our style is a slightly milder form of shin-kigeki. It would be great if people all over the country get into it. I want everyone to understand Kyushu's comedy.
―― Finally, do you have a message for the asianbeat readers?
Kotobuki:
Let's have fun! As performers we want to have a good time. I hope that you can feel that!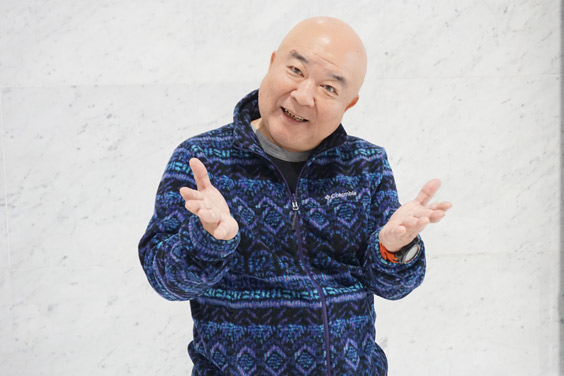 Click the image and it will automatically go to the next.
Kyushu Shin-kigeki "Kotobuki Zacho (Troupe Leader) First Performance"
九州新喜劇「寿座長旗揚げ公演」
Date: Friday 16th February
Shin-kigeki (新喜劇) appearances by: Kazumi Kotobuki, Combat Man, Kenbo Tanaka, Takada Kacho, Pu & Mu, Sakaist, Lemon Tea, Megamottsu, Masaru, Sayaca Hattori, Masaji Yasui, Scraps, Three Nine, and more.
Guests: Yasushi Ishida, Yuko Nakazawa
Neta (scripts): Hakata Hanamaru・Daikichi, Punk Boo Boo, Robert, Donpisha, Dangobana
Venue: Momochi Palace (2-3-15, Momochi, Sawara-ku, Fukuoka-shi)
Time: Venue opens from 18:30, performance starts at 19:00
Tickets at the door: 4,500 yen (Advanced tickets: 4,000 yen)
Inquiry:
Ticket Yoshimoto reservation phone number: 0570-550-100
Ticket Yoshimoto site:
http://yoshimoto.funity.jp/