The "Tochoji Setsubun-sai" will be held this February! Fukuoka-based international students got in the festival spirit at the Fukuoka prefectural offices!

Fukuoka-based international students and local nursery school children took part!
The Tochoji Setsubun-sai will be held on Friday 2nd and Saturday 3rd February 2018! The famous mamemaki (bean throwing) ritual was held at Fukuoka Yokamon Hiroba (located on the 11th floor of the Fukuoka Prefectural Offices) a couple of weeks early to help people get in the festival spirit! International students from Kyushu University, the Kyushu Institute of Technology, and Kyushu Sangyo University took part! The contingent dressed up as the shichifukujin (Seven Gods of Fortune), the aka-oni (red demon), and ao-oni (blue demon)! It proved to be a truly global event with students from India, Indonesia, Vietnam, and Madagascar in attendance!
Vice Governor Hattori welcomed the guests by stating, "Let's sweep away evil spirits with this act of mamemaki. I will be praying that we all have a happy and healthy year free from troubles. Please have fun!"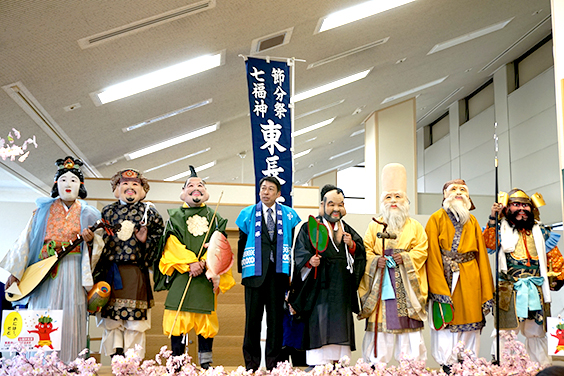 Fukuoka Prefecture Vice Governor Seitaro Hattori (center) and lined up to take a photograph with the group of international students!
The mamemaki ritual finally got underway! The oni (demons) then went into battle with the Vice Governor, the shichifukujin, and kindergarteners from Hakozaki Hoikuen (Nursery School).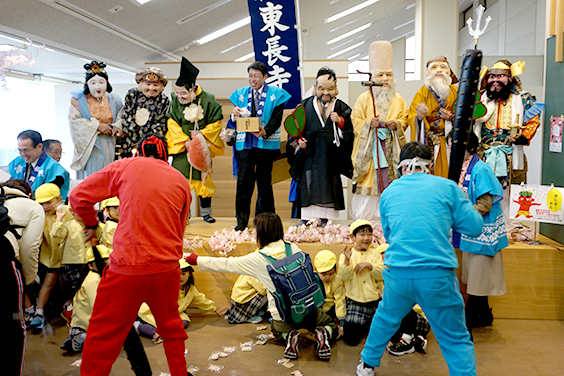 The international students really got into character! Here you can see the kids throwing beans at the aka-oni and ao-oni!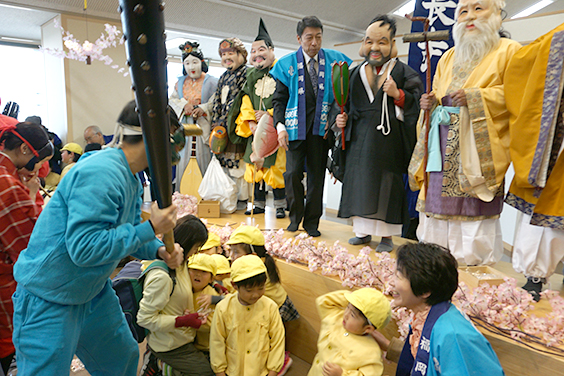 The face behind the aka-oni was Div, an international student from India, who shared his thoughts about the event. He said, "It was a pleasure to get the chance to experience a traditional Japanese event. The kindergarteners seemed scared of our oni costumes. So I guess it must have been a success (lol)!"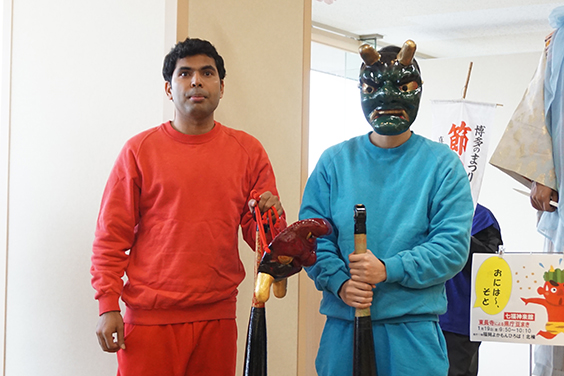 Div (left)
A commemorative photo was taken at the end of the day!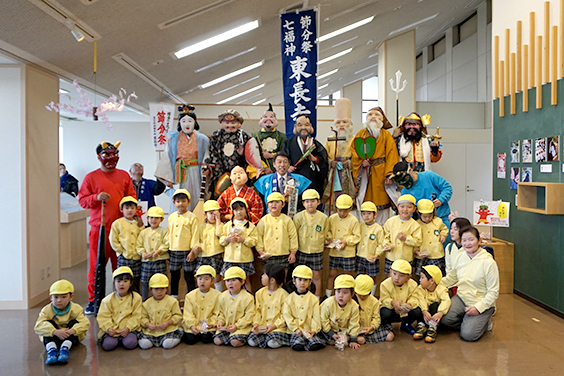 The Tochoji Setsubun Matsuri is just round the corner! Celebrations will be held on the eve of the event, which falls on the first Friday of February, with the main festival scheduled for the very next day! International students are also expected to join in! Why not get involved the mamemaki ritual? It is a great chance to ward off evil and draw in good luck for the year ahead! (Editorial Dept.: Sassy)
Tochoji Setsubun-sai (東長寺節分祭)
Event Information
Setsubun-sai Zenyasai (celebrations on the eve of the event): Friday 2nd February 2018 | 13:00 to 18:00
Setsubun Taisai (grand festival): Saturday 3rd February 2018 | 10:00 to 18:00 (*Setsubun mamemaki ritual starts from 09:30)
Venue: Tochoji Shrine (2-4 Gokushomachi, Hakata-ku, Fukuoka-shi, Fukuoka-ken
Admission: Free

Related Articles

External Links