The second MCPO AWARD 2018's public screening and awarding ceremony will be held on July 1st (SUN)!!

A must see event for people aim towards this industry to hear comments from professional manga artist and illustrators!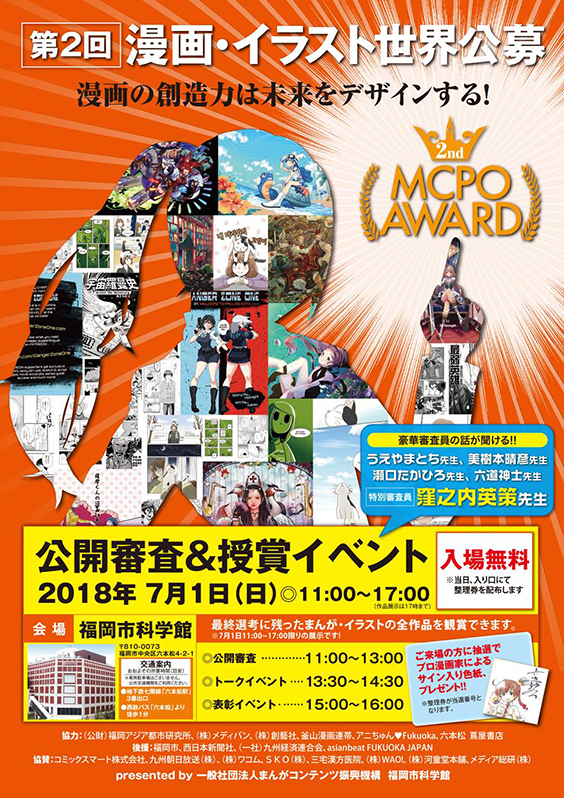 Gathering manga and illustrations from all over the world, the MCPO AWARD 2018's public screening and awarding ceremony will be held at a the Fukuoka city science museum on Sunday July 1st. At the public screening, judges will give comments on the final contender's works from each section. A great opportunity to hear comments from professionals for people aiming to become manga artist and illustrators! The judges are manga artists, Tochi Ueyama, Takahiro Seguchi, Koshi Rikdo, illustrator Haruhiko Mikimoto and special guest judge Eisaku Kubonouchi!
For the second contest, there is a new award that could bridge towards to a debut! Like last year, the grand prize winner works will be featured on websites, magazines, books published all around the world. Definitely got to look out for the winning works!
The MCPO AWARD 2017 gathered an astounding number of 5,534 submissions. Check out our featured article of last year's award ceremony, (>>
HERE
!) At the venue you can see all the manga and illustration works of the final contender's for each section! This free event is a great opportunity to get great advice for those aiming to enter in this industry to increase your skill! Come and see these works from all around the world! (Editorial Dept: Gon)
"MCPO AWARD 2018" Public Screening & Award Ceremony OUTLINE
* Date & Time: Sunday 1sy July 11:00 - 17:00
* Venue: FUKUOKA CITY SCIENCE MUSEUM (4-2-1 Ropponmatsu, Chuo-ku, Fukuoka-shi) INFO:
https://www.fukuokacity-kagakukan.jp/use/pdf/leaflet_en.pdf
* Free admission: numbered tickets will be distributed at the venue.
* Program
- Public Screening: 11:00 - 17:00
- Talk Event: 13:30 - 14:30
- Award Ceremony: 15:00 - 16:00
*All manga / illustration works made it through the public screening will be exhibited from 11:00 to 17:00 at the venue.
About the "Manga CPO"
The "Manga Contents Promote Organization" or "Manga CPO" is a non-profit organization that, pursuing new possibilities for manga, aims to develop new content that can bring the world closer together.
Together with participation from manga artists, manga authors, manga researchers, illustrators, and screenwriters, the Manga CPO hosts events, initiates international exchange and dialogue, all in the name of discovering and cultivating the talent of tomorrow.
- Official website:
http://manga-cpo.jp/
Related Articles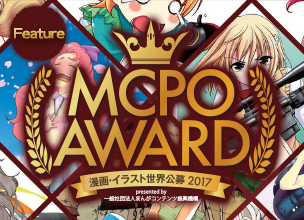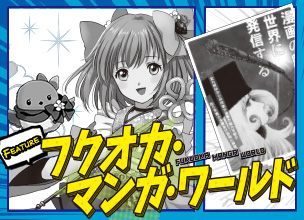 External Links