Sota Fukushi visited Fukuoka! A triumphant "Tabineko Report" event was held in Kokura Castle!

Satoru and Nana returned to Kitakyushu! The best buddies' appeared together! Fukushi's beaming smile wowed the audience!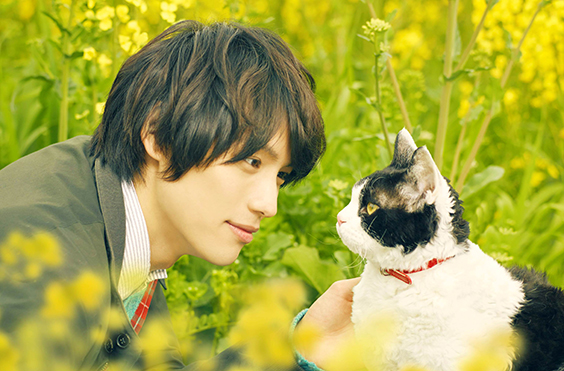 "Tabineko Report (lit.: The Travelling Cat Chronicles)" is a road movie that depicts the bond between a caring young man called Satoru and his "tsundere (hot & cold)" cat Nana as they embark on a journey to search for a new family. On Saturday 13th October, the popular actor Sota Fukushi, who plays the lead character Satoru, returned to Kitakyushu City, one of the locations used to shot the movie! The event took place at Kokura Castle, which also features in "Tabineko Report," ahead of the October 26th nationwide release of the movie! You've heard of a red-carpet, right? Well for this event a special yellow "canola flower carpet" was laid out! Approximately 500 extras who registered for the Kitakyushu Film Commission were given the chance to enjoy a talk, which was held to celebrate the new film!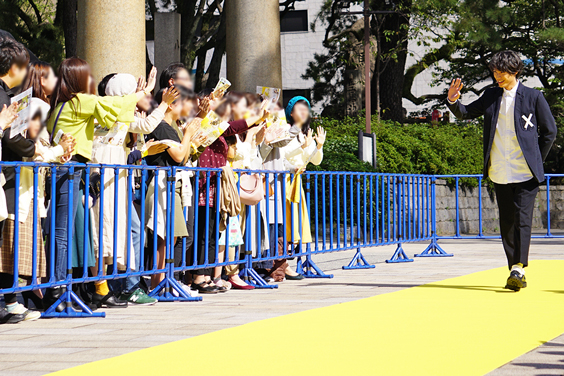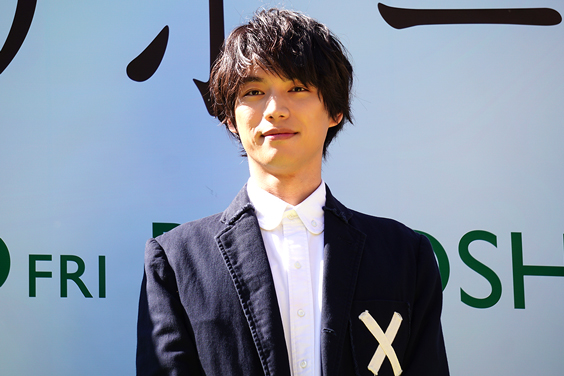 Sota Fukushi played the main character, Satoru Miyawaki.
Fukushi was greeted with big cheers as he recalled some of his favorite moments from the shoot. He spoke about Kitakyushu, which he visited while filming the "Toshokan Sensō (lit.: Library War)" and "Tabineko Report." He stated "This city has really strong connections to movies! I have stayed in Kitakyushu for quite a long period of time on a number of occasions (for filming), and I have a great impression of the tasty food that is eaten here." He added, "The city has fascinating views wherever you go! There is so much beautiful scenery, which are great for movies. These sort of views are firmly etched in my memory." He said that he didn't have many opportunities to interact with cats until now, but stated with a big smile on his face, "Now I think cats are very cute! Especially Nana-chan! More than being a cat person, I just love Nana! I used to watch some dog movies to relax, but recently I have started watching cat movies, too! (lol)" Kitakyushu City Mayor Kenji Kitahashi was at the event with a yellow cat-themed tie round his neck. He took the opportunity to express his gratitude. He said "I am thankful that a popular novel like 'Tabineko Report' was filmed in Kitakyushu. It's so great."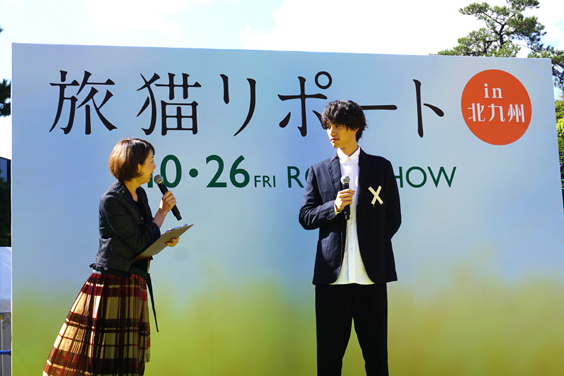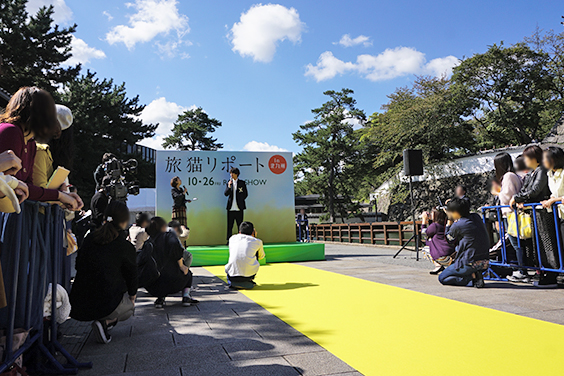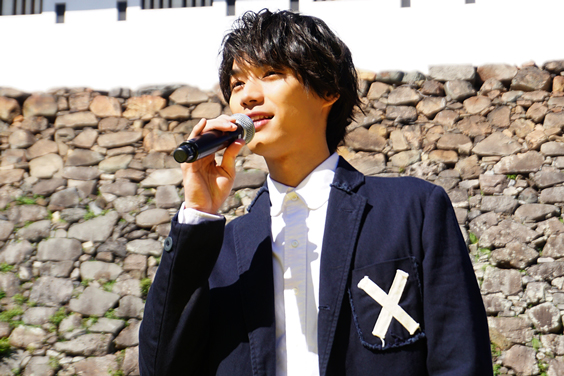 Fukushi then out called "Nana!" in a sweet voice. Nana, a cute male Selkirk Rex, suddenly appeared on stage! The crowd were taken by his yellow eyes and fluffy curly coat! The sight of Nana wrapped in Fukushi's big hands looked like a scene from a play! I had a chance to watch the movie before its release. Witnessing Satoru and Nana's journey reminds us that the moments we spend with those that are important to us are irreplaceable.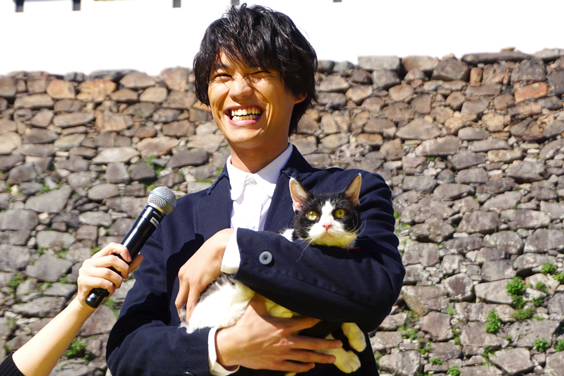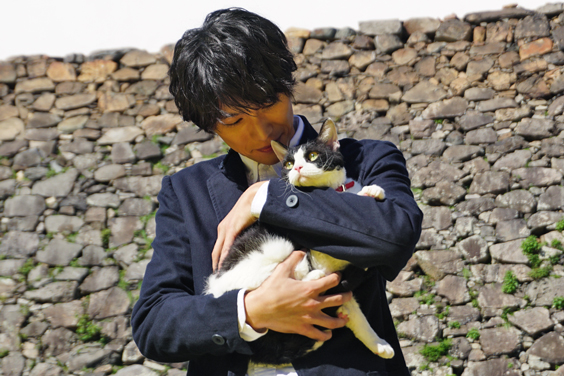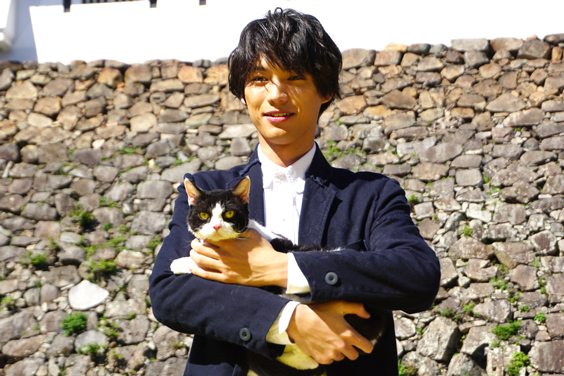 The novel 'Tabineko Report' has been translated and released in 17 countries/regions throughout the world. The movie will be distributed in locations such as Korea, China, Hong Kong, Taiwan, and Thailand! The work was created by Hiro Arikawa, the writer who bought us titles such as 'Toshokan Sensō' and 'Shokubutsu-zukan!' Now audiences will get a chance to see "Tabineko Report," the heartwarming story of a young man and his cat at cinemas nationwide from October 26th! You're sure to love the cute relationship between Nana and Fukushi! Nana's performance will definitely have moviegoers in awe! (Editorial Dept.: Gon)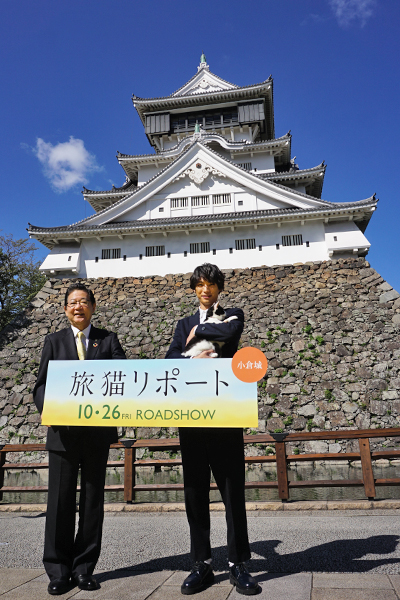 (From left) The Mayor of Kitakyushu City Kenji Kitahashi, Sota Fukushi and Nana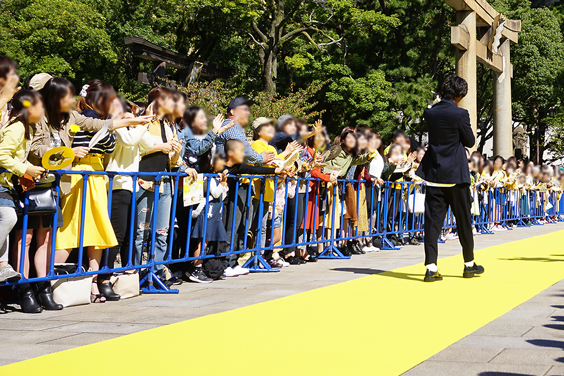 Nana left the venue on the "canola flower carpet" in the arms of Fukushi!
© 2018「旅猫リポート」製作委員会 ©有川浩/講談社
"旅猫リポート" (Tabineko Report / The Traveling Cat Chronicles)
Release Date
: Friday, 26th October 2018 (domestic release date)
Cast
: Sota Fukushi, Mitsuki Takahata (Voice Cast), Nana, Yuko Takeuchi, Alice Hirose, Takuro Ohno, Ryosuke Yamamoto, Tomoya Maeno, Shota Taguchi, Keita Ninomiya, Yasuhi Nakamura, Naho Toda, Jun Hashimoto, Tae Kimura, Sotaro Tanaka, Yuko Fueki, Miyuki Sawashiro (Voice Cast), Tomoaki Maeno (Voice Cast)
Director
: Koichiro Miki
Based on
: 'Tabineko Report' by Hiro Arikawa (Kodansha Ltd.)
Screenplay
: Hiro Arikawa, Emiko Hiramatsu
Music
: Kotringo
Planning & Distribution
: SHOCHIKU Co.,Ltd.
Production
: Film "Tabineko Report" Production Committee
Official Website
:
http://tabineko-movie.jp/
Twitter
:
@tabineko_movie
Instagram
:
@nana_tabineko
Related Articles
External Links