Welcome to Fukuoka! "FOSA Welcome Party 2019" to be held on Sunday 2 June!

A chance for new overseas students to make friends and for Japanese to engage in intercultural exchange!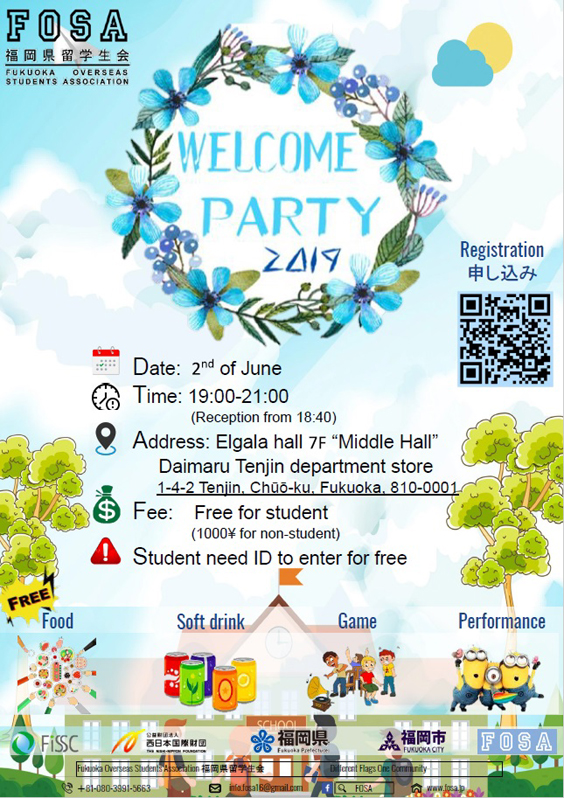 Overseas students, welcome to Fukuoka! Overseas students who began their new student lives in Fukuoka this April are invited to attend the "Welcome Party 2019" at ELGALA HALL in Tenjin, Fukuoka City on Sunday 2 June. The organizer is the "Fukuoka Overseas Students Association" (FOSA).
On the day, many senior overseas students will participate. For new students, this is a chance to make friends from various countries, regions, and schools, and to have conversations about and get advice on real student life in Fukuoka! Japanese nationals can also participate, so how about taking this opportunity to enjoy yourselves in a multi-cultural environment? Halal and vegetarian food and beverages will be provided, so be sure to come and have a look! Students go in for free. For non-students, there is a participation fee of 1,000 yen. Also, pre-booking on the FOSA website is required for all those wanting to participate, so don't forget! (
>> pre-booking site is here!
) (Editorial Dept.: nika)
Related Articles

External Links